Whether you're moving into a new place or looking to freshen up a few rooms at home, you've probably wondered: How can I decorate my walls affordably? Before you fill your shopping cart with overpriced, generic pieces, consider the creative solutions that will complement your décor and your budget.
With a few basic supplies, you can create unique DIY wall art to fit any style, space, or skill level. Here are our top ideas, grouped according to featured materials.
CANVAS WALL DÉCOR
Framed canvas panels are easy to come by and offer endless possibilities for DIY wall décor.
1. Color Wheel Painting
Put your own spin on the color wheel! Mark the center point on your canvas, then draw straight lines out to the edges, forming triangular segments (use masking tape to create clean borders for painting). Start with your favorite hue and paint your way around the spectrum, using rainbow colors or mixing in your own shades.
Tip: For a playful twist, add points or petals around your circle to create a pinwheel or flower design.
2. Metallic Geometric Painting
When it comes to chic interiors, two elements are always popular: metallic hues and geometric shapes. Grab a framed canvas and apply a solid background color in paint. Then stencil on a basic grid pattern, chevron stripes, triangles, or circles. Add metallic paint accents to create an eye-catching design.
Tip: For a simple, elegant look, try metallic shapes on a black or white canvas.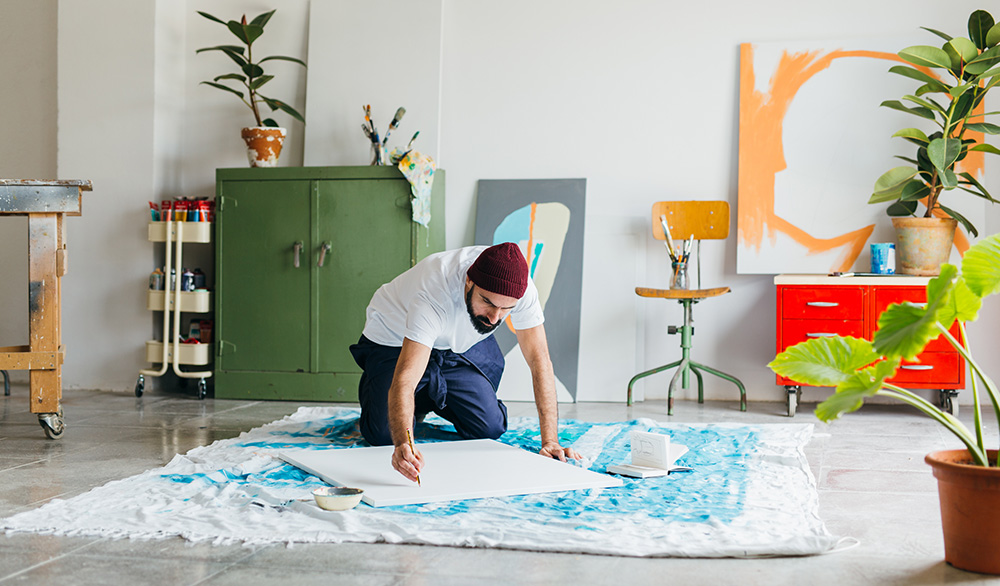 3. Cutout Canvas Panel
Skip the fancy laser cutter for this one, and trust your creative instincts. Draw your desired pattern in pencil on the back of a framed canvas. (Beginners might want to use stencils or stick to geometric designs.) Carefully cut away pieces of canvas to reveal your see-through design.
Tip: Combine two or three panels with different patterns to make a series.
PHOTO WALL ART
Take your passion for photography to a whole new level by making one-of-a-kind displays for your images.
4. Framed Hanging Photo Box
Time to create a dynamic DIY wall art piece featuring all those small photos, Polaroids, or unique-size portraits that would otherwise require custom frames. Simply attach strands of wire, twine, or clothesline cord in rows to a large, empty picture frame. Hang your favorite photos using clothespins, binder clips, or other fasteners, and—voila!—instant photo collage. Plus, swapping out images is a breeze.
5. Decoupage Photo Art
Bring a dash of color and creativity to any room with decoupage artwork. Cut out photos or magazine images of people, animals, flowers, or scenery, and use collage paste to affix them to painted canvas or wooden panels. Animal pictures are a playful addition to a child's bedroom, and they're perfect for baby gifts.
Tip: Black and white photos stand out best on solid color backgrounds.
6. Magazine Photo Collage
Ready to design a real conversation starter? This collage can be a fun collaborative art project if you want to get friends and family together for a craft night. Before tossing old magazines in the recycling bin, cut the colorful pages into strips. Affix them to cardboard, poster board, or framed canvas to create a vibrant collage of text and photos.
PAPER & FABRIC WALL DÉCOR
Bringing new life to everyday materials and elevating your home décor is easier than you think.
7. Woven Paper Panel
Weaving is an ancient art form practiced internationally, and it's always trending in the design world! That's why you should consider a woven paper panel for your next DIY wall décor project. Use a ruler and craft knife to make parallel cuts in a sheet of paper, leaving an even border all around. Cut colored paper into long strips, and follow a basic over-under technique to create a timeless woven piece. Beginners can find weaving patterns online, while advanced weavers may come up with new designs of their own.
8. Fabric Collage Art
Let your creative side run wild as you turn old clothing, curtains, or scraps of fabric into vibrant pieces of DIY wall art. Sort the fabric into piles based on colors or patterns, then cut it into shapes of your choosing—animal, floral, or geometric. Stich or glue together the pieces to create a fun scene or abstract design.
9. Painted Shapes Mosaic
You've probably marveled over the intricate details of photo or tile mosaics without realizing you can make a simple version right at home. Cover a sheet of art paper with paint—any blend of colors, swirls, or patterns. Once dry, cut the painting into small shapes, and arrange them into a new design on paper or framed canvas, using glue or collage paste.
Tip: To save time, just use colored paper or fabric for your mosaic pieces.
WOOD WALL ART
Have fun creating handmade DIY wood wall art and décor with precut wood panels or scraps from household projects.
10. Handpainted Family Monograms
Monogramming adds a classic touch to clothing, bags, and accessories. Why not celebrate your family name with a DIY wood wall art project that can also decorate your home? Using stencils or drawing freehand, trace your initials on a wooden panel, then paint in the letters. Dress it up with classy cursive, go all modern in block type, or add abstract elements to match the room décor.
11. Inspirational Text Art
Word lovers will enjoy adding a little written inspiration to their wall art. Try decorating a painted wooden panel with a short quote or set of words: KEEP ON SHINING. Love. Dream. Create. The text can be painted on or formed using string, rope, glitter, flower petals, or any material you fancy.
Tip: Use natural, unfinished wood or asymmetrical pieces for a more rustic look.
Design and print your very own DIY wall art and décor with Blurb. Get started.