For the past nine months, Anna Daviscourt has been living the ultimate creative life. As an Adobe Creative Resident, she's been free to work on her own projects, in her own way, setting her own agenda. As a result, she's already ticked off one of her most important goals: to become a published children's author. In addition, she's designed and published a beautiful portfolio full of her best work (so far!) We caught up with her to find out what the past few months have been like and what she's got planned for the future.
01
How did you get started as an illustrator?
I went to the Art Institute of Portland and majored in Media Arts and Animation, thinking that I would be a concept artist. I worked on video games for a few years and learned a ton—mainly that I wanted to create my own work. For the past nine months, I've been working as an Adobe Creative Resident, which means I get to create my favorite work every day, without worrying about paying the bills.
My goal for the year has been to transition into being a full-time children's book illustrator. Part of the Residency is having mentors that help guide the process, so I reached out to an old teacher (Lee White) who worked in children's publishing. I've definitely learned the most about illustration from him.
02
Tell us about a piece of work or a professional breakthrough that makes you really proud.
Most of my favorite work has happened in the last few months. I've basically created my portfolio from scratch. One of the most satisfying pieces for me is a redesign of an old piece, that I call "Fox's House." It's wonderful to see an old idea for an illustration get new life because your skills have increased. Sometimes progress can seem intangible, so seeing it so plainly is very rewarding!
Sometimes I'll find a stack of old post it notes that have my brain scribbled all over them and feel a sense of satisfaction because I know I'm still very much at the beginning of my career, but I've come so far already. I also have to say, I would not have gotten half as far in twice the amount of time if it were not for Lee's guidance and the Adobe Creative Residency giving me this phenomenal opportunity.
03
What makes the best children's book? What can authors and illustrators do to make excellent children's books?
My favorite books are ones with a story that feels very personal, with a unique perspective. Most of my favorites come down to the writing. For me that's much harder to create than a beautiful book. I think writing every idea down, no matter how weird or ridiculous is one fool-proof way to keep improving. Another is to seek specific schooling. Lee started an online school with Will Terry and Jake Parker called The Society of Visual Storytelling. Their website has been a huge educational resource for me. Everyone needs to find a place to ask questions, especially when diving into a complex industry like children's publishing.
04
What are your creative practices? How do you stay inspired?
Pinterest is one of my favorite tools for finding and gathering inspiration. I love seeing new and fantastic work, so every day I start by diving into my art/fashion/pattern boards to find something that sparks my imagination.
Aside from that, taking breaks early and often keeps my approach to a project fresh. This is even more important now that my work relies so heavily on ideation. An idea is like a frightened cat. If you chase it, it's always going to run away. If you relax and ignore it, maybe it will sit next to you (if you're lucky).
05
Where are your best sources of inspiration for your illustrations? Which illustrators do you admire?
Instagram and Pinterest for sure, but I also made a "dream portfolio" which consists of my all-time favorite pieces. I study it to help imbue that style into my work. I should make a new one soon. What I love is always evolving, and so should my inspiration.
A few of my favorite children's book illustrators are Emily Hughes, Mae Besom, and Carson Ellis.
06
What was it like to make your own children's book? How did the process work and what tools did you use?
It started with an idea for a story that I liked. I thought that it was good enough to start making art for, until I started getting feedback from my community. I went to an event with the Society of Children's Book Writers and Illustrators in August, and rewrote my story about 15 times in one night, then 10 more times the next day. Getting feedback, having people want to build off it, and finding the personal meaning of the story were all huge revelations. Once I had a story that felt more impactful (not perfect), the illustrations came more easily. Most of my writing work is just paper and pencil, but I made the artwork digitally.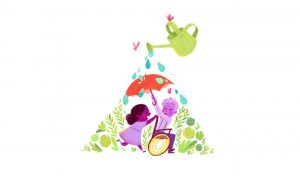 07
How did you decide what to include in your portfolio?
This year has been all about efficiency, so every piece I've created since June has been for my portfolio. I wanted spreads from the book to become a hefty part of it, but I've loved making magazine illustrations, book covers, and one-off spreads from my favorite stories.
I'm of the mind-set that my newest work should also be my best work, so it's been easy to decide what to include. Having a good variety of compositions and moods while showing some style consistency is my method for building a portfolio. And I always focus on quality over quantity. My advice is to remember that you're just showing the viewer that you can do the work. So you need to make it easy for them to see what you're about.
08
What was it like to receive and unwrap your Blurb book? How does it compare to other books you've seen? 
It really was like opening a present! I designed a full color cover and it immediately made me so excited to look inside. The quality of the printing was evident on every page. I think it's the closest that I've gotten color and value wise to what I see on my screen. It fits in perfectly with the art books on my shelves!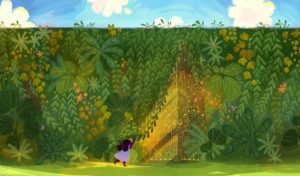 09
What role does print play in a digital world? What do you think the future is for books for creatives, child readers, etc?
I actually sent a copy of my book to my agent in New York. Apparently, the founder of the agency loved it so much that she put it on her own bookshelf and said it was one of the best marketing materials she had ever seen. If that doesn't tell you that print is alive and well, I don't know what will.
When so much of what we see and appreciate is digital, print starts to stand out even more. Many of the artists I know use print as a calibration for what they love most. If it is their absolute favorite book, of course they will buy the physical copy. If it's their favorite artist, they'll frame the print proudly. Once it's in the room with them, it feels much more substantial in a way that a digital file just can't compare to.
Quote: When so much of what we see and appreciate is digital, print starts to stand out even more.
10
How does what you're doing now compare to what you wanted to do growing up? Have you always known you wanted to be an illustrator?
I've gone through quite the journey of what I thought I'd do. When I was a kid, I wanted to be a zoo keeper, then a pilot, then a marine biologist. I only really pursued art because I had to tour colleges at the end of high school, but I never thought it could be a viable career until my mom's hair stylist (Mimi) said I should make art professionally. Something clicked when she said that.
I slowly started to decide what I wanted out of life instead of letting life happen to me. Mimi must be psychic, because she also said I should go into children's publishing. It took me about nine years to finally take that bit of advice. I dove into concept art first because I absolutely love it. It wasn't until I realized that I wanted to work from home (so that I could spend time with my future dog!) that I considered illustration. Lee taught me to think of the lifestyle as part of the career, which sounds so obvious but blew my mind. The more I've worked in illustration, the more I absolutely love it!
11
If you had a piece of advice for your 5-years-ago-self, what would you tell her? What would you tell people just starting out?
I would have told myself to start making the work that I want to make. No waiting, just do it! It's so important to be active in your career, to really take control and seek out the people and opportunities that will build your community. It's not as scary once you're doing it, I promise.
Feeling like you'll magically know something in a year that you don't know now is just self-sabotage, so make that thing you've been thinking about. If you're starting something new, try to surround yourself with like-minded people. Remember, most of us are introverts, so talk to each other anyway. Keep an idea journal, hoard Pinterest boards, and learn from your peers. Just do the thing!
12
What's one project you're dying to work on next?
I'm actually doing something that I've always wanted to do right now. As an exercise and to build my portfolio, I've been working on making a book cover. I could pick any book, so of course I had to pick Harry Potter. I've always dreamed of making something for or from the wizarding world and would love to work with J.K. Rowling someday. My mentor Lee actually got to make a poster for the newest Fantastic Beasts movie, so I'm living vicariously through him! But as long as I'm making new content that spreads positivity, I'll be doing my best work and living my best life.
Thank you, Anna, for taking the time to talk to us and for making your beautiful book with Blurb.
Ready to make your own professional portfolio? Get started with one of our high-on-design templates, or create your own custom layouts.