Making your own wall décor is a fun way to express your creativity. If you find yourself with ample space for art (high ceilings, anyone?) or you need tips on how to decorate a large wall, we've got you covered. These DIY wall décor ideas can all be customized to fit different rooms and budgets—just imagine the possibilities!
1. Art Gallery Wall
Turn your living room or dining room into a personal gallery with a collection of unique wall art. If facing a large blank wall feels daunting, simply follow your instincts, mixing photos and paintings, drawings, and collage as you go. To combine artwork of different sizes, start by hanging the largest piece first, then work your way out from that focal point, adding smaller images to create a one-of-a-kind impact.
2. Panorama in Pieces
This one goes out to all the panorama lovers! Get more mileage out of a favorite landscape photo by digitally cropping it into several equal-size photos you can hang in a horizontal row. Depending on how you divide the panorama-style shot, any subject matter will work—from natural landscapes to rooftop views to portraits. It's a perfect solution for that large wall behind a couch or dining room table.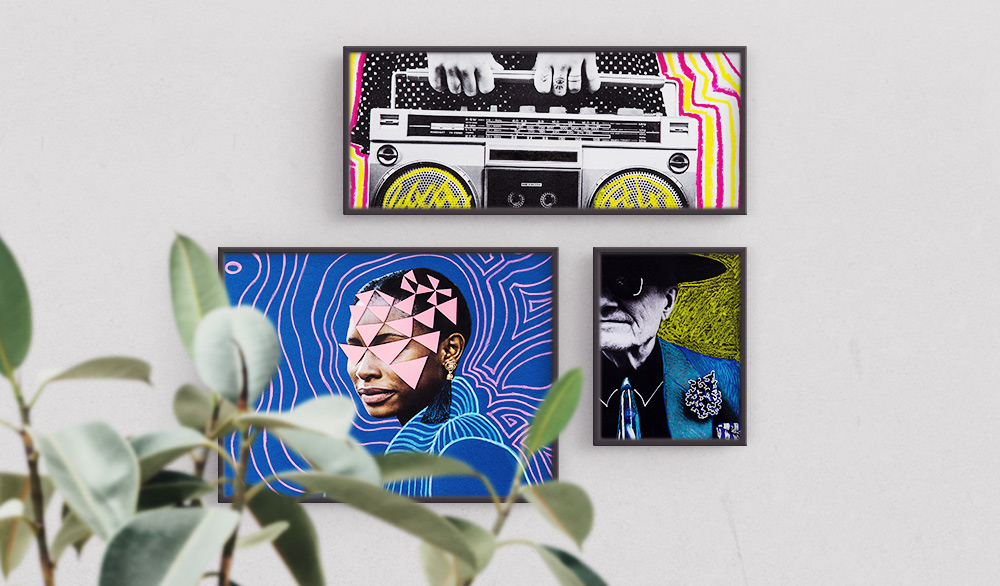 3. Inspirational Text Art
Text-based artwork makes for great large wall décor while bringing a burst of personality to the room. Choose a famous quote you love or put a few powerful words front and center. What words will create the perfect mood in your living room, dining room, creative studio, kitchen area, or kids' playroom?
4. Black & White Photo Series
Black and white photography has a truly timeless appeal, so it works with vintage and modern décor. Decorate your large wall with a set of portraits or minimal landscapes, animals, or dramatic city skylines. If you're feeling a little adventurous, mix in a drawing or painting in the same two-color palette for a cohesive, contemporary look.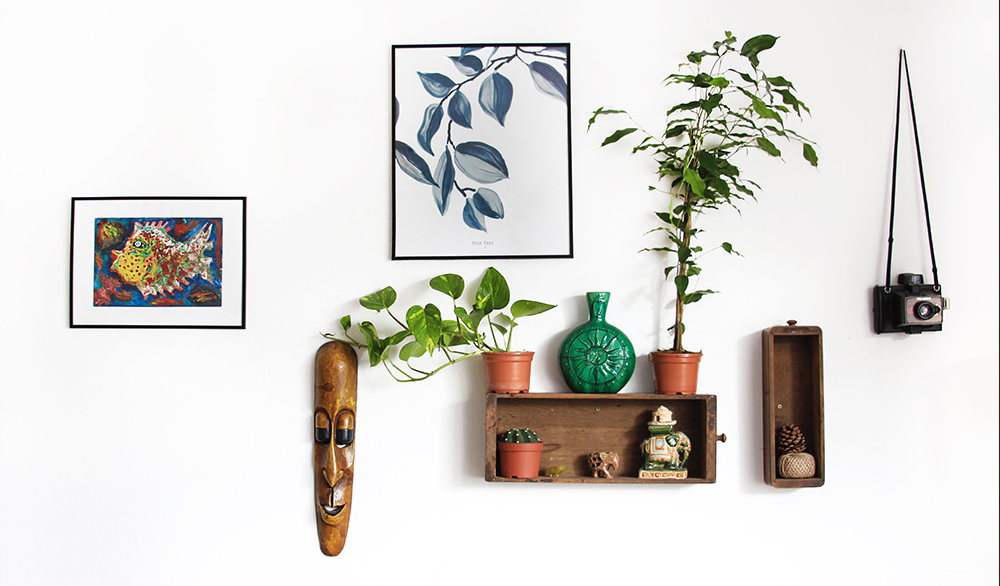 5. Floating Art Shelves
A set of floating shelves add depth and interest to a large wall while offering plenty of space to display your favorite photos, paintings, drawings, books, and collectibles. Curate each shelf by color, theme, content, or mix it up! This large wall art solution works best above a table or sofa, where people are less likely to lean on it or brush against the shelves in passing.  
6. Abstract Triptych
Good things come in threes! If one picture isn't enough to decorate a large wall, keep the creativity going with a whole series. The triptych format traditionally features a set of three paintings that tell a story, but using abstract images makes this arrangement even more versatile and contemporary. Create a single row of three complimentary photos or paintings, adding space in between as needed.
7. Leaning Art
When decorating a large wall, sometimes you need an alternative to hanging art. Maybe you've got an especially large or heavy piece of artwork, or you have brick walls that are difficult to mount fixtures on. Or perhaps you simply want to avoid making holes in the wall. Leaning photos or paintings against a blank wall is an effortless, modern way to display treasured pieces. Extra-large artwork can be placed directly on the floor, while several smaller pieces can add vertical interest atop a bookshelf, mantle, or table.
8. Photo Grid
When you have a whole stack of favorite photos, go for the grid to decorate your large wall. Organize a collection of artistic shots, family photos, travel memories, or milestones into a stunning piece of wall art. You can build your photo grid horizontally or vertically to fit a large, sprawling wall. Photography and design fans might even shoot for the rainbow and arrange their images according to the spectrum.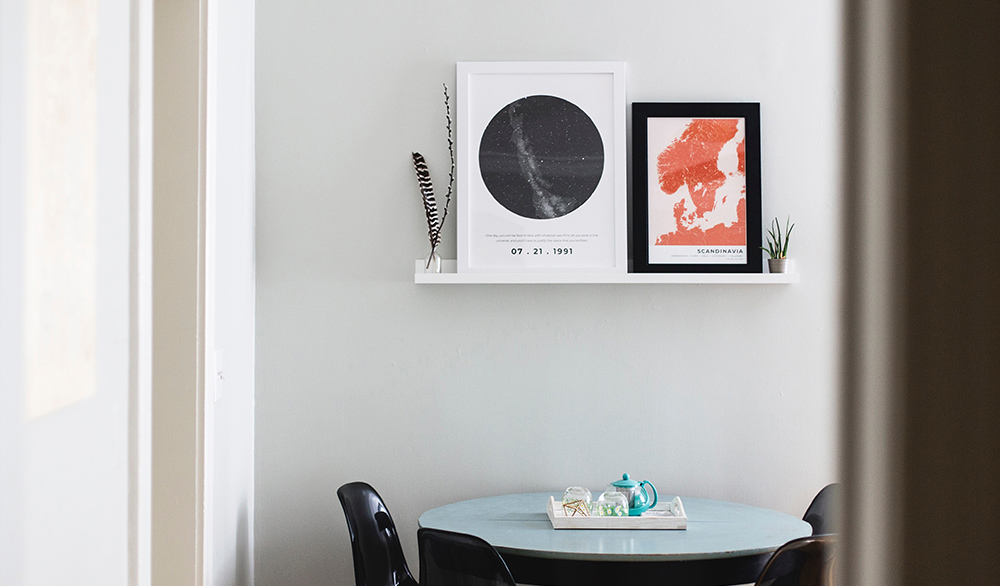 9. Mixed Media Collage
Add layers of creativity and color to your walls with a DIY collage! Start with a large blank canvas, and use découpage glue (clear, water-based craft glue) to attach photos, magazine cutouts, paper cutouts, or pieces of fabric. Make your design using simple geometric shapes or lots of intricate layers, and you'll end up with eye-catching wall art for any room.
10. Pegboard Panels
Invite even more creativity into your space by turning a sheet of pegboard panel into large wall art. Pegboard is a budget-friendly material that can be painted or pieced together to fit any dimension or décor. Select your choice of fasteners (try hooks, tape, or string) to hang artwork, objects, plants, and memorabilia that inspires you. This is an especially fun and versatile option for a large office wall.
11. Minimalist White Accents 
We often look for colorful artwork to decorate large walls, especially white ones. But white artwork can add a contemporary touch to any interior while breaking up the monotony of a large wall. On dark wood paneling or colored walls, savvy use of white wall art can also have a clean, brightening effect.
12. Washi Tape Wall Art
Try this wall art technique in one room, and you just might go wild for Washi tape! Made from durable Japanese paper, Washi tape comes in a variety of colors and patterns, making it a simple, fun choice for decorating. Apply the tape in stripes or geometric designs to canvas, paper, wood, plastic, or metal wall art (or even the wall itself!) to create one-of-a-kind wall art. Bonus tip: it's totally removable!
Design and print your very own DIY wall art and décor with Blurb. Get started.