Sometimes all you need to kickstart your photo book project is a boost of visual inspiration. Bold photo layouts. Fresh design ideas. Creative cover styles. We're right there with you.
Browsing the work of great book-makers is a beautiful place to start, so we rounded up five exceptional coffee table books by photographers, artists, and designers in the Blurb community. Each author found a powerful way to showcase their best work, tell a visual story, and utilize high-quality materials. The results are stunning. Take a closer look and get the creativity flowing.
A Collection of Paintings, by Monica Garwood 
Layflat Hardcover, ImageWrap, 8×10 inches
Made with Adobe InDesign Plug-In
Each one of Monica Garwood's portraits contains the emotion and mystery of a whole story; together, her paintings and illustrations form a truly mesmerizing volume of work. The Layflat design lends a dramatic, elevated feel to every page, so her depictions of powerful female icons, unique vignettes, and bold patterns stand out in a big way. Notice how she pairs the images on each spread, occasionally weaving in behind-the-scenes shots and techniques, too. We love her creations and just had to ask her 10 questions about her Layflat book and creative process.
Sketches and Sundries, by Abigail Halpin
Layflat Hardcover, ImageWrap, 8×10 inches 
Made with Adobe InDesign Plug-In
Step inside the creative world of Abigail Halpin, one sumptuous Layflat page at a time.
Her vivid illustrations, original page layouts, and personal storytelling make Sketches and Sundries a captivating artist book. She arranged her photos and text according to visual themes and creative process, so you also get a glimpse of the backstories that inspired her drawings. Plus, check out her interview with Blurb to learn how she made the book and what inspires her work as an artist, illustrator, pattern maker, and textile designer.
Iceland, by Oleg Ershov
Hardcover, ImageWrap, 12×12 inches
Made with Lightroom
Talk about breathtaking images. This hardcover collection of fine art photography by Oleg Ershov takes natural landscapes to a whole new level. He captured these majestic panoramas during 10 photo expeditions to Iceland from 2009 to 2017, and we can't get enough of them. From afar, the photos almost have a dreamy, painterly feel. Up close, the large square pages reveal all the crisp details and depth in brilliant, full color. You absolutely have to peek inside this book. 
Another Selection of Paintings, by Allyn Howard 
Layflat Hardcover, ImageWrap, 7×7 inches
Made with BookWright
Explore the whimsy and natural wonders of Allyn Howard's paintings in her beautiful Layflat photo book. Though compact in size, this charming hardcover edition is brimming with life in vibrant animal scenes, floral patterns, and iconic portraits that are bound to inspire viewers of all ages. For more insights on her creative life as a professional artist, illustrator, and designer, read our Q&A with the author.
Lost & Found, by Liz Kamarul 
Hardcover, ImageWrap, 8×10 inches
Made with BookWright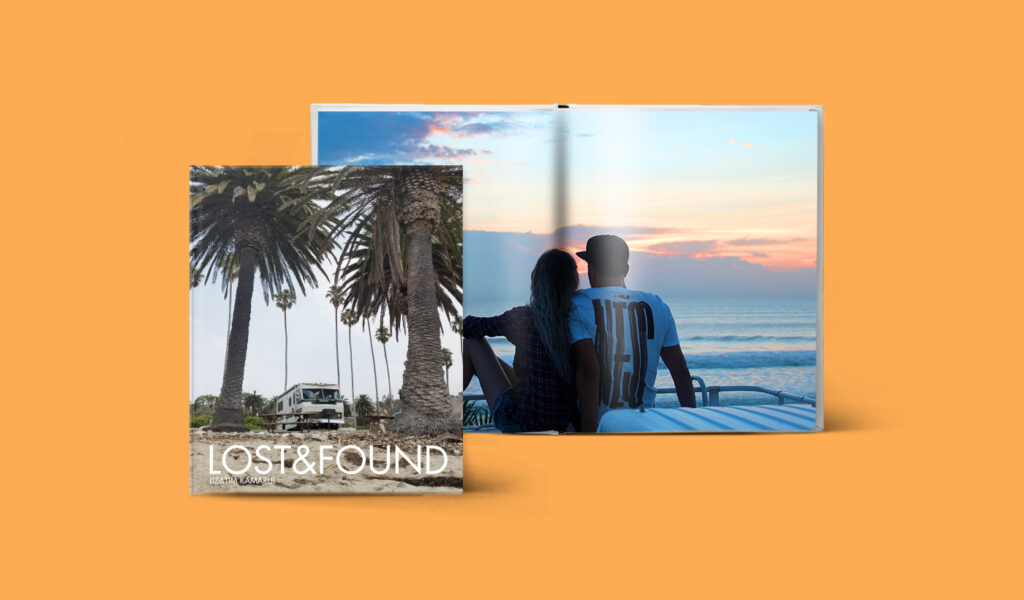 Some road trips are so epic, they call for a photo book all their own. In Lost & Found, you can see the incredible sights and go behind the scenes with Liz Kamarul on her RV trip across the USA. She documents every angle of the adventure, from natural vistas to her traveling pet companions and the stunning interior of her home on wheels. Want to know more? Here's the full interview.
Ready to start your own photo book project? Try a free template or design your pages from scratch.