You've taken care to plan your day to every last beautiful detail, and you have a gorgeous set of photos to show for it. How do you create a keepsake that holds all the big moments and little details? How do you sort through hundreds of photos to curate a collection you'll want to page through again and again? Putting together a wedding album can feel daunting, but we've got a few places for you to start.
1. Choose the shots that matter most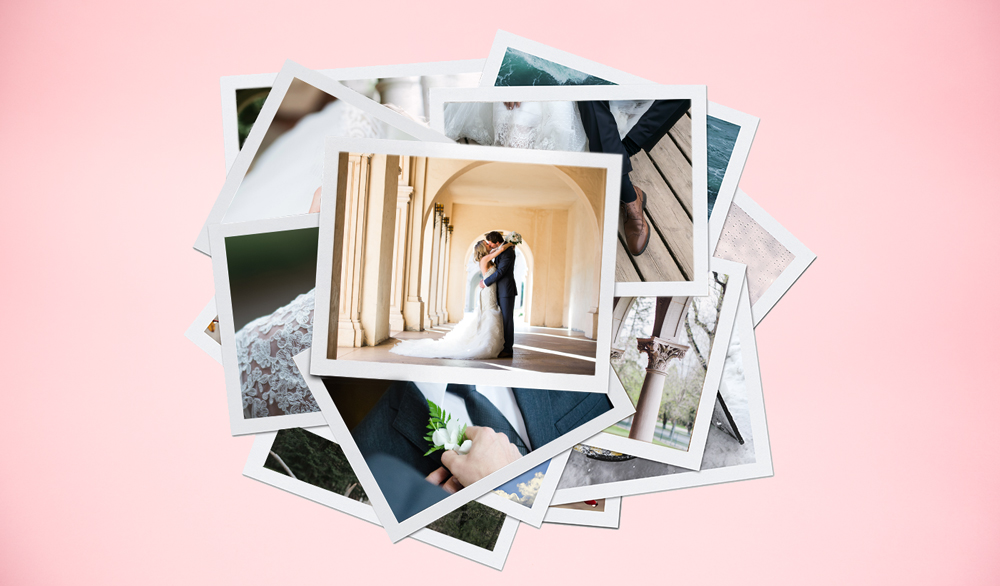 This should go without saying, but it's your wedding album. When you make your selections, your very favorites are the priority. Start with 20-30 photos that are your absolute favorites. Go with your instincts. For this set, it doesn't matter when in the day they happened, or who's in them. Your favorites are your favorites. Next, select you're the best detail and atmosphere shots. You're looking for the ones that capture mood, décor, and dress-up subtleties that get lost in the photos of people. Then, find the best photo from each major event of the day. Getting ready, signing the license, key ceremony, and reception moments. To do this, it helps to revisit your timeline for the day so that you have a good representation of it. Finally, go through the formal portrait shots of family and wedding party. As you cull through these, be sure to check everyone's faces for strange expressions or closed eyes. Check around each person's head, and their clothes, etc. You're looking for the photo with the best expressions and least number of distractions. Group shots are rarely perfect, but with a good eye, you can get close. You may be happy with how you look in a particular shot now, but a bridesmaid with closed eyes will bug you more later on. A good guideline is to select 100-150 pictures for your photo album book.
2. Tell a story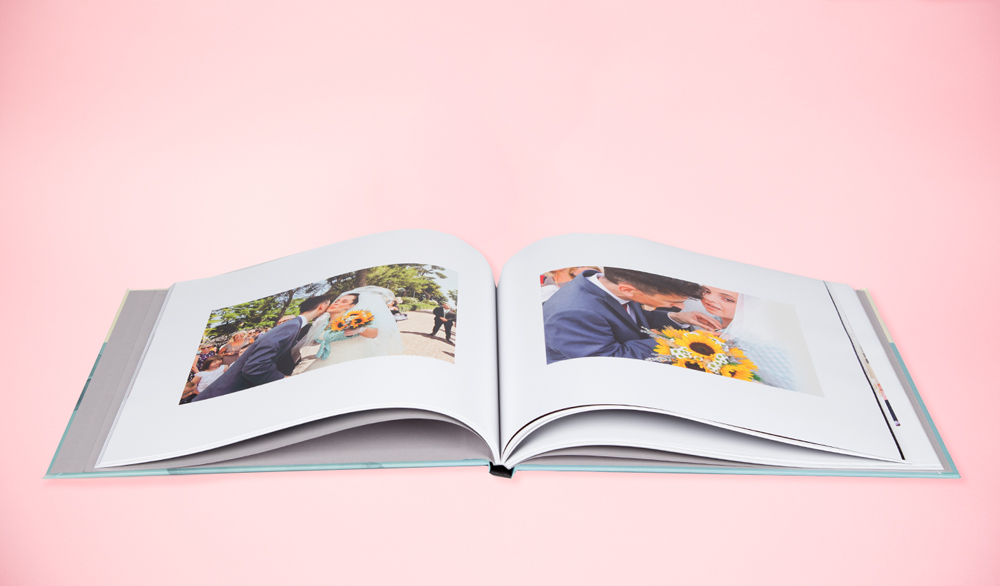 Wedding albums work best chronologically. Start with the beginning of the day and work your way through. Your wedding album should help you remember not only who was there, but how it all happened. This helps relate one page to the next as you go through the album. The photo book tells a story, but so does each spread (two pages facing each other.) Each spread should have 2-6 photos that cover the same subject and relate to each other. Arrange them so that as your eye moves from right to left, top to bottom, you also get a feel for action and reaction. For instance, a spread about The First Look would have the groom waiting on the left, then the bride's approach, then his reaction as you move across the page. If you have a lovely photo of mom crying, be sure you show what moment made her cry. Create relationships between your photos. Try doing a series of the formal portrait shots at the end, as a finale.
3. Go for a clean layout
Less is actually more in your page spreads. The fewer photos you have, the more they speak for themselves. Take photos all the way to the edge of the page for high-drama and impact, and put white space around more intimate photos to draw the viewer in. Minimize text (the photo will be enough for you to remember who's in it or what's happening), and never overlap photos. It can look cluttered or busy. Also, beware of the way design embellishments can make your album look dated in the long run. Adding things like text, shadows, and ornaments detract from your photos. Keep photos aligned straight on the page, keep spacing between them even, and use more white space than you expected to create focus It's the cleanest, simplest layouts with plenty of white space that look most timeless.
4. Make a strong, emotional cover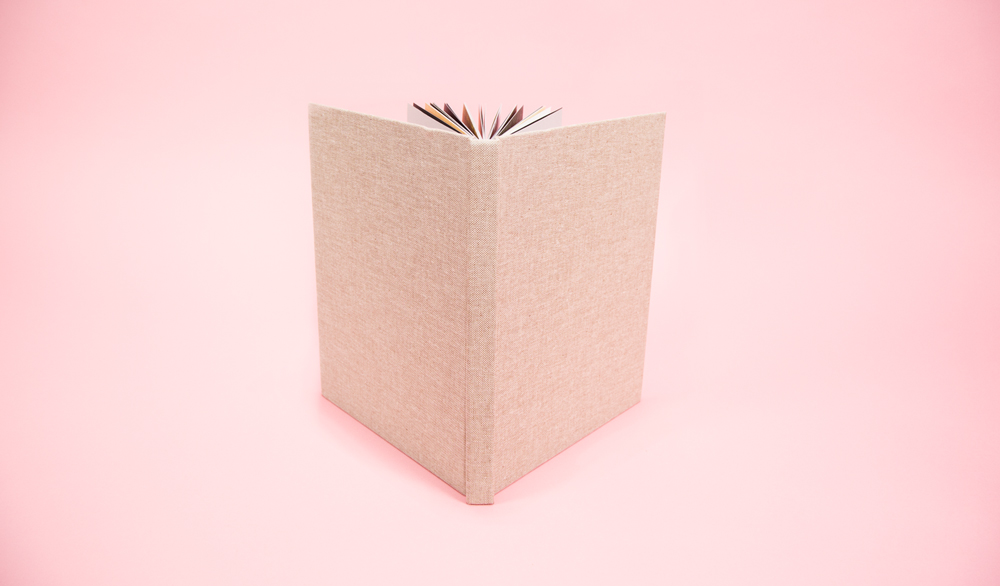 You're looking for a cover that makes you want to pick up your album again and again. Whether it's a cloth color you love, or an image, you want something you love the most. If you choose a cloth cover, your first photo should be your absolute favorite one of the bunch. If you're choosing an image for the cover, pick one that not only features you as a couple in a gorgeous way, but also has some open space in the photo composition where the title of the album can appear. Look for horizontal images with the focal point on the right, and you can wrap the cover in one stunning picture.
5. Multiple wedding albums solve selection problems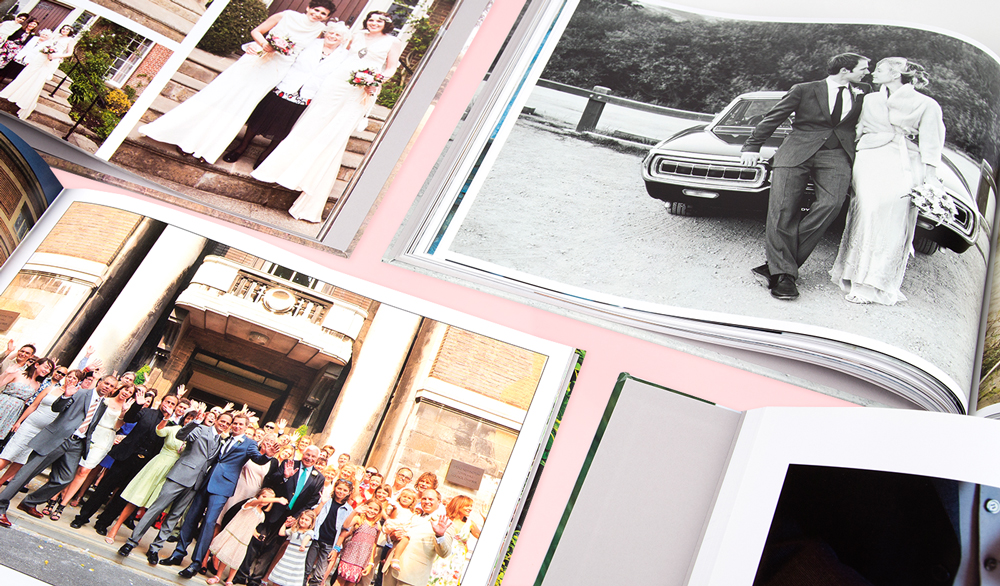 Inevitably, you'll have some photos leftover from your initial choices. That's common, but you may still want to use them. Watch for any connections they have, and consider a smaller, themed album. You may also feel pressured or obligated to put some photos of certain people in the album. Don't forget you can scale. Create smaller themed albums to cover your bases. You can even do an album of all the formal portrait shots so everyone is represented, or a separate album of all the table shots so you have a record of every guest at the reception. Smaller, themed albums not only make great gifts, but they take the pressure off when it comes to curating your perfect album and meeting expectations.
 Have a tip for creating a wedding album? Some guidance for making photo choices or creating layouts? Share them in the comments below!