We were beyond delighted when photographer and book-maker Mark Orr reached out to let us know that his book, Raintree County Memories – Remembrance of an Epic Area, had been accepted into the prestigious Margaret Herrick Library in Los Angeles, California. A celebration of the 1957 film Raintree County, which starred Elizabeth Taylor, Mark's book has now become part of cinematic history. We caught up with him to find out more.
I wonder if we can start with a little about your creative background? How did you become a photographer and what was it about photography that you found so inspiring?
I started taking photographs while doing genealogy research for my family. I would document the old schools and churches that my ancestors had attended, cemeteries, and grave markers; anything that was connected to my family's past. I began to see the beauty in the old buildings and started trying to capture it in a way that was more interesting than just documenting them. And I realized that many of them were in disrepair and wouldn't be around much longer so I wanted to have the photographs for posterity. Many of the places I have photographed are already gone. From there I started photographing old barns, train tracks … everything I find to be beautiful here in the Midwest.
How about your bookmaking background? You have made several books with Blurb but when did you start putting your work in book form?
The first book I made was with Blurb in 2008. It was called A Midwest Pictorial and consisted of my photographs of local landscapes and historic buildings. I have created 10 books in all. Five of them are of my photography and local "Hoosier" history and interest, and five are collaborations with a group of artists from around the world, about 9 different countries. We formed a group called "The 21st Century Photography Group". A copy of our first book in the series is in the library of the Rijksmuseum in Amsterdam. I also found that Malone University in Ohio carries that particular book. I'm not sure how it ended up at either library. The library here, New Castle, Henry County Public Library, a Carnegie library, carries several of my books. I love selling books with Blurb, but I am just as thrilled at having them available in libraries.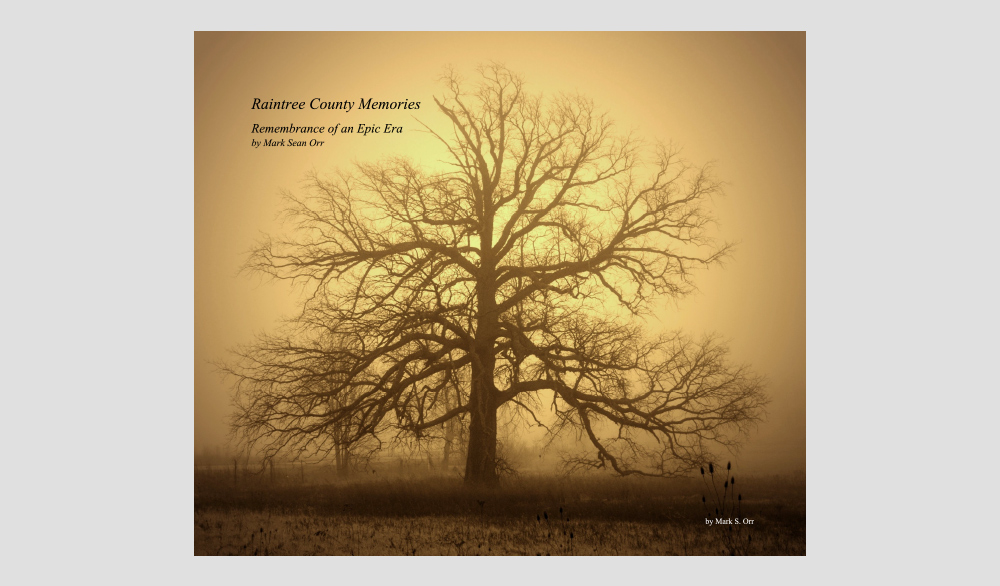 Why are books important in 'The Digital Age'?
In the digital age, books are in abundance and in various formats. You can find a book about anything and read it on your phone, laptop, or almost any device. There's never been an easier or faster way to find any type of book in any genre. For me though, printed books will always be my favorite. I love holding them, dog-earing pages, even the smell of them. I have a room with wall to wall shelves for all the books I have collected over the years. I love libraries and think they are important institutions for many reasons. I've been a reader on my own since the 6th grade when I discovered the books of authors like Jack London and James Thurber. History is the most fascinating subject to me and I'm afraid we are not teaching enough of it.
Congratulations are in order as you just had one of your books "Raintree County Memories" accepted into the Academy of Motion Picture Arts and Sciences Library in California. Well done. More specifically, the book will land in the Margaret Herrick Library which deals with books, documents, and other items that relate to the Oscars. Tell us about the subject matter of the book?
Thank you! The book is titled Raintree County Memories – Remembrance of an Epic Era. It's about the novel Raintree County and its author, Ross Lockridge Jr. It was published in 1948 and adapted to film in 1957 in an MGM movie with some of the biggest movie stars of that era; Elizabeth Taylor, Agnes Moorehead, Lee Marvin, Eva Marie Saint, Montgomery Clift, and Myrna Hansen.
Lockridge wrote the novel about his Henry County, Indiana family where I was also born and raised. The story is told over the course of one day in 1890 as the narrator looks back to the Civil War and before. It's been compared with, and I agree, Gone with the Wind, but from the north's point of view. Henry County was a great Quaker and abolitionist stronghold. Raintree County is a sprawling book at over 1,000 pages but called by some the Great American Novel. Sadly, Lockridge took his own life at age 33, just as his book reached the #1 best-seller spot in the country.
My book is also about that summer in 1956 when all of Hollywood seemed to move to Danville, Kentucky to film the movie. The studio executives thought that Danville looked more like 19th century Henry County than Henry County did in 1956. I interviewed many of the actors, extras, and stand-ins who worked on the film and their stories are fascinating. The "movie stars" were in Danville for so long that year their names were published in the next year's phone book. It was an exciting time and a great movie. It was also one of the first movie sets to use Camera 65.
The main theme of the original novel is man's quest to find happiness, symbolized by the search for a Golden Raintree that was planted in Henry County by Johnny Appleseed when he made his trek across the Midwest. He carried with him one oriental seed of the Golden Raintree and planted it in a secret location in Raintree, Henry County. The legend goes that the finder of the tree in the vast swamps of Raintree County would be rewarded with the secrets of life's happiness.
What was your initial goal with the project? How about the book?
I fell in love with the story and wanted to keep the legacy of Raintree County alive in Henry County and beyond. Through writing the book I started corresponding with the Lockridge family, specifically Professor Larry Lockridge, son of the author and also an author himself. He actually wrote the biography of his father Shade of the Raintree – The Life and Death of Ross Lockridge Jr., author of Raintree County. The Lockridge children are passionate about keeping their father's legacy alive and that of Raintree County. I thought I would love to help as I live here and know a lot about the history of the county.
In 2015 I had a fundraiser and erected a Raintree County Memorial marker on the lawn of our Henry County courthouse. The courthouse featured prominently in the novel where: "The clock in the Court House Tower on page five of the Raintree County Atlas is always fixed at nine-o'clock, and it is summer and the days are long."
What does having your book in the collection mean to you as an artist?
Having the book in the Margaret Herrick Library means a great deal to me. It's a wonderful way to keep the Raintree legacy alive and I feel that the novel and movie should be remembered. It's also a kind of validation, that my work is being recognized in such a prestigious library. A copy of the book was also on board the 2015 Lincoln Funeral Train reenactment in Springfield, Ilinois which was a great honor for me as well. Blurb sent the director of the project a copy of my book for that also.
Why did you use Blurb? Do you think this piece of work might also be viable for a mainstream publisher?
I use Blurb because of the ease of creating a book and the freedom to make the book exactly how I envision it. I can create my own layout, my own book cover and even add backgrounds to the pages, from Blurb or my own designs. I can have as many pages as I want. With my most recent book about a local war memorial park, I started out with a publishing house but found it too restrictive for what I wanted to do. I wanted to use color photos and more than the page limit they allowed me. Also, with Blurb, I can set my own retail price.
I think Raintree County Memories is a viable book for a mainstream publisher. It's a history of Indiana, a mini-biography of the author of Raintree County with information directly from the Lockridge family, and a great account of the filming of the movie in Kentucky by people who were there 64 years ago. That in itself is pretty amazing. It also has photographs of the filming behind the scenes that are not published anywhere else, some great stories about the filming of the movie, and of the movie stars involved. There were some shenanigans! It truly is a great novel and film and it was indeed an epic era. The original novel was translated into many different languages and still has mass appeal. For several years recently it was also the #1 most requested film to go to DVD/Blu-Ray.
What were your material choices for the Blurb book?
I usually use the BookSmart tool and have produced photo books and trade books. When I buy in bulk, I usually choose the least expensive paper and bindings and have never had any problems. I also always buy a hardcover copy of each book to keep for myself. The trade books are great for affordable history and storytelling books and the photo book options make for some beautiful books.
What was the process for how the book was chosen for the library?
I contacted the Academy and gave them the information about the book and made a pitch. I told them how special I think the novel and movie are and that the first-hand accounts of the filming were a fascinating look at an Oscar-nominated film. Then I contacted Blurb and proposed they send the library a copy and I'm thrilled that all agreed.
What's next for you as an artist? Any new projects?
I have started making notes for a new book, on the local folklore and legends in Indiana. For this next project, I will be learning and using Blurb's desktop software BookWright. I will continue to exhibit my photography in exhibitions, galleries, and as set decor in movies and TV series. I'm not an actor but my photography has made its way into several projects including the United States of Tara TV series, produced by Steven Spielberg on Showtime. It's something I love to do and hope to keep doing.
Feeling inspired? Turn your passion and knowledge into a beautiful book you can share and sell. Get started today.