Hannah Eloge and her book projects are such a special story. More than a year ago we noticed that Hannah had made a gorgeous magazine about her family and community, and the project was so lovely, we showed it off in an Author Spotlight. Hannah's project went much further than the typical family album—it was a project with a purpose. Hannah and her husband were in the adoption process, and they wanted something beautiful to introduce their family life to expectant moms that were considering adoption for their baby.
A quick update: After nine months in the adoption process, they were matched with an expectant mom that was carrying twins! Now they are home with their two lovely girls and the adoption has been finalized!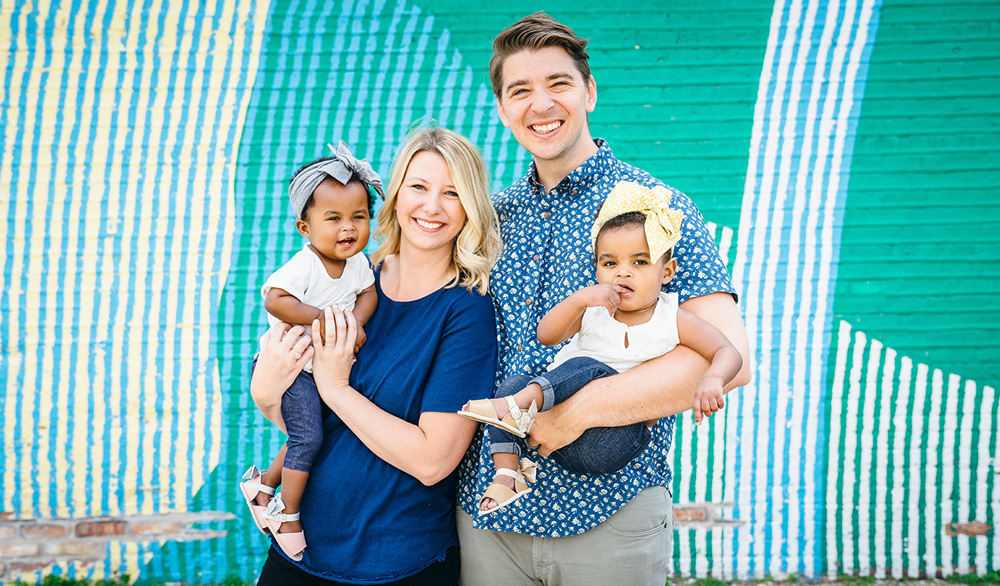 Hannah remembers the process of trying to make her book, and now has a website where some creatives in the Adoption community have come together to help other parents make their profile books. We were able to speak with Hannah about her profile book, her book process, and her adoption journey. Here's a bit of our conversation:
How did you find Blurb, and why were you making your book?
I first came across Blurb when I was searching for a way to make our profile book for our adoption! Adoption profile books are a required part of the domestic adoption process when working with an agency. You aren't given much information on how to make your book, so you are often on your own to figure out the design and a place to print (in most cases!). It was required to have a softcover, but I wanted it to be high-quality. Because you have to print so many books for domestic adoption, I needed it to not break the bank! Adoption is already very expensive!
How would you describe the book-making process?
I loved making our adoption profile book. I would work all day and then stay up until three in the morning working on our adoption profile. I pored over every word and every photo making sure it authentically represented who we are and what our family is all about.
What's your creative background?
I have always called myself a Creative—there seemed to be no other word for someone that likes to dabble in everything.  I grew up in Tucson, Arizona in a highly creative family. My mom and dad have encouraged my creativity since I was young. They always inspired me to create projects—whether it was a book report or a science project, which were unusual and unique and different from anyone else in the class!
On a trip to Zambia during college, I fell in love with photography. I realized it was the only way that I could give people a glimpse into the depths of joy and heartbreak I saw there. After that trip, I did not put my camera down. I love people, I love storytelling, I love to decorate our little space that we call home in Chicago.
I work full-time for a global orphan care organization in their marketing department. I love finding new ways to tell the same story to move people to action. My favorite books are Big Magic and Creative, Inc. Big Magic really stirred in me a need to get ideas out that I was storing up inside. My excuse for not pursuing ideas was often that someone had already done something similar. Big Magic taught me that even though someone might have already done something similar, no one will do something the way YOU will do it, and it will make the idea completely new because you bring a different point of view than anyone else has!
That thought really allowed me to start Kindred + Co., a brave adoption community. Kindred + Co. is a website that has weekly blogs for the adoption community. I also help people make their profile books after seeing the great need for this kind of service through my own adoption process.
What was it like to see your finished book for the first time?
Oh! We were so excited. My husband and I ran out immediately to a painted wall by our house to take photos of it! I was so proud and felt like it captured us perfectly.
Tell us a little about the role profile books play in the adoption process.
The profile book plays a pretty large role when you are working with an agency in the domestic adoption process. Agencies use the profile book as a tool to show expectant parents that are considering making an adoption plan for their baby. As you can imagine, this can be an overwhelming and difficult decision to make. The books give expectant parents a glimpse into what their child's life might look like if they choose adoption for their baby. Couples and individuals looking to adopt share who they are, what their life is like, what their home is like, and what their interests are so that expectant parents can make the best decision for their baby. Usually, the expectant mom/parents choose who they want to "match" with after viewing the book. This is usually the only way that expectant parents get to know their potential match!
What gave you the idea to help other people with their adoption books?
I saw a need! The adoption process can be very stressful. There is a ton of money to raise, meetings, and paperwork to fill out. Then, on top of all of that you are on your own to make your book, often times will little guidance. I know so many parents that dreaded putting together their book since they either don't have the time to do it well, or they don't have the tools or knowledge to work design programs to create a book that truly represents them. After I created my book, I was getting so many questions on how to make a book, what tools I used,  etc. I loved making my book, and with my marketing and design background, I just naturally saw a place in the adoption world where I could truly help others.
Tell us about your team. Do you collaborate? How do you work together? How did you come together in the first place?
I have the best team. When I started Kindred + Co. I knew I couldn't do it by myself, and I didn't want to either. I asked a few girls that I had met through the adoption world (most through Instagram) if they would be willing to come alongside this idea by being monthly contributors. I didn't want my voice to be the only voice. I truly believe we are better together and the more stories we can hear from different perspectives the more we can learn from each other. I saw a need in the adoption world for community. Adoption can be lonely, and community is definitely needed. I wanted to create one central place where people on all sides of the adoption triad (adoptees, adoptive parents, birth families) can come together to learn and share their stories. Right now, our book design team is small. I work on copy with Ashley of Big Tough Girl. She is a birth mom herself and she helps families who are adopting understand where women who are considering an adoption plan are coming from and how to communicate with them while meeting them where they are. I am so thankful that we have this exclusive with Ashley of Big Tough Girl because her insight is truly invaluable. Then, I work on with families to execute the design of their book.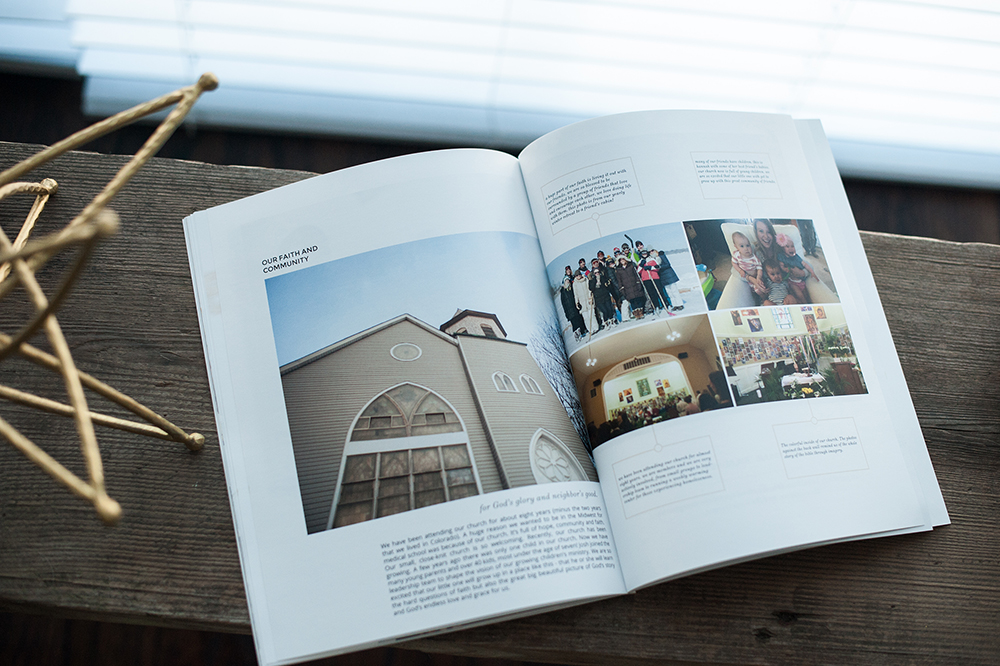 Do you think there's a connection between collaboration and creativity?
Of course! The best ideas come when you are brainstorming with others. I love the strengths and perspectives that having a diverse team brings. We can all learn from each other's stories and experiences. My team is some of my greatest inspiration. They are beautiful inside and out, they venture into hard and messy conversations, and they live life very authentically. Kindred + Co. is what it is because of who they are and the creativity, time, and collaboration they put into it.
What would you and your team say to families who are trying to communicate who they are? Any tips or words of encouragement?
We always tell couples that are working on the adoption profile book to be themselves and be vulnerable. These women that are flipping through these pages might be in the midst of the hardest decision and situation of their life. They don't want to see a perfect family. They want to see a real family, and they want to hear your hearts, your dreams, your failures, your ups and downs. We educate them on proper language, such as not referring to the reader as a birth mother.  They are not a birth mother until the baby is born and papers are signed.
We also tell families to paint a picture of what their life is like by using captions that tell a story. Instead of saying: "We love to cook", say something like: "We have the tradition of making Swedish pancakes every Sunday morning. Nothing beats Elizabeth's secret family recipe"
It all comes down to being genuine!
We're so grateful Hannah took the time to talk with us about her projects! We're inspired by how she's used storytelling and photography to build relationships and families. Congratulations on your own adoption, Hannah, and we can't wait to see what you do next!