34 years after he first glimpsed the peaks of Everest at 28,000 feet, William Thompson is choosing to upgrade his beautiful photo book, Everest, documenting the experience, using Layflat paper. We caught up with him to find out why and learn more about his work as a photographer.
Could you tell us a bit about your work as a photographer? Who or what has influenced your approach?
My history as a photographer grew out of a background in art, particularly fine art painting (I was in an MFA program for a while when in college).  My mother was also a painter and I grew up smelling oil paints and turpentine. However, I didn't begin thinking about photographic imagery until I was much older. My first image making for money was an assignment for the National Geographic (my book of Everest Aerials was an early NGS story assignment).
Honestly, I do not know how I could have been so fortunate to shoot images for the NGS around the world for the ensuing 15 years. This experience virtually changed my life and it has been fascinating. I know this sounds somewhat self-righteous, but I think the biggest influence on my work is my own imagination. I get to explore how I see and how I think visually and I have the wonderful willingness to explore the dark edges of my own thinking. Of course, I am a committed student of the great image-makers, painters, photographers, sculptures, and writers. I love the vast sea of ideas that I have the wonderful opportunity to play with, both visually and intellectually. The world is my muse. I read constantly, but very little fiction. I search for big ideas and love to wander through them.
It sounds as though you travel to tons of amazing places. Why did you choose these specific photos of Everest for your book?
Yes, I have a huge inventory of images—simply overwhelming at times. Stories on Kathmandu, Bhutan, Elephants, China… etc. I need to create more books—not to make money but to edify and show the world as it was. Everest. Well, an amazing collection of once upon a time in history images. No one had any images of this highest mountain in the world. Everest made the most sense to turn into a book.
In your blurb, you mention the geopolitical significance of the landscape—was this an important dimension of this project? Do you feel photography has a role to play in this arena?
The geopolitical situation enveloping the Himalaya today is intense and I doubt that anyone will, in the foreseeable future, be able to duplicate the project of mapping and obliquely photographing Everest. My image-making with respect to political issues is generally a question of restrictions rather than creativity. That being said, I am working on a book presently entitled Man and Beast, which is a look at the situation of Asian elephants and the history that man has with elephants. Truly fascinating and truly, today, sad. I just returned a couple of days ago from photographing the situation in Sri Lanka.
When you made your book, how did you envision it being used?
I had hoped that it would get a reasonable circulation as an education piece—show the world what Everest really looks like. I risked my life on this assignment (the flights were incredible combinations of serenity and madness). We survived and I wanted to put the book in the public eye. I made the book such that it can be previewed, opened, and looked at for no cost at all.
Which tool did you use to make your book and why?
I use InDesign as it is a standard in publishing and, more critically, it is relatively easy to use.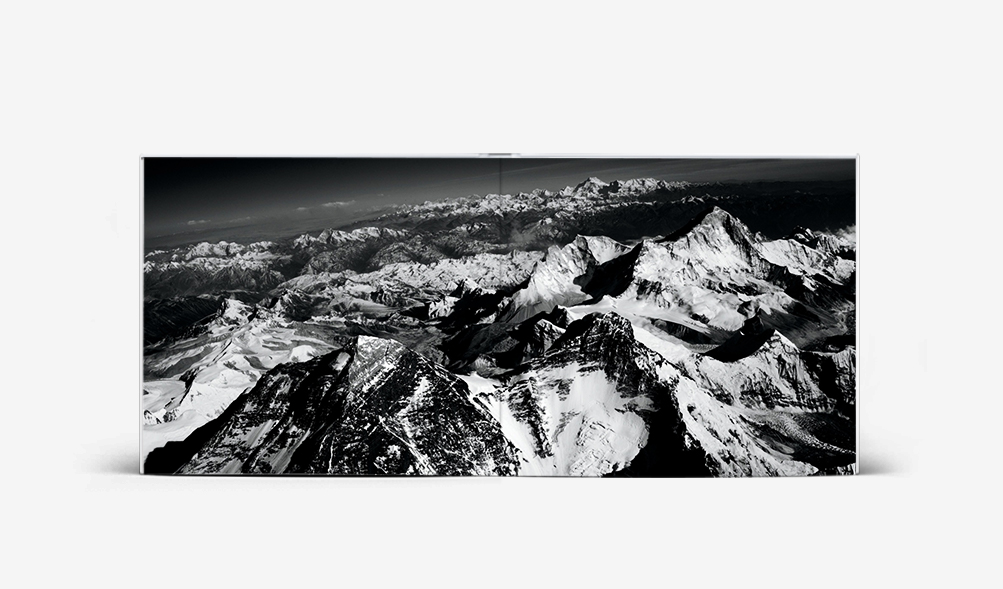 How did you find the book creation process?
Personally, I found it quite simple due in part because I am very familiar with InDesign AND you provided a template, which added significantly to the "ease of use".
Did you find the process of upgrading your book with Layflat paper easy?
I converted the Everest book with a Layflat paper so I do not have to deal with the gutter and its impact on spreads.
What do you feel Layflat paper adds to the book?
The concept at least makes the images seem more real as there isn't the issue of the loss of image in the gutter.
Any future plans for more books…?
One on Ladakh and its people, another on the Kathmandu Valley (originally a NGS assignment and one of my favorites), another on Bhutan—who knows what else.
Glimpse the peaks of Everest for yourself with a sneak preview of William's book, Everest: An Aerial Image Odyssey.
Documented your own adventures in a beautiful photo book? Learn how to upgrade to Layflat paper and give your images the seamless spread they deserve.