Founded in 2015, the nonprofit femLENS offers free workshops on documentary photography to women and girls from economically and culturally diverse backgrounds. These students learn to tell their stories visually with tools they have, like smartphone cameras. Jekaterina Saveljeva, femLENS founder and workshop facilitator, talks about the ethos behind the femLENS magazine We See and how women and girls deserve increased recognition as photographers and changemakers in their communities.
femLENS's work lives at the intersection of photography and feminist activism. Why is it important to link the two?
Photography should be the eyes and the voice of the people not known and not seen. Photos are powerful in that they inspire people to adopt different perspectives. By sharing their life experiences, women and girls become visual storytellers. Our work is to help them build a story by giving them tools to express their own vision, with which we hope to raise global awareness on social issues as well as diversify visual culture.
Your organization's mission is powerful—can you share more about it for readers that don't know about your work?
femLENS's mission is to visually [and technologically] educate the most vulnerable and resourceless women of our society through documentary photography made accessible by mobile phone cameras and cheaper point-and-shoot cameras.
Furthermore, visual storytelling is a therapeutic form, which provides tools for self-expression, healing, and further interpersonal growth as well as development through self-reflection. femLENS focuses on empowering women and their communities but also challenging stereotypes and discrimination in the media through education, support, exhibitions, and local partnerships.
femLENS has trained more than 100 women and girls from 13 different countries in documentary photography since 2015! What impact have they had on the world thus far?
Since 2015, femLENS has run, hosted, and launched a significant number of workshops (online and face-to-face), photo exhibits, social issue campaigns, articles, and published six issues of their annual magazine We See, four zines, and a photo book. All of these initiatives have showcased a diverse set of visual stories of women from local communities, including women from rural Ireland, women living in the Shatila refugee camp in Beirut, [disabled] women from Poland (which broke stereotypes of street photography artists), women working in the media in Cameroon, and many more.
Halima al-Haj Ali, Syrian refugee photographer
Halima al-Haj Ali, a housewife from Syria, left the country when shelling hit her house to flee for safety to Lebanon in 2012. Refugee life brought about challenges. As she shared, it was difficult to live in the Shatila Refugee camp in Beirut due to security concerns, distribution of weapons among the youth, and insufficient supply of basic utilities like power.
Halima participated in femLENS workshops in Shatila refugee camp in October 2017. She entered a photograph to the Lebanon Changemaker Photo Contest that focused on the UN Sustainable Development Goals, and she won the top prize of five thousand dollars in 2018. The entry, from her "Wires and Alleys" series, depicted the view from her balcony, where a woman walks in an alley filled with wires. The photo was made during the workshop with femLENS. For Hamila, the workshop opened up a broader interest and a potential career path for her, as she wishes to be a professional photographer focusing on social issues.
Halima continues to use the photography skills she learned from femLENS as a means to report about events, like the explosion in Beirut, and express herself on social issues. Although today Halima's socio-economic circumstances do not permit her to practice photography professionally, femLENS continues to fundraise and provide support to Halima when possible, so that she can continue to pursue her interest in photography.
Bella Antonyan-Shevchuk, Ukrainian photographer
Bella Antonyan-Shevchuk, a workshop participant from Zhytomyr, Ukraine, developed a project called "Hinterland" about migration from an unusual angle, looking at those that were left behind. Such stories are not necessarily popular or profitable, but they provide an understanding and insights not typically expressed in traditional media. Bella went on to develop another project called "A woman's burden" about all the expectations and responsibilities, and also bags, that women carry throughout their lives. This project was later developed further by the women's education nonprofit that she works with and made into a media campaign by a local NGO.
Maud McClean, Irish photographer
Maud McClean was introduced to femLENS in April 2021 and joined a group of women from Donegal and Dublin taking an online documentary photography course with me. In the course, Maud and other participants learned how to use a smartphone for their projects, general information about photography, and documentary photography. The course was organized by the Women's Collective Ireland (WCI) of Donegal. The participants from Donegal, including Maud, later had their work exhibited in the County Museum.
The course resulted in a continuing interaction of the participants not only among themselves but also with the femLENS team and resulted in a few collaborations among the participants. Maud has started to see herself as a photographer and has regularly entered contests, taken a further photography course, and has been asked to do commercial photography as well as maternity and newborn photoshoots. Maud's recent photos of a switch-on of Christmas Lights for charity were picked up by Donegal Daily, an online news source. In addition, the WCI of Donegal put out a call out for women photographers to shoot sea swim scenes from "The 12 Dips of Christmas," which is also raising money for charity.
McClean shared: "femLENS has broadened my view of photography and helped me see the importance of regular women documenting things as they're experiencing them. To do our best, let go of perfection, and to get over ourselves and get out there."
What are some of the barriers that prevent women from becoming visual storytellers or being recognized for their storytelling? What needs to happen for those barriers to be dismantled?
Today's cultural and media representation of women is not inclusive and diverse. Men and women are often portrayed in stereotypical ways, and traditional roles in society are emphasized. This misrepresentation and the message behind it need to change so that political, economic, and social equality of the sexes is possible.
One of the reasons for the above is the lack of education and the digital illiteracy of women. Nearly two-thirds of the world's illiterate adults are women. Also, [the] gender gap in using mobile phones remains substantial. Women are 8 percent less likely (165 million women) than men to own a mobile phone, and they represent less than 15 percent of working photographers.
Given the above circumstances, we know that there is a need for women from diverse backgrounds and communities with limited resources to get in contact with documentary photography as a tool to document their lives and create positive change in their communities.
What's more, femLENS ran a study on the needs, challenges, and ambitions of women image makers working with documentary photography. The one-year study (2021-2022) solicited insights from 176 women across 25 countries. These women shared their experiences in their work, finance, access to education, the community they are in, their activism, and gender inequality. The study revealed that most women faced discrimination as photographers in the form of payment, assignments, and access to resources due to their gender (74 percent) and age (56 percent).
Print is a large part of the femLENS mission as well, with We See magazine showcasing the work of workshop participants. Why is print important to this project?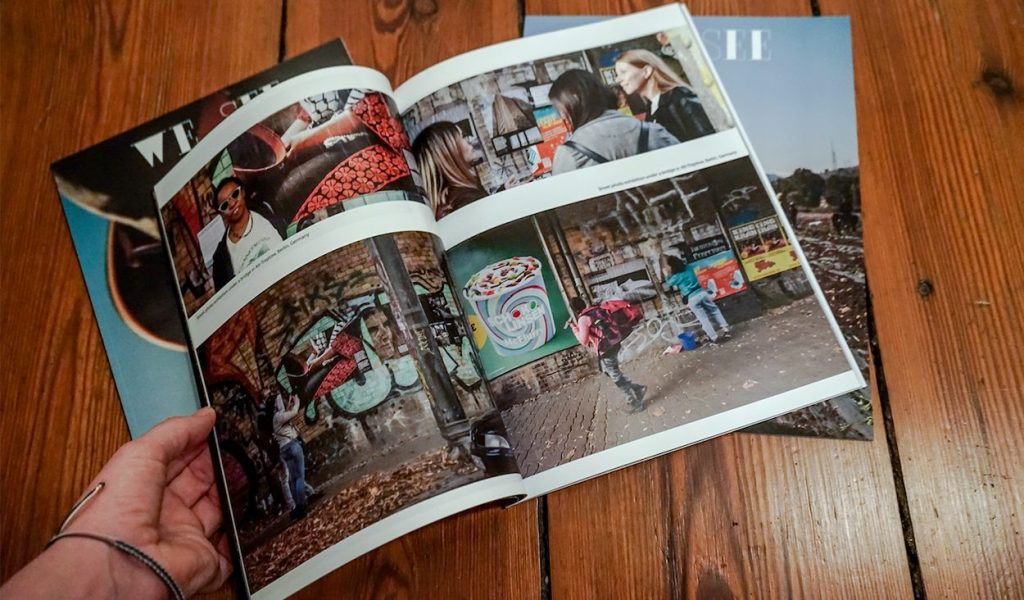 Although digital images dominate today's visual culture, zines or magazines remain a meaningful and thriving form because they withhold an intimate presentation from the photographer to the viewer.
One supporter of the magazine quoted, "The photographs featured…are made by women who are raw, but who are from the communities they photograph. No interpreting, no stereotyping, [just] telling their thoughts and feelings in the way they experience them." Another one articulated that the publication shares stories that people might have never imagined or known, no matter how informed or educated they might be.
Additionally, to us, the value is in the printed form's longevity—a printed magazine or book may be passed on to people who might not have heard of us in the digital realm, and they might also persist through time through personal and institutional library collections.
We See magazine combines editorials with documentary photography. What is the role of the written word in visual storytelling?
In order for the viewer to understand the photographer's aspect, there should be a written narrative of real experiences or events.
Our magazine also has guest writers and editorial content to cover a topic that an issue might be focusing on, to talk about something that we are trying to make sense of or to develop an idea that could relate to photography, activism, or women's rights.
Tell us about the process of turning the work of workshop participants into a magazine. What tools do you use? Who is involved? How long does it take to produce?
We build up materials throughout the year, running workshops and campaigns, knowing that later in the year, when we start working on the magazine, the material will go into the magazine. The magazine is designed using Adobe InDesign, but we love the Blurb plugin, which helps with keeping the right format and making a spine for an exceptionally large mag.
As already mentioned, we have guest writers, as well as femLENS volunteer writers who write some of the pieces. Finally, we also feature one woman photographer in each issue who is not involved in our workshops or campaigns, which adds another new name!
The magazine is done during the month of December and is usually designed by me.
Do you have advice for readers seeking to self-publish to advance a mission?
Do it! We started printing materials with free services that would give you 100 free prints a month with no purchase. We then did cheap photocopy-type printer works. Finally, we expanded into the Blurb print-on-demand because it makes it easy to make high-quality publications available without needing to invest in large quantities or store anything. The formats available allow for a variety of needs and budgets which is so encouraging, and the printing is always really high-quality!
***
Inspired to create your own documentary magazine? Get started!