Julia Nimke is a Berlin-based photographer who spent a year in Adobe's Creative Residency. She toured Europe in a converted Sprinter van, collecting folktales and shooting isolated landscapes that speak of solitude and simplicity. She's compiled her images into a new photo book called Folk Tales, which explores the relationship between people, expansive spaces, and the feelings they evoke. We sat down with Julia to ask a few questions about the thinking and work behind her beautiful book.
How did you get into photography? When did you know you wanted to make pictures?
Very early. I got my first camera as a gift when I was 12. Since then, I've loved photography and knew very early on I wanted to be a photographer.
What's your training background? What was the hardest part? What came easily?
I did an apprenticeship as a photographer, and continued to study with a Masters in photography. There wasn't anything really hard. I just loved every single aspect of photography and was curious to know as much as possible.
What would you say are the elements of a great photo?
A good photo is one that makes you stop and stare, making you pause from the busyness of our lives, letting thoughts flow and feelings grow. It's as simple as that. I don't like over-analyzing photographs. It's mainly the emotion it communicates that matters.
You seem to have a profound relationship with the landscape around you. Can you talk about what you choose to shoot, and why?
I look for less photographed spots in the world. I don't like chasing this one scenic view that has been photographed a thousand times and shared on Instagram. And I try to filter the landscape to capture its essence, the aspect that touches me as a person the most, whether it's remoteness, vastness, or just something like a stark contrast due to the weather.
What ideas or emotions guide your aesthetic?
Some say they see the longing in my photographs. I always long for silence, for nature—it seems the most natural for me to spend as much time as possible outdoors. Also, I feel small when I am in an impressive landscape. I love solitude, and this might show up in my photographs as well.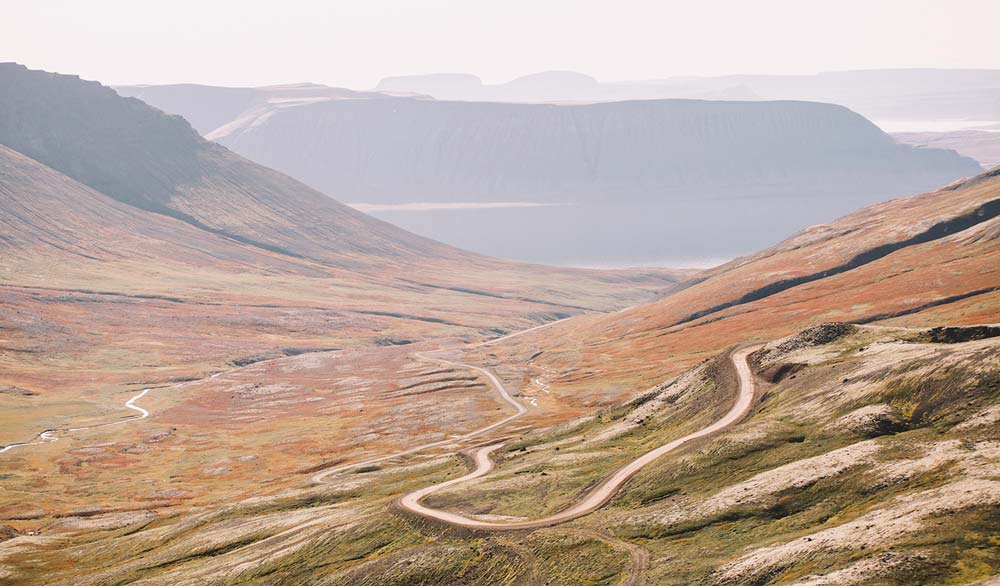 There seems to be two big schools of thought in photography. One says the authentic shot and creativity happens with the camera, one says authenticity and creativity often come out in post-processing. What's your relationship with in-camera work vs. post-processing?
I definitely belong to the first group. I grew up working with analog photography, and I guess that's one of the main reasons why I believe the shot itself matters, not the post-processing. A good photographer, in my opinion, is not recognized for their post-processing, but for their way of capturing a subject.
What is some advice for people just getting started with photography?
Just start, and don't look at too many photographs. It's good to study photos and ask yourself why this photo works well or touches you, but go out and shoot. There's this saying by Henri Cartier-Bresson that your first 10,000 photographs are basically your worst—and that is so true. Be patient with yourself and train your eye.
What do you love about your job? What are some of the biggest challenges?
I love that I don't see what I do as a "job". I just couldn't imagine doing anything else. Because of that, I am just so very grateful that I found what I love doing.
What are the characteristics of a good photography "collection", as in an exhibit or a photo book? Is there a difference between putting together an exhibit and putting together a book?
For me, it's telling a story with photographs and trying to show as many aspects of the subject as possible. I just recently did an exhibit and published a photo book, and during both productions, I had the question in my mind: How can the reader best get a sense of the place and feel the atmosphere? In the exhibit, I tried to reduce the images to a minimum and at the same time tell the maximum possible. I think with books you often have text in addition to the photographs, and with that, you can tell even more.
What's one project you're dying to do?   
I would love to travel to Kamchatka and do landscape photography there.
Take a look at Folk Tales, and get inspired to tell your own story by creating a book.
Did you know that as a Blurb customer you can save 15% off your Adobe Creative Cloud Membership? Find out more.