Your book Knit Stitch: 50 Knit + Purl Patterns has been wildly popular, selling more than 12,820 copies in its first 18 months! What prompted you to create this book?
I created the hard copy version of my Knit Stitch book because my knitting students requested it. As an instructor, I lean into the ease of distributing digital instruction and video to a worldwide audience. I love seeing my knitters succeed, acting as their cheerleader to keep trying new techniques and celebrating their small victories. I listen to their questions and am always striving to solve their problems.
I began receiving comments from students who also wanted a printed version of the knit stitch patterns that were already published in videos and on my website. Over time, their requests for a printed version increased. It was time to consider my options! Spoiler alert: My students steered me in the right direction.
There are large, heavy volumes about knit stitch patterns by reputable publishers filling the shelves in bookstore craft sections. So why would my students want this type of book from me? In a word: TRUST. They were familiar with my proven style of teaching. I design my lessons to be bite-sized, easy to follow, and fun. I break down techniques with a step-by-step process and close-up imagery. Because my instructions are easy-to-follow and paced perfectly for beginning knitters, they are confident they'll succeed.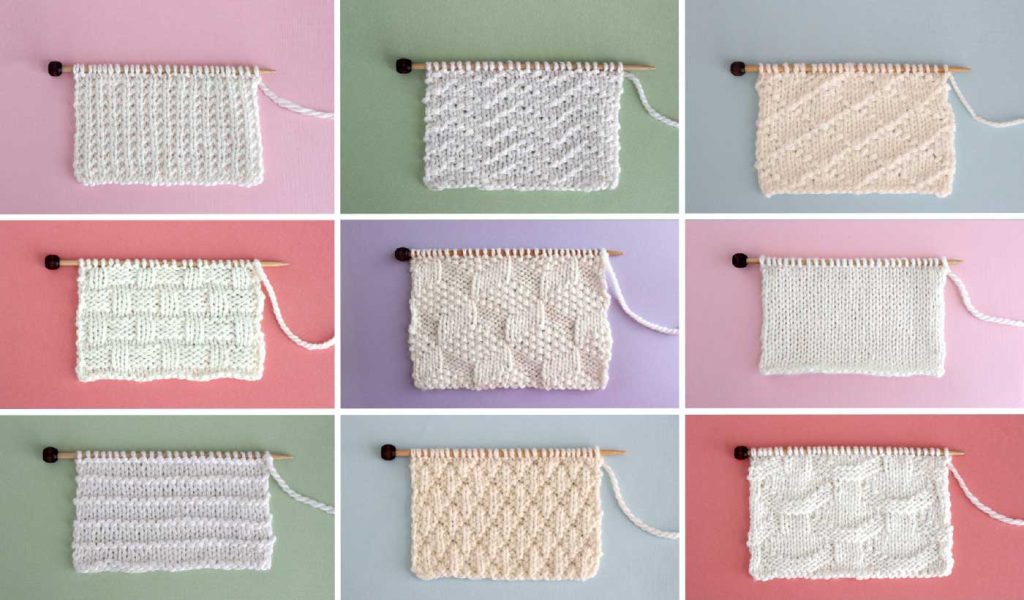 Who is your book's main audience? Did you know this initially, or was it something you learned along the way?
Initially, I assumed my book's main audience would only be my current knitting students. They are inquisitive, artistic, and ambitious people of all ages and genders. I also falsely believed only my beginning students would want a copy. However, with the book's success, I soon realized that knitters of all ability levels who had never watched my videos wanted a copy, too!
What have been your main marketing efforts in promoting your book?
My book includes 50 different patterns that are organized by their row repeats. The book begins with the simplest two-row repeats and advances to more intricate 28-row repeats. By teaching each individual pattern online, I am continually marketing my book. Videos on YouTube and posts on social media all mention the availability of my pattern book.
I always want my craft education to be available to students around the globe at no cost. For those who are interested in purchasing an ad-free physical book, these free lessons also serve as a bit of advertising. It's a win-win!
How have you used social media to promote yourself as a self-published author?
As an avid knitter, I became enamored with the process of teaching online. I posted my first YouTube video in January 2014. I've since published more than 400 knitting tutorial videos which have received over 30 million views to date.
After my initial YouTube success, I built my website studioknitsf.com. From here, students easily search and print out individual pattern instructions. My popular online resource currently receives an average of 5 million viewers annually.
In addition to YouTube, I share on Pinterest, Facebook, Instagram, Twitter, and even TikTok. I also enjoy a more personal online connection with my audience through my weekly email newsletters. Combined, my social following is surpassing 730,000 subscribers. By building this large online audience worldwide, I have created an independent platform to directly and continually promote my book.
Why did you go the route of self-publishing versus traditional publishing?
During my journey as an independent instructor and designer, I've enjoyed the control and opportunities today's online platforms provide. Time and again, I hear that in today's publishing environment the main benefit of traditional publication is clout. A professionally published book offers immediate proof of one's expertise and authority. A calling card of sorts. However, proving myself outside of my knitting audience was not my goal for creating a physical book. I wanted to help knitters. Period.
Fellow knitting authors have shared with me that their book advances and profits weren't necessarily lucrative. I also understand that creators are largely responsible for the marketing efforts of their book. As such, I felt it was likely my personal collection of vintage patterns would get passed over by publishers. Yet, I was confident that my proven methods of teaching with clear written instructions, photographs, charts, and layout all in a slender, easy-to-carry volume would be of value to my followers.
Self-publishing felt like the risk-free option and fun way to dip my toe into creating a physical book. I already knew my information was proven to be of value to knitters. So in June 2019, I set the goal of knitting, photography, and layout design for a printed book during the summer and the book was completely finished, published, and available for sale by September of that year.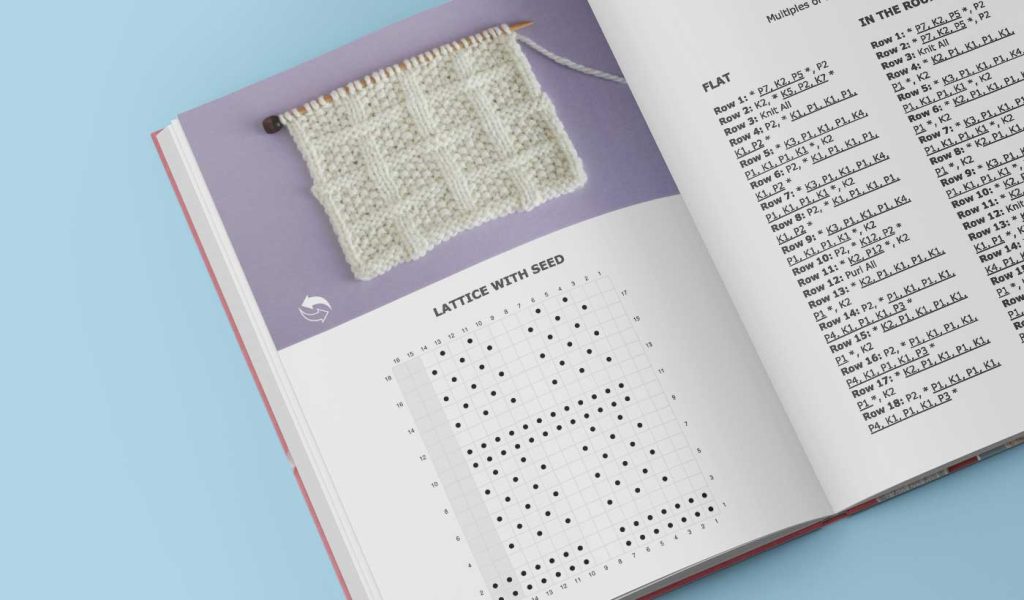 What have been the biggest lessons you've learned and/or challenges you've faced from self-publishing? How did you learn them?
In the beginning of 2020, I enjoyed spending the day at a large knitting convention in promotion of my book. It was so much fun to meet knitters in person, sign their books, and freely share hugs. My parents participated, beaming proudly from the sidelines to watch as I enjoyed a taste of in-person celebrity treatment.
Sadly, that same convention hall became an emergency COVID-19 triage location just two weeks later. All of the subsequent in-person events I had scheduled were abruptly canceled. With no person-to-person events, I retreated back to online promotions.
On the plus side, the book is both marketable and purchasable online. For that, I'm very grateful. I look forward to a future time when it's safe and profitable to plan my real-life book tour.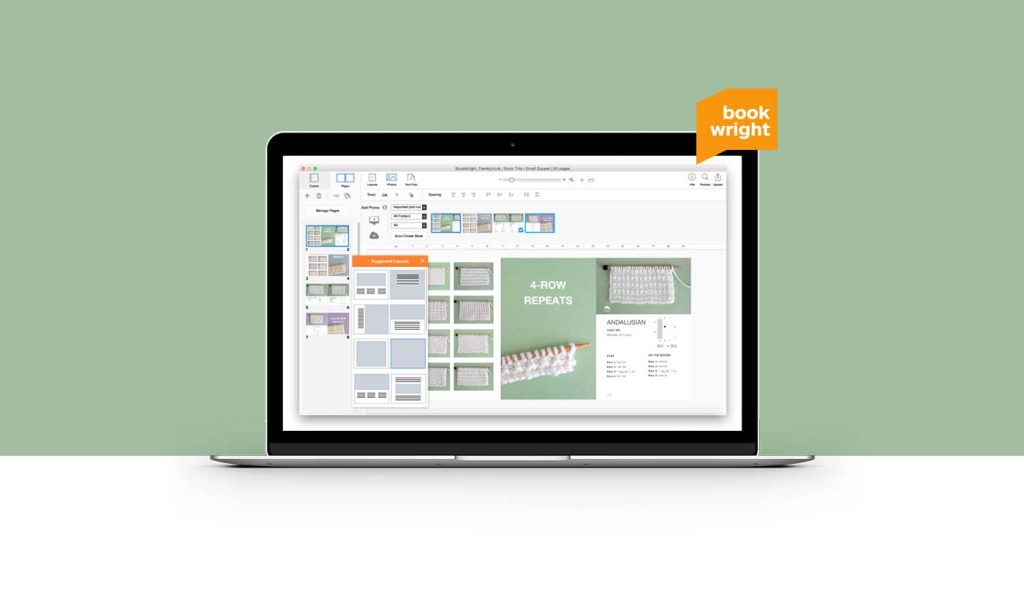 Why did you choose Blurb? Are there specific reasons you prefer Blurb over other brands?
Personally, I have been using Blurb for years! With it, I have published book gifts for my friends and family, including my own wedding photo book. Not only could I create a stunning book for my husband and me, but it was easy to create and send copies to our entire wedding party as thank-you gifts.
Publishing through Blurb has always been intuitive, reliable, and inspirational. It was the first place I looked when deciding to publish my book and has proven to be the successful choice.
What do you wish you knew before starting this self-publishing journey?
It was so easy to make my book available for purchase on large online platforms like Amazon and Book Depository. I was happily surprised to see that knitters who had never learned from me were purchasing the book, finding value in its contents, and posting glowing online reviews.
If I had one wish it would be that I knew earlier that I could indeed reach new audiences so easily from a printed book. I'm typically focused on attracting an online audience, but readers who have purchased a physical copy are now lifelong learners as well.
Do you have any other books in the works or projects worth mentioning?
Yes, my students are clamoring for follow-up books. They would like a volume two with even more easy knit and purl textures. My videos and patterns of cable, colorwork, and lace patterns are also perfectly suited for individual books of inspiration. I'm still in the planning stages and look forward to surprising them with my next release. Until then, check out more of my work at studioknitsf.com.
Check out our blog to learn how to self-publish your book for free.
Have an idea that could make you a bestseller? Make a trade book today!