Pride started with a riot. That fierce, unapologetic spirit is at the heart of Slamming Bricks, an anthology of resistance and liberation born out of a slam poetry competition by the same name.
We're speaking with LGBTQ+ author and editor Avery Brooks about what it was like putting together this essential collection of work from LGBTQ+, BIPOC, and AAPI poets.
Tell us about the annual Slamming Bricks Slam Poetry Competition—and how you got involved.
Slamming Bricks: A Riot on 1st Street is an annual slam poetry competition that was started in 2019 by LGBTQ+ slam poet Caleb Ferganchick to explore resistance and liberation in honor of the 1969 Stonewall Riots. Poets from all over the American West compete in four rounds of poetry in a battle for the brick. The event is organized by Caleb, produced by the Western Colorado Writers' Forum, and hosted at Charlie Dwellington's during Colorado West Pride's Pride Week in Grand Junction. The event has featured Colorado Poet Laureate Bobby LeFebre and the star of HBO's Emmy-nominated show We're Here, Eureka O'Hara. Slamming Bricks is the largest LGBTQ+ slam event in the state of Colorado.
As the 2021 event was being planned, board members for the Western Colorado Writers' Forum came up with the idea of creating an anthology to go along with the intersectional competition to further feature diverse voices and expand their reach and representation. I was asked to put the anthology together, and I was honored to step up to that task.
It was a fairly monumental undertaking because the competition took place on September 11, 2021, and physical books would need to be in hand to sell at the competition and during Pride events that weekend. We had about a month to market and receive submissions before I needed to curate and edit the pieces into a cohesive anthology, as well as get it printed and shipped by the deadline. What resulted was Slamming Bricks: An Anthology, a powerful and heartfelt anthology featuring poetry from 19 LGBTQ+, BIPOC, and AAPI poets across the U.S., and even a few international ones, ranging from debut artists to award-winning slam poets. It includes over 80 pages of beautiful prose and meaningful expressions of liberation and resistance.
Why are the themes of resistance and liberation so important to include in Pride celebrations?
It is only through the acts of resistance of those who came before us that we are where we are today. We still have a long way to go. When you cannot count on your basic human rights or equal treatment, then resistance is required. Some people march, some people fight, some people use their words to change a consciousness. One action is not greater than another. They are all pieces of representation and reach others in different ways. I am very proud of the powerful, vulnerable, and true poems in this anthology expressing our experiences and hopefully furthering change.
What was it like translating a live poetry slam into a book?
Well, the anthology was never meant to be a mere translation of the competition. It was meant to expand the reach of the poets in the competition, as well as create a platform for more poets with diverse voices to express their experiences and words and to hopefully add in some small part to real change for our communities. Eight of the poets in the anthology performed in the competition along with Caleb, who was emceeing the event (though not all of them performed the same poems that were in the anthology). The competition was streamed live on Facebook (and anyone interested in viewing it can find it here). Being in the room and hearing the poems performed live was incredibly powerful, touching, funny—so many emotions. When a slam poet performed a poem that was in the anthology, it was like seeing the poem alive. Words that I had spent a lot of time with in written form took on different meanings as the poets added emphasis, inflection, and rhythm. It was one of the most powerful experiences of my life.
Can you give us a taste of the breadth of poets and themes explored in the anthology?
Lesbian, gay, bisexual, trans, questioning—the whole spectrum of the LGBTQ+ community was represented, in addition to those identifying as BIPOC and AAPI as well, which is even more incredible given the short turnaround to create this anthology. One of the poems that was the most touching to me was by Solstice, a 12-year-old whose mom is a published LGBTQ+ author, and it was the first time Solstice ever had her work published. Her poem is a beautiful message about the vulnerability, innocence, and confidence in discovering one's sexuality and, more importantly, identity.
What was your process for selecting and editing the poetry and artwork? How did intersectionality play a role in the process?
Given the truncated timeline, I really had no idea what to expect in terms of how many submissions would come in. I wasn't sure if there would only be a few submissions or a deluge. My hope was that there would be enough submissions that the anthology would be at least 50 pages. I was careful to mention that one poem would be accepted from each poet and possibly more if space allowed because I wanted to make sure that as many diverse voices as possible were included and represented. The slam poets performing in the competition could submit up to three poems. Since the majority of the slam poets are award-winning poets, it ensured a high quality for many of the poems that were included, and it was a solid foundation for the rest of the anthology.
In terms of selecting and editing the poetry and the role of intersectionality, the slam poetry competition has always been an intersectional competition. With George Floyd's murder and the BLM movement and then all of the abuse that the AAPI community was receiving due to the pandemic, we wanted to make the anthology a platform that was open to all of these minority communities. So it extended beyond those identifying as LGBTQ+, though the majority of poets included in the anthology did identify as LGBTQ+. My aim in selecting the poetry was to strive for the most diversity in poetry themes, perspectives, and representation. And I think I achieved that. As far as artwork, Caleb designed the artwork for the competition, and we decided to use that as the cover. So, I added the text to the image to become the official cover. And in terms of editing, I edited where necessary based on grammatical rules and in areas that needed more clarity to be understood. I communicated with the poets about any changes that needed to be made, but for the most part, I tried to leave the poems as the author submitted them and in the format they wanted them to be in. So, in that respect, the authenticity of the submitted poems was upheld.
What is your personal experience with self-publishing or publishing in general?
My debut novel was published by an LGBTQ+ publisher, Bywater Books. I went through the traditional route of pitching my novel, working with a team to revise and edit it, design the cover, and publish it. I also had a short story published by another small LGBTQ+ publisher, Brisk Press. The anthology was my first experience going through the self-publishing process myself though I freelance as a copy editor for authors who self-publish and/or need additional editing for their novels, so I am aware of the general process. And I do think it's important, even if you self-publish, to make sure you get an editor to put your best work forward.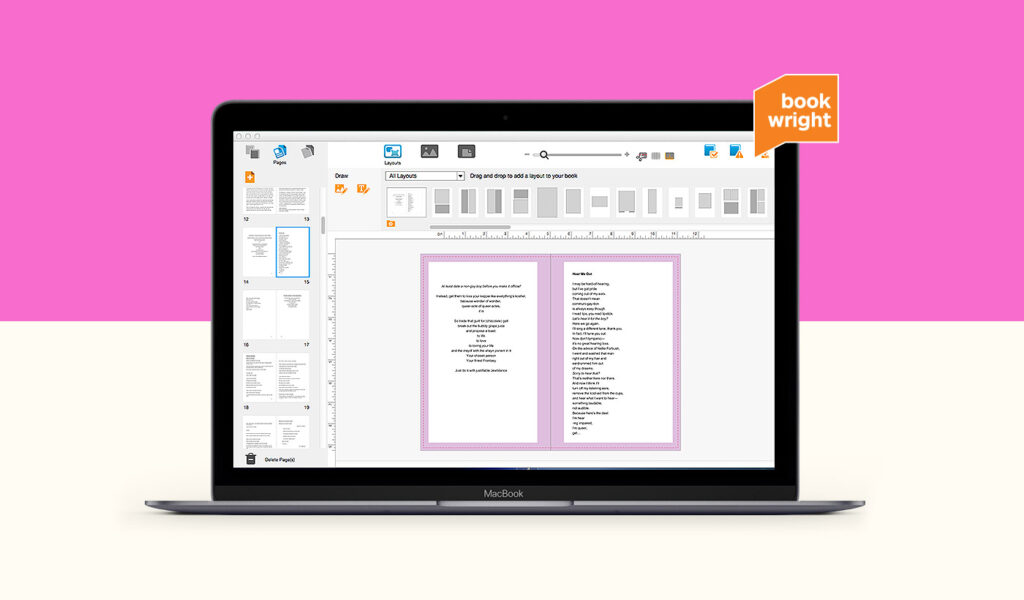 How did you design the book?
I used Canva to create the cover design using the artwork Caleb had designed. Then, I used the BookWright software from Blurb's website to make all of the front matter, insert and format the poems and bios, and ensure that all of the elements were aligned.
What have been the reactions to this book?
Very positive reactions. Between selling the anthology at the Pride Fest booth and at the slam poetry competition, all of the copies went pretty quickly. Most comments I have heard are that it's powerful, beautiful and then mentions of specific poems that were touching to that person. I know when I finished creating the anthology and submitted the order for printing, a few of the poems stayed with me. I found myself reading some of them to people I knew, and it meant a lot to me personally to meet the slam poets who competed after knowing them only via email communication and getting to not only add a face to their names and words, but to watch and hear them perform those words. It's a special competition, and it's a special anthology, and I'm really proud to be involved.
What do you hope this book to instill?
Dialogue, hope, community. Whether it's someone who doesn't personally relate to the LGBTQ+, BIPOC, and AAPI communities and finds common ground in these poems, someone who is part of our community and feels isolated or alone and feels seen through these poems, or someone who enjoys good poetry and its ability to bring meaning to others' lived experiences, I think the anthology does all of that and more. That's my hope, at least.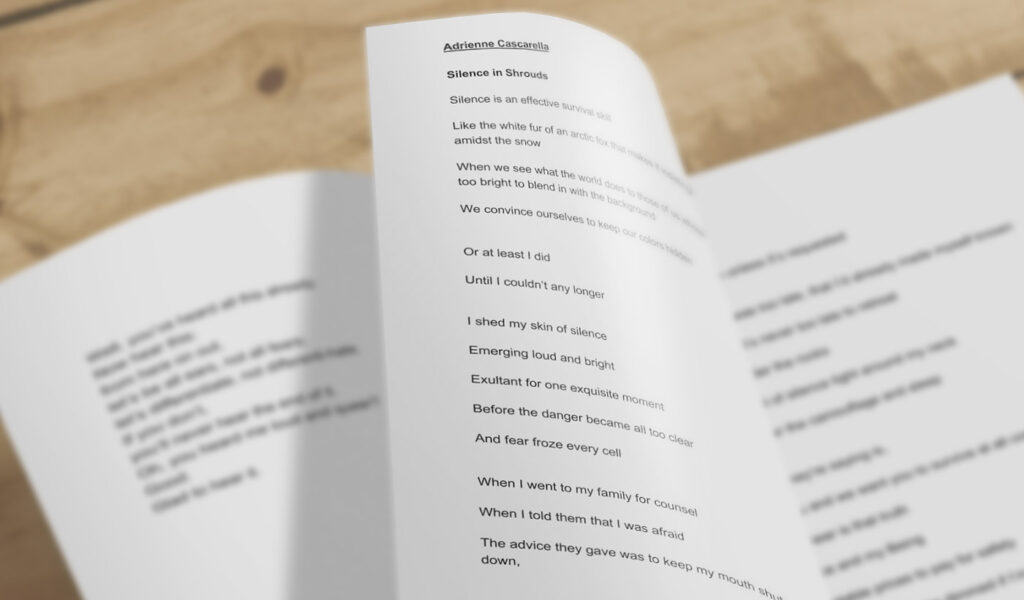 How have you marketed your book since publishing it?
Caleb and I have both used our social media platforms to market the anthology. I'm co-hosting a new podcast for the Western Colorado Writers' Forum called the Western Colorado Writers Podcast, which launches on May 10. We're doing a Pride episode in June that includes Caleb and will talk about the competition and anthology. And we may do a special episode down the line with some of the slam poets. The Western Colorado Writers' Forum also promotes it via its newsletter and website.
We definitely appreciate Blurb's help in getting the word out because all sales go to the Western Colorado Writers' Forum to help support future Slamming Bricks slam poetry competitions and anthologies, which brings me to some exciting news.
We just opened submissions for the 2nd Edition of the Slamming Bricks Anthology and hope to make it an annual endeavor along with the slam poetry competition. Anyone interested in submitting their poetry, can find the submission guidelines here. The deadline is July 31, 2022. And the anthology will be on sale at the Slamming Bricks slam poetry competition in Grand Junction, Colorado, on September 10, 2022, and online afterward.
Do you have any tips or suggestions for LGBTQ+ poets and artists hoping to self-publish?
If you can afford to hire an editor, I definitely recommend that so you publish your best work. If money is tight, having family or friends read your work for grammar and content or finding a critique group through a writing organization to help with that is a good idea. And also to believe in yourself and that your story matters. Get your work out there for people to see.
Is there anything I've missed or that you'd like to share?
Thank you for your help in shining a light on this anthology and the important voices and perspectives it represents. I'm truly honored to be associated with this anthology and am very excited for the future.
Add Slamming Bricks to your collection. Or submit your work to be part of the next edition.