Few artists can capture the imaginations of adults and children the way Allyn Howard does. The colorful, whimsical paintings in her latest book reveal a vibrant curiosity and love of the natural world, as well as a knack for visual storytelling and portraiture. We got a special glimpse into her creative life and talked about her path to becoming a successful artist, illustrator, and designer.
1. When did you first start drawing and painting?
I can't really remember a time that I wasn't drawing. It became a habit early on. I doodled on almost anything in front of me, from the phone book to my desk at school. In fifth grade, instead of being punished, my teacher actually encouraged me.
2. Where did you look for inspiration in the beginning? How have your sources of inspiration changed?
As a kid, I loved drawing people, especially my mom's friends, either in scenes or as paper dolls. I made so many paper dolls! In college, I initially focused on design. Once I started painting, I predominantly created scenes of disenchanted women in domestic environments. Later, my work became abstract before coming back around to figures, mostly animals. I just wanted to make fun, playful art. I find animals endlessly endearing and entertaining.
3. Many of your paintings feature whimsical flora and fauna. What role do animals and nature play in your daily life?
I feel like they save me from taking anything too seriously. When I was young, I adored my stuffed animals, but I wanted a real pet so badly. We lived in an apartment complex that didn't allow them. When I was eight, I found a big orange cat. We had to hide him from our landlord for months. That year, we moved into a house and we always said it was so that Cubby the cat could have a home. The next year, we got a puppy. Eventually, we had two and then three dogs. As an adult in the city, I've had two bunnies and now have two sweet cats.
I'm drawn to the sense of wonder animals express and I love the connection I've always felt with my own pets. I'd love to have a garden. For now, I enjoy the urban/suburban neighborhood of Brooklyn where I live. I think a lot of people would be surprised by how green areas of Brooklyn are. Also, once I learned that flowers are endlessly popular to license, I started painting more of them. Flowers are so beautiful and they're just fun to paint.
4. How do you choose the subjects for your portraits?
I chose the latest people for an Instagram portrait challenge last winter. I painted designers, artists, scientists, writers, etc., that I admire. I tried to paint each of them in a style that referenced their own work and aesthetics. I've also painted several custom portraits.
5. Why did you decide to self-publish your latest collection as a Layflat Photo Book? Which features of Layout format appealed to you the most?
I was excited to try the Layflat option because it's great to open up a book that holds your place. It's such an appealing format, and the paper is silky and thick. I chose the 7×7 in. Square and it's a beautiful little book. I'm basically creating small catalogs of my favorite paintings.
6. Tell us about the process of designing your book (cover, size, page layouts, and sequence of images). Which design tools did you use?
I like the way the small square book feels in my hand. I had recently redesigned my logo, the white bunny, so that made sense to use on the cover. I used the Bookwright tool again because it was so simple to use the first time and I like that I could easily go in and move things around before finalizing the book. I chose images for facing pages that I think relate well to one another. There are hints of stories and connections between certain images and characters, even though there are no words in my book.
7. Did your process for curating and designing this book differ from that of your first collection?
The main difference is that I added more images. I knew I wanted to make a small, but chunky coffee table book.
8. Why did you decide to include photos of your home and workspace in your latest book?
I enjoy seeing where people live and work. I just assume most of us do. Is it tidy or messy? What is the light like? What materials do they use? That kind of thing. I moved two years ago and it was a turning point for me, personally and professionally. I think my space has a real impact on my work.
9. What are the essentials that keep your creative life going strong (tools, schedule, work environment, collaboration, personal outlook, etc.)?
I don't have any tricks for staying creative. Sometimes I work from home and sometimes I work on-site. I work fairly often in the film/TV business. It can be a tiring job, but you also learn from the other scenic artists, most of whom are fine artists, muralists, ceramicists, writers, you name it. I'm definitely inspired by many of the people with whom I work. I value time to work on my own pieces, so even if I make one ugly thing after the other, I try to stay positive. There's no rhyme or reason to it for me. Some of my favorite paintings I made quickly after a long day on a TV job and others took weeks, going back and forth, making little adjustments.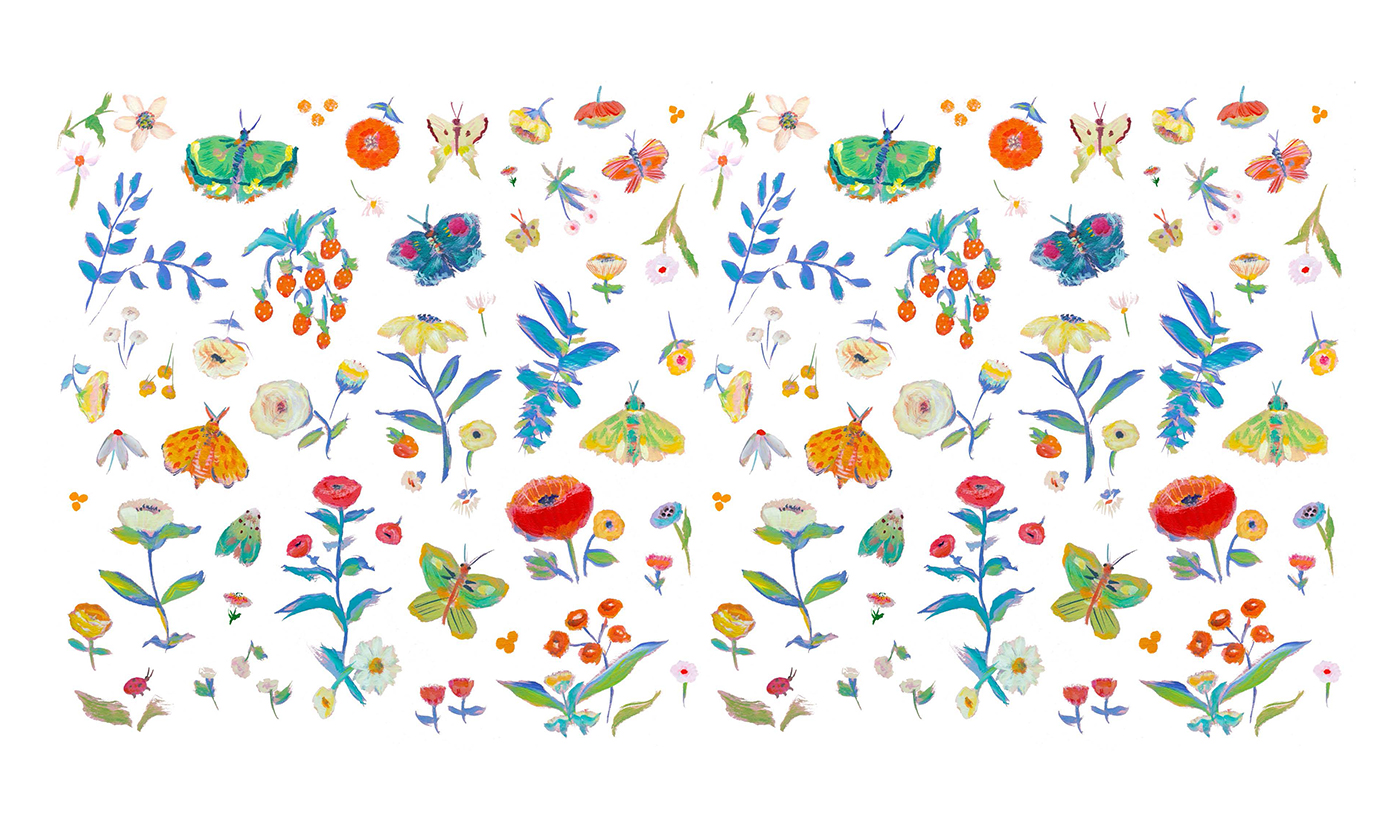 10. How do you balance your creative goals with your professional/business goals?
I'm working on that balance. I'm much better at creating work than reaching out to potential clients and licensees.
11. What advice do you have for artists that want to pursue a career in painting or illustration?
My advice is to create a lot! If you're pursuing commercial projects, as I am, find inspiration that's not what everyone else is looking at. Know what is out there and develop your taste. There are so many talented illustrators working. Try to find a way to put a different spin on a popular subject matter. It's easier than ever to be seen, but it's harder to stand out.
12. Are there any new projects you are excited about starting this year?
I'm excited about my box card sets that just came out with teNeues Stationery. And I recently licensed some other art for their products, available next Fall. I'm also excited to be in a group show, up in New York, through the New Year. My Layflat book is actually included in the exhibit, along with original art and sketchbooks in a showcase vitrine. It's perfect, since it stays open to the two pages I wanted to show! I have some other cool projects in the works for 2020, but I don't want to jinx anything.
Do you have a collection of paintings, illustrations, or designs you'd like to share with friends or fans? Download BookWright today, and start creating a portfolio or coffee table book to showcase your creative work.