Meet Simon Batchelar, a seasoned marketer who's turned decades of industry experience into an insightful book, Reframing Marketing. When Batchelar realized there was a dearth of books focused on ethical marketing, they decided to fill that void. The result? A book that simplifies marketing into three steps anyone can take while promoting ethical practices in a world often riddled with manipulative tactics.
We chat with Batchelar about their two decades years of experience running a marketing agency, how it translated into their self-published book, and what advice they have for indie bookmakers aiming to promote their own books. You'll definitely want to take notes on this interview and pick up the book, Reframing Marketing: A 3-Step Plan for Effective and Ethical Marketing.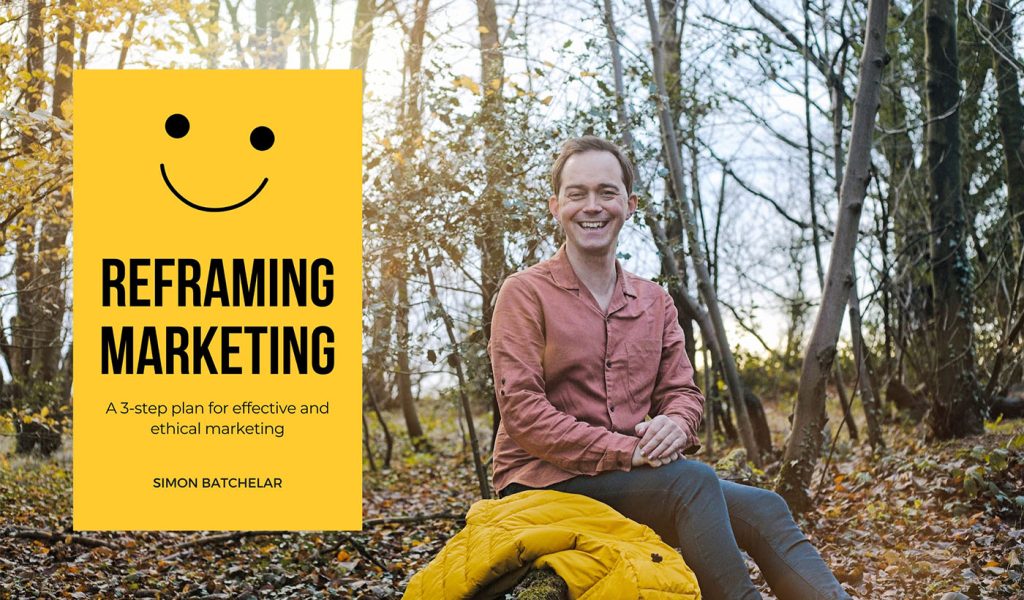 You have an impressive multi-decade career in marketing! Can you tell us about your background and how it influenced your decision to write Reframing Marketing?
After running a digital marketing agency for 15 years, we worked with a business coach who suggested we try teaching what we knew in order to diversify our business. I had been working on a way to share our knowledge for a number of years and, after working with many different types of businesses, had distilled it into a repeatable methodology. Out of curiosity, I thought I would look for a book that would help me market my personal brand to see if I could learn more to get my message out to more people. I wanted to do it in an ethical way, and I couldn't really find a book that did that, so I thought, well, if I can't find it, maybe I should write it.
Reframing Marketing is an alternative to the win-at-all-costs approach. It's not about slick tactics, get-rich-quick schemes, or high-pressure sales pitches. This book is about ethical marketing that is manageable and connects you with customers who are ready to say yes.
How has your experience as a marketing mentor shaped the insights that ended up in your book?
I've worked with a lot of different companies over the years. Some businesses have tried and tested methods of marketing that are well documented. I have found that for people who market themselves and the work they do. Often coaches, mentors, and entrepreneurs, there really wasn't anything that felt right. It was all very manipulative and focused on making a quick sale, often at the expense of the client. It just didn't feel right for a lot of people I had worked with. So the idea for the book grew out of that.
What do you hope readers will take away from your book?
I hope readers will discover that marketing doesn't have to be complicated and that the fundamentals are simple. The three-step plan outlined in the book is designed to make it easier to get started or to start again. The book is designed to help make marketing part of running your business rather than something you feel you should do or want to put off.
Is there a part of the book that you're particularly proud of or excited for readers to discover?
It took a lot of work to distill what I wanted to share down to the three steps. However, I've had a lot of feedback from people saying that the simplicity of it helps them to be clearer and more confident about themselves.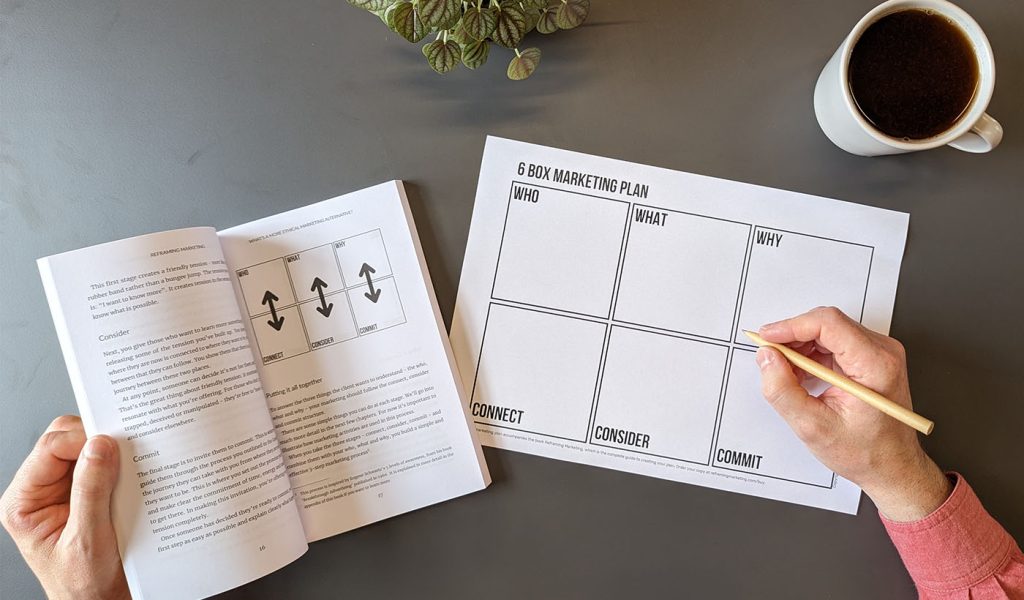 Why do you believe ethical marketing is so crucial in today's business landscape?
In a world where we are surrounded by marketing, and it is being done to us all the time, it is easier than ever to manipulate people's decisions and feelings. This only works when the sale matters, not the client. I believe it can be done differently; there is a way to do marketing that doesn't rely on this industrial-era thinking that works for both you and the client. I'm not saying this will solve all the world's problems, but if we can move beyond the relentless drive to sell people more stuff they don't need and instead towards helping people do better things, the world will be a better place for all of us.
Could you share an instance where ethical marketing made a significant difference in a campaign?
I often hear from people who have gone back to marketing after reading the book; they tell me that the conversations they have now are with people who aren't focused on price or details; their only question is, when shall we start? This kind of marketing makes all the difference when people feel ready to invest and can't wait to say yes. It's transformative for them and for the business.
Is marketing a book different than marketing other services or products? If so, why and how?
In some ways, marketing a book is different from other products and services. You are, in essence, selling a promise to someone, not just the physical book. One thing I have found in marketing a book is that real marketing is the change you are saying will come from investing time and effort into reading and, in my case, working through the book. So marketing is much more than it appears on the surface, which is what makes it really interesting. You're trying to get people thinking and inspired to want to make the change your book is offering. It allows for a lot of creativity.
Can you share any specific, successful tactics you've used for marketing your book?
Everything I have done marketing this book has been based on the work in the book, so I can lead by example. I make weekly videos based on topics I have written about in the book, which I share on LinkedIn. At the end of the videos, I point people towards the book and invite them to learn more.
With the book being all about ethical marketing, a curator for an event saw one of the videos and asked if I would speak at their next event as the head speaker. They said they wanted someone with authority to present and lead a discussion, and who better than the person who had written a book on the topic? So it's not all about selling copies. It's about building a reputation as the go-to person on your topic.
What led you to choose self-publishing for Reframing Marketing? And why did you choose Blurb as your platform?
I wanted to self-publish because this book has a narrow audience. I don't want to be the next bestseller, I want to have something accessible to my audience at a price point that means anyone can get started with ethical marketing. Self-publishing means I control the book, the IP, and the distribution. I can partner with other people and even give the book away if I want to. I put a lot of time and effort into writing the book, so I wanted to be able to use it in any way I wanted in the future. Blurb was very easy to use with Reedsy, which I used to typeset the book.
Tell us about your process of designing your book with Blurb.
I used Reedsy to typeset the book, so once it was looking good in there, it was really simple to import it into Blurb. I used Canva to make the cover file and took a few goes to tweak it to fit the margins. The tool made it super simple to go from typeset manuscript to printed book.
Did you encounter any challenges during the self-publishing process, and if so, how did you overcome them?
If you have never done this before, there are a lot of new words to learn in order to set everything up correctly. You also have to think of your book in terms of pages rather than a long document, which is what you write the book as. Once you understand the process, it all makes sense.
Do you have any advice for creators looking to market their self-published works?
Keep writing, and don't sweat the details too soon. I didn't know if I could write enough words to make a whole book, but once I started it just flowed out. I actually ended up with too many and had to edit it down. I also found that working with an editor was a rewarding experience, as their outside eyes spot things you have read many times and missed.
What's next for you following the publication of Reframing Marketing?
I am working on another version for small businesses and teams. It's based on the same three-step plan and has exercises and new sections for this audience.
Finally, how do you hope Reframing Marketing will influence the marketing industry moving forward?
My vision is to change the way people think about and do marketing. Even if people change one thing about the way they get new clients to be more ethical, it will all add up, and together, we can show others that it can be done and there is a more ethical and effective way to do marketing.
***
Blurb is a self-publishing platform that allows you to create, self-publish, promote, share, and sell your own books. We provide bookmaking tools and the knowledge to create, print, and sell professional-quality photo books, magazines, and more.