This Black Friday, skip the mass-produced gifts and make a custom gift that's one-of-a-kind. With some creativity and effort, you can make beautiful presents showing your loved ones how much you care. Whether you want to create a photo book or an original piece of gallery-ready wall art, we've got the tips and tools to help you get started. So put on your crafting hat and prepare for some serious holiday fun!
Prep now—and get ready to hit publish when our Black Friday deals roll through!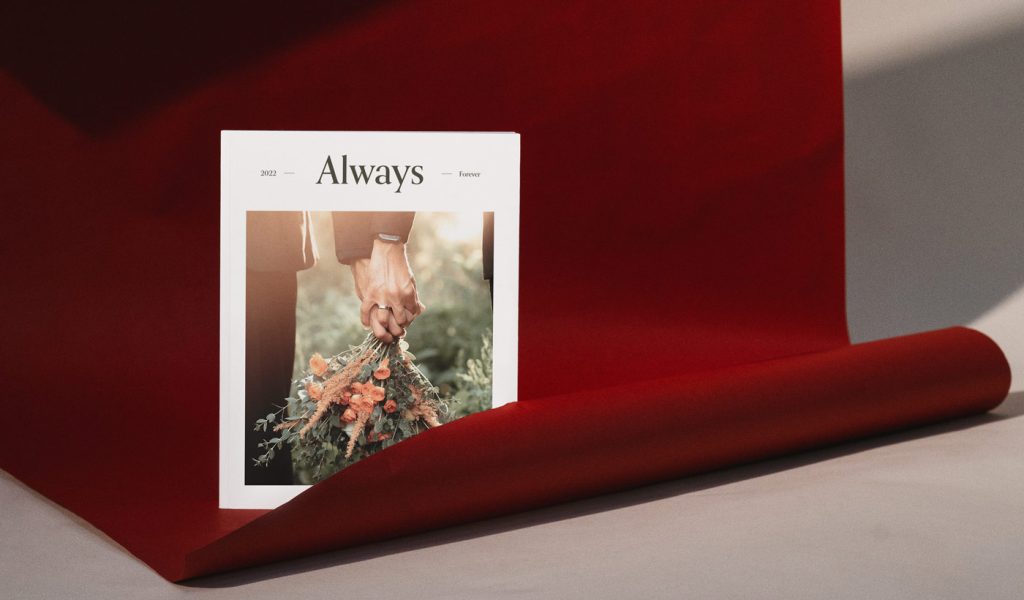 Last minute custom gifts
Even the most meticulous holiday preparation is likely to fall short on a few items at the end of a busy season. (We've all been there!) However, just because you don't have a lot of time doesn't mean you can't create a custom, unique gift.
Order another copy
Active time: 5 minutes
Already made the perfect wedding album, travel photo book, or custom coffee table book? Sometimes it's just updating a cover and hitting print on something already made. You can gift your dad those stunning pictures of walking you down the aisle, your bestie the images of your perfect getaway together, and your coworkers your side project.
Pro tip: Get even more customized by updating the cover or dedication page to mention your giftee!
Hang a single photo
Active time: 10 minutes
If you're short on time but still want to make a significant impact, consider gifting a single photo for them to hang. This is an especially good idea if you have loads of images from a shared big-life event, like a wedding, baby shower, birth, or even a birthday party.
Pro tip: If you don't have a photo ready, pick a free, high-quality image from royalty-free sites like Unsplash—just be sure to credit the photographer on the image or shout them out on social media.
Design a quote
Active time: 20 minutes
Almost everyone has a catchphrase, favorite quote, or beloved idiom. You can create wordy wall art if you don't have a good photo. All you need are meaningful words, which could also be their favorite song lyrics or even a funny meme. Then use a photo editing tool to add a textured or solid background and paste text over the top in a complementary font and color.
Pro tip: Not a design expert? Use BookWright's free fonts to lay out your quote on canvas, acrylic, or metal.
Thoughtful (yet still easy) custom gifts
With a few more minutes at your disposal, you can knock out an unforgettable custom gift for your spouse, mother-in-law, professor, barista—or whoever else is worthy of a meaningful moment. Here are a few options that'll take you less than a day to whip up.
Make a book from your phone
Active time: 30 minutes
Revisit iCloud memories in a tangible format. There's something special about having and holding a book, especially when you can revisit the memories for years to come. This is a gift you can flip through with them—and they can share with friends, family, and guests that visit their bookshelf. It takes mere moments to download the iOS app and choose your book size and photos. The app flows them into a picture-perfect book and sends it to print in a snap.
Pro tip: Blurb's mobile app is the easiest way to make and share a photo book from your iPhone.
Build a blooper reel
Active time: 1 hour
Humorous gifts often get overlooked but are usually the most fun! Instead of taking the time to compile your greatest hits album, pick a mix of snapshots that make you smile. Scroll through the past year and make a fast photo book that captures the real moments with your family and friends—silly faces and all! Don't overthink it, and be sure to use templates to save time.
Pro tip: Use the quick design feature in BookWright to auto-fill your pages. Start with a template like the Family Book Template for simple, inviting layouts that nearly any image slots into.
Create a notebook or journal for everyone on your list
Active time: 1 hour
Take a page from Blurb's own teammate Gordon Chan: Make a customized notebook or journal for your whole list in minutes. Use the new year as inspiration and make a single template of a daily planner, dream journal, or idea notebook. Then tailor your gift to each recipient, with a personalized cover featuring their name or face and an interior page with a meaningful note, quote, or poem. Finally, fill the rest of your book with a BookWright notebook template featuring up to 480 blank, lined, square, or dot grid pages.
Pro tip: "Keep it simple," says Gordon. "Personalizing does not need to be complicated. I just asked [my cousins] in advance for their favorite color for the cover, and then I selected a photo or two."
Build a fillable baby book or travel journal
Active time: 2-5 hours
In just a few more minutes, you can turn those quickly customized notebooks and journals into a completely-them masterpiece, whether it be a travel journal or a baby book. Start with a BookWright template, add a baby- or travel-worthy cover, and transform the interior pages into sections made for memory keeping. Help them document milestones large and small (first smile, anyone?) or memorialize their dream-vacation-turned-reality (a description of the first time they saw the Eiffel Tower, perhaps?).
Pro tip: Leave spaces for plenty of photos to be printed and pasted later. Then provide lots of writing prompts and lined spaces for recording important moments.
Cherished gifts to make in a (long) weekend
A three-day weekend is the perfect opportunity to craft a heartfelt, custom gift. But it's not just about winning the holiday gifting season, it's about weaving your personal touch into every page and sharing your love and perspective with those who make you smile.
Have and hold your wedding album
Active time: 3 days
What could be a more perfect gift for a birthday, holiday, or anniversary than reliving your best day together? And with photos in hand, it's very easy to (re)tell your story. So walk down memory lane by picking a template, selecting your favorite professional photos, and adding in the aww-worthy moments.
Be sure to take your time sorting images and picking your ideal paper and book format (might we suggest the luxurious, heavyweight pages and dramatic two-page spreads of a layflat photo book?). On day two of bookmaking, don't forget to add your vows, notes from your guest book, or written memories from your wedding. For your last day, ensure the book imagery flows and you edit your words before clicking print.
Pro tip: Every layflat book arrives in a brilliant white box, ready to wrap and gift!
Celebrate a journey
Active time: 3 days
Partner, friend, furry companion, we all have someone who has shared some miles with us. Whether a cross-country trip or an afternoon walk through the park, celebrate your journey by creating a photo book that captures every moment along the way. Take a day to scroll through your images from one trip or many, and pick a template (perhaps Portfolio Book Portrait to best mix up your portrait and landscape shots). Upload and auto-flow your photos into your template and add captions or stories. On the last day, edit your work, make any final changes to the order, and send it to print!
Pro tip: Personalize your travel book even more when it returns from the printer with handwritten notes, pasted-in boarding passes, and stickers.
Meaningful gifts to spend time on
If you have a little more time and want to go big with your custom gifts, try making something truly one-of-a-kind for this year and for generations to come. The additional upfront effort will be worth it when you see your loved one's face light up page after page.
Design a cookbook or cocktail book
Active time: 1 week
Love getting creative in the kitchen or bar? Turn your best recipes and photographs into a delicious book to gift your loved ones. If you've been documenting your yummy experiments on social media, you've got a head start on creating a cookbook or cocktail book. Take a couple of days to gather your recipes, photos, and notes. Then start designing.
Will you organize your book by theme, season, or type of meal? Once you have a recipe order, use a pre-built template in BookWright to make page layouts a breeze. Allow a day or two to write up captions and stories, a table of contents, and check your recipe steps. Then, on the last day, all you have to do is design a cover.
Pro tip: Use these 10 tips for creating a cookbook to create your custom gift and take your foodie (or bevvie) photography and layout to the next level.
Personalize bedtime stories
Active time: 1-2 weeks
Making a children's book can be as easy or complex as you'd like. Turn the kiddo in your life (whether large or small) into the star of their book, like Blurb team member Ian Stewart did, with his simple Photoshop skills. Or put your illustration or wordsmithing skills to the test with an original story brought to life by you! (Psst…if you're not as adept with visuals or copy, partner with a friend or commission some art.)
You can even make the moment more special by working with your own child to build a story and artwork together—this way, you can gift them their first (of many) self-published books.
Pro tip: "Give yourself plenty of time to organize your photos [or art]," says Ian. "For kid's books, the pictures and visuals are really key, so I wanted to be sure those were a top priority over both the writing and story."
Honor your elders
Active time: 1 month
We are all intrinsically tied to those who came before. Whether designing a photo book for your grandparents, spiritual mentors, or teachers who have influenced you, take time this holiday to honor and document their stories. Start by gathering scanned black-and-white photos and digital shots from the past few years. Don't forget to ask for images, stories, and photo captions from those who love the person you're honoring, too. Find ways to input stories, names, and important dates from your elder, as well—just try not to spoil the surprise.
Pro tip: Make your call for visuals and stories early so you have plenty of time to get input from everyone wanting to be involved. The most time-consuming process is often compiling these important pieces, while pairing images with words into a book is the easy part.
***
Now you have inspiration that fits your timeline. What personalized gift will you create?