Printed content is a powerful tool for any business. And Blurb's API Printing and Distribution Services can help you maximize its potential.
Whether you're providing a platform for clients to create and print their own content or selling your own branded print products, Blurb can help.
Our dynamic API integration software connects seamlessly with your business operations to help you make printed content and products part of your business offering. All of our work is done behind the scenes, so it's your brand or your clients' work that shines through in the final product.
How Does it Work?
1. White Label Printing
Our API Printing Services work on a print-on-demand basis. That means no bulk orders, upfront costs, or storage issues. Products are printed on-demand as your customers and clients order them. Without major investment, it's possible to realize an immediate profit on every order.
You can choose to print content into any of our standard formats, including Photo Books, Trade Books, and Magazines. You'll be able to choose from a range of trim sizes, paper types, and cover options to suit your content. Alternatively, we can work with you to create your own custom product.
2. Distribution
Blurb's API Printing and Distribution Services connect you to markets in over 100 countries without the hassle of handling the logistics of global shipping. You'll be plugged directly into our distribution infrastructure, which is already set up to get products into the hands of customers all over the world.
3. Customer Support
We'll oversee each order from start to finish with our customer service team providing expert front-line support. We'll deal with any questions or queries if they arise and keep things running smoothly.
Blurb's API in Action

Blurb and StoryWorth invite you to give the gift of stories. Collect memories from a loved one and turn them into a beautiful Blurb book.
Each week over the course of a year StoryWorth sends a loved one a series of curious questions about their life. At the end of the year, these questions and their answers are collected and bound in a beautiful book printed and delivered by Blurb.
Format: Trade Book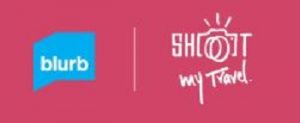 We've partnered with Shoot My Travel to help you turn your travel photos into a beautiful photo book.
Shoot My Travel provides vacation photography experiences with professional photographers in over 450 destinations. Now, when they return home, their customers can easily turn the photos they captured along the way into a printed Photo Book.
Format: Photo Book

Create a professional, branded guidebook, full of tips and information for your guests.
Hostfully's software enables vacation rental owners to create local guidebooks in PDF format. Integration with Blurb's API Printing Services means that their users can now print their guidebook as a professional newsstand-quality magazine.
Format: Premium Magazine
Put the power of print to work for your business. Get in touch to find out more and get started.