A team from Blurb flew across the country this week to what we thought would be a lovely spring weekend in New York, filled with beautiful art. There was plenty of beautiful art, though it was absolutely freezing—just like summers in San Francisco.
Along with 35,000 art enthusiasts, galleries, art dealers, interior designers, and corporate art buyers, we came to the city to attend Artexpo New York. Our aim? To speak with artists and creatives about the amazing projects they are working on—projects that could be in the homes of more people than ever, through a bookstore-quality book.
Lack of space or funds can often prohibit buyers from acquiring art, which is why putting your work on the pages of a beautiful book can make all the difference.
Artexpo Inspiration
With so many diverse creatives gathered in one place, there were endless inspirational ideas and projects discussed.
One artist dreamed about turning her work into a children's book and was inspired by one of our recent favorites, Animals Under the Bed! We heard from several others looking for more ways to monetize their work. A $9,600 original piece isn't accessible to many, but a $200 coffee table photo book can be. We brainstormed different ideas for standout portfolios, catalogues to give away at similar expos, and quarterly magazines to sell. I even met with a few advertising agency people like myself, who envisioned their next pitch presentation in the form of a Blurb book.
Showcasing Blurb
We were particularly proud to show off 4 Shapes in three different CMY covers created by Blurb's very own art director, Alex Palacios. We also showcased Britt Bass Turner's Studio Sesh, which she created as both a print magazine and photo book.
Layflat Photo Books were also a huge hit, stunning people of all different creative pursuits with their edge-to-edge spreads.
I was blown away by how many people stopped at our booth, looked up at the shelves, and stared. It wasn't until we asked "have you heard of Blurb?" that we often heard "oh yes, I'm a customer!" It's as if they were in awe of how many amazing books their peers—our customers—have made.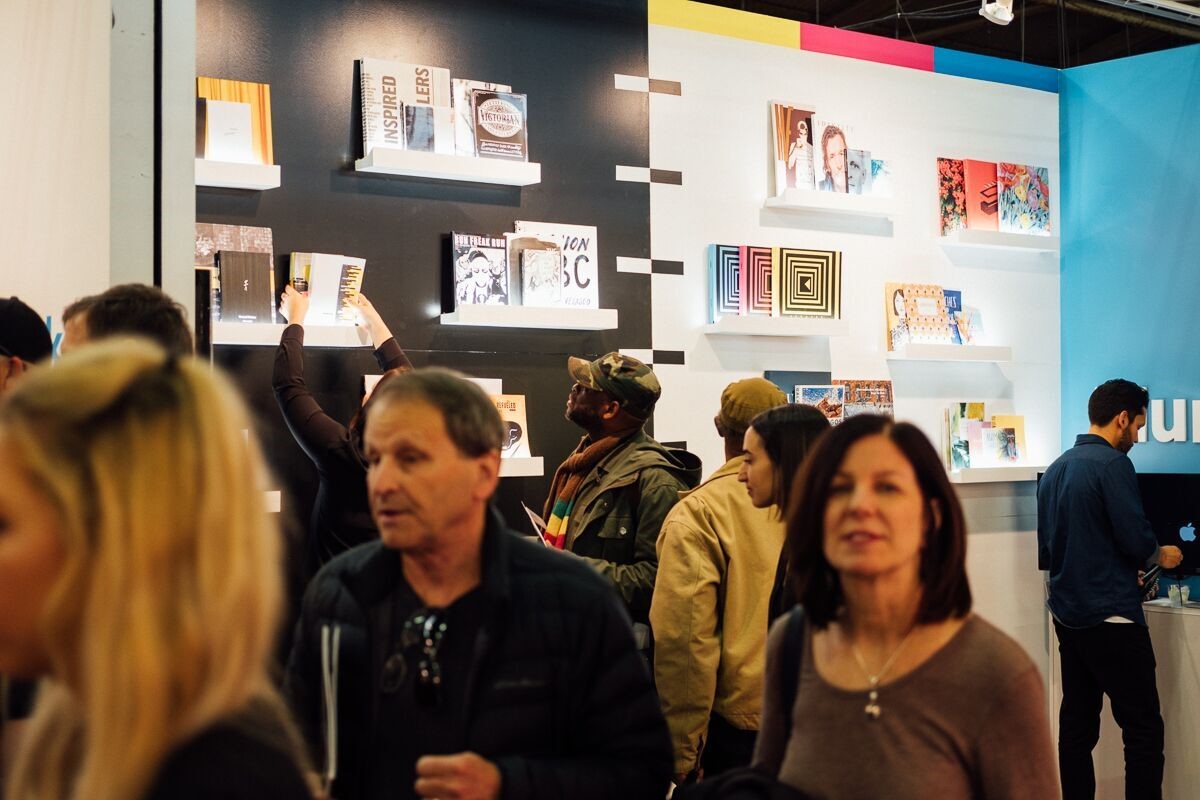 More Inspiration
I'd love to bring our booth, or a couple of books, to everyone who needs some inspiration. But I'm reminded of the next best way to accomplish that. The Blurb blog is full of ideas and inspiration from other creative authors.
It's not the same as holding a 13×11 Large Landscape photo book with uncoated paper, and flipping through the pages. But if you're looking for inspiration, tips, and advice on layout, format, creation tools, and more, the blog can help!
Were you at Artexpo this year? Share your highlights in the comments below.