When you have a story to tell in print, your first order of business is finding the ideal book format. You've probably been researching Blurb and MdBy—looking at sizes, customization, tools, and reading reviews to understand that all-important page feel. While it can be fun to get into the nitty gritty, it can also become overwhelming.
We've created this side-by-side photo book comparison so you can find your picture-perfect photo book! Here's how to decide between a Blurb and MdBy book, and select the format that'll help your story shine.
Blurb: what you need to know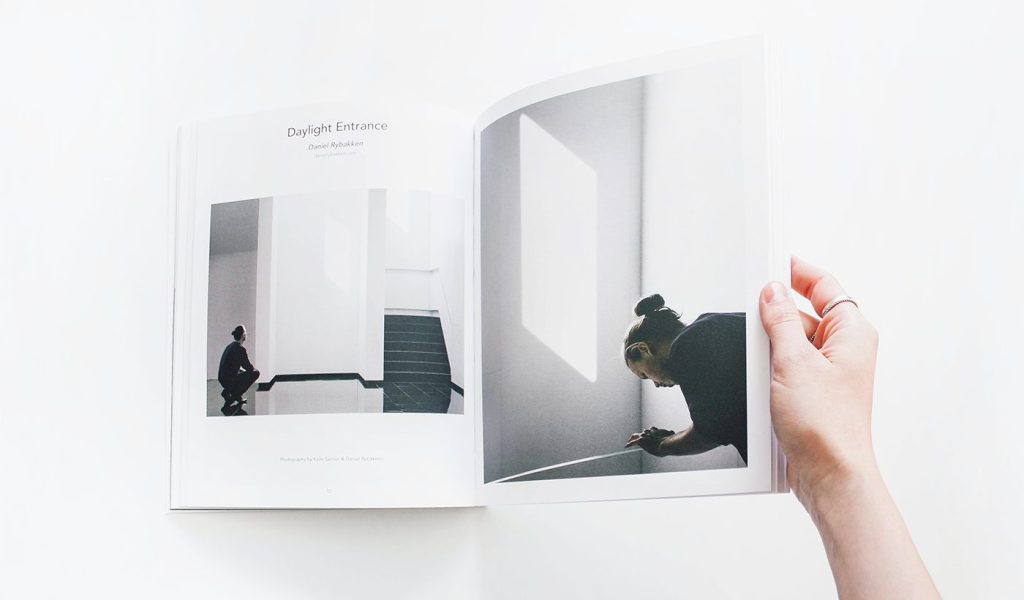 Blurb is a self-publishing and marketing platform that's been empowering creators to make books since 2005. Whether you're a professional visual storyteller or hobby cookbook maker, we offer a wide range of free design tools and format options to make a completely custom book that will fit your needs.
"Blurb allows for a level of specificity that is unparalleled in the industry," says Dan Milnor, Blurb's creative evangelist. "—from the numerous formats, design tools, paper choices, to the option to sell whatever specific publication you make."
You can expect high-quality print books in a wide range of formats—from standard paperbacks to premium hardcover layflat books. And with this wide variety of forms and options, you can create a unique book by selecting your book style, layout, cover, end sheet, paper, lamination, and more. Plus, you have far more pages available in Blurb books than MdBy books—ideal if you're creating long photo books, comics, or novels.
Blurb also is a fantastic option if you're already used to using Adobe programs—as Blurb has plug-ins for InDesign, Lightroom, and Photoshop. Our free design tool, BookWright, is a powerful choice if you don't want to shell out funds for a bookmaking tool but want to control every detail of your project with smart tools like text auto-flow, grids, bleed lines, and trim guides. BookWright even offers free templates for nearly any project.
In short, Blurb is made for professionals who want to showcase or sell their work—and anyone looking for a highly customizable print publication.
MdBy: the basics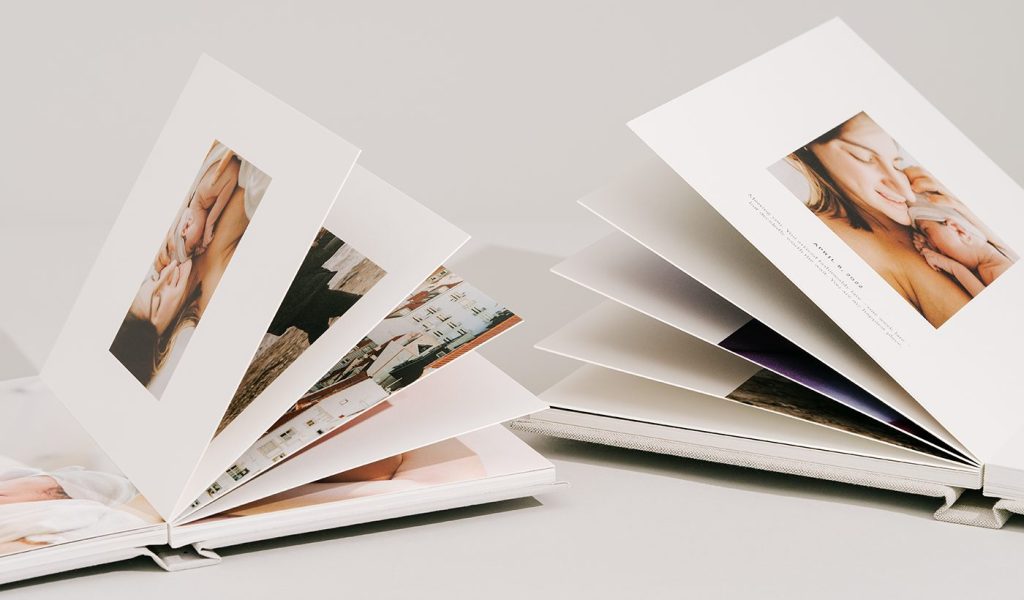 Blurb's sister brand, MdBy (that's Made By), keeps print simple yet beautiful. If Blurb feels professional, MdBy feels personal. "When your goal is curating and designing a luxury photo album with a simple, online tool, then MdBy is your brand," says Milnor.
Since launching early this year, Blurb's sister brand is all about quality, ease, bespoke options, and Mohawk recycled paper. MdBy only features top-of-the-line layflat books with recycled matte interior pages. Pick between first-to-market luxe hardcovers with linen and hand-placed, debossed photos or beautiful, soft-touch, matte with metallic foil accents.
You'll want to choose MdBy if you're looking for a special way to document a moment or event that you want to remember forever. Use the online editor and stunningly simple drag-and-drop templates to create a personal gift for yourself or someone in your circle.
These photo books are designed with family photographers, travelers, and memory keepers in mind. "MdBy albums are built for telling the poignant stories that need to be shared and preserved," says Milnor.
At a glance
Blurb
MdBy
Design tools
BookWright, our free bookmaking software
Adobe InDesign plug-in
Adobe Lightroom
Adobe Photoshop
PDF Uploader
iOS Mobile App
Free online editing tool with modern, clean templates
Formats
Photo books: hardcover and softcover for professional-quality creations
Trade books: affordable hardcover and softcover priced for bookstore sales
Magazines: newsstand-quality for serial content or high volumes
Premium photo books with rigid vellum pages in three hardcover styles:
Editorial Layflat
Image Wrap Layflat
Linen Layflat
Page count
Between 20 and 480 pages
Between 20 and 96 pages
Price
Photo books from $15.99
Trade books from $2.99
Magazines from $4.25
Photo books from $135
Production timeline
4-5 business days
4-5 business days
Ideal use
Professional portfolios, photo books, magazines, or other publications to sell
Personal projects made to be remembered
Blurb book details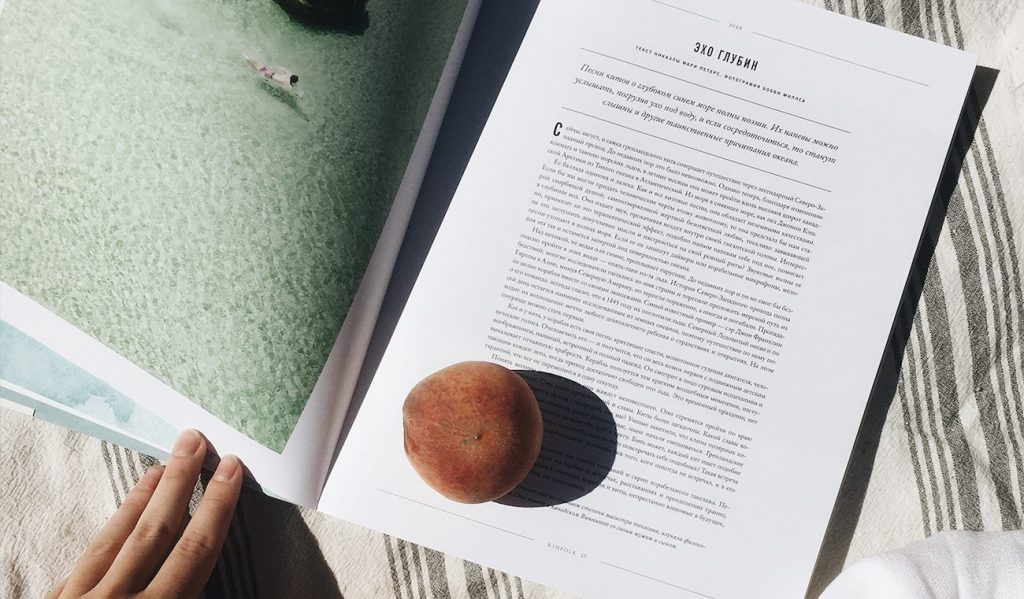 Blurb offers a massive number of book formats to choose from—let's get into the details.
Photo books
If you're looking to create a professional-quality photo book that needs pixel-perfect imagery, this is your best bet. You can choose from hardcover (with or without a dust jacket), hardcover layflat (where you have stunning two-page spreads), and softcover options. We'd suggest going for the Mohawk paper—archival-quality photographic paper with either a luster finish or uncoated with an eggshell texture.
Find your size and price options.
Trade books
Bookstore-grade quality at a sellable price: Choose trade books for any print publications you want to sell. Completely customizable from cover to spine to paper type, these books can help you make a beautiful, professional product. Plus, you can efficiently distribute what you make worldwide—whether you sell on the Blurb Bookstore, Amazon, Barnes & Noble, or the indie shop near you. Pick from three standard bookstore sizes, print options (black and white or color printing in economy or standard), and three cover types (hardcover with a dust jacket, ImageWrap hardcover, or glossy softcover).
Ready to print? Price your trade book.
Magazines
A great way to serialize your content, Blurb magazines offer newsstand-quality design and production. They come in one size—your classic newsstand magazine—with page counts from 20 to 240. You can pick a premium magazine for a high-end finish and heavier cover or an economy magazine with a lighter weight and lower cost. Want to sell? You can easily put your publication up on the Blurb Bookstore.
Get every magazine detail, plus free templates.
Notebooks
Our notebooks are entirely custom, cover to cover. Unleash your creativity with one of our made-to-order notebooks or journals. Our selection comes in three sizes, three cover types, and up to 480 pages, so you can write, sketch, journal, or plan. Templates in our free tool, BookWright, mean making low-content creations is super simple. And you can sell through Blurb for wide distribution.
Discover the possibilities for your custom notebook or journal.
MdBy book details
Blurb's sister brand, MdBy, is ideal if you want first-of-a-kind covers, 100% recycled vellum layflat pages, and plenty of sizes. Here are the specifics.
Editorial Layflat Photo Album
"MdBy Editorial Layflat Albums are a gorgeous, high-end storytelling tool with just enough designed type features to help link the images and story, page-to-page, and the inlaid imagery and colored fabric cover options are icing on the ultra-thick cake," says Milnor.
This revolutionary layflat photo album features your words printed as designed type with a stylishly inlaid photograph. Pick from five fabric colors, from lilac to canary to fog, and five sizes. The interior spreads feature recycled ultra-thick vellum pages, which lie completely flat for smooth viewing.
Image Wrap Layflat Photo Album
This photo book's ultra-matte ImageWrap cover and dazzling metallic foil graphics give it a luxurious feel. At the same time, the premium matte vellum pages open up effortlessly for an incredible panoramic effect. Milnor defines it as "a simple photo album dressed in a sophisticated ultra-matte cover and metallic foil graphics, creating an irresistible and arresting look."
Choose from gold, rose gold, or white foil on the cover and five book sizes.
Ready to treat your photos right?
Linen Layflat Photo Album
This signature linen-bound photo album offers a timeless look in either sand or stone grey fabric—featuring one inlaid image at the front. "The MdBy Linen Layflat Photo Album is about simplicity and the impact of a tactile object in hand," says Milnor. "It is also a counter to the numerous hard, smooth objects of modern culture."
The ultra-thick matte vellum pages ensure your pictures are displayed in the best way possible and lay flat, so they can be easily seen. Choose from the same five sizes as the rest of the MdBy albums.
***
Blurb books and MdBy books are both great options if you want to create a top-quality book. Blurb books provide bookstore-grade quality at a sellable price, while MdBy offers revolutionary covers and recycled vellum layflat pages. Only you can decide which one is right for your project!