This blog series is designed to provide some basic book layout ideas for your books, magazines, or eBooks. The spreads you see here, and the added notes, are not meant to be reflections of perfect book design or book layout, only a baseline to begin your own book journey.
Layout 2.1
A classic across the gutter image with a single column of copy. The image is weighted slightly to the right of the book to avoid losing the footpath in the gutter. This is a two-way bleed, weighted toward the top, with a sizable white border across the bottom of the spread. I could have done something more elaborate with the copy on the left but decided to center the layout and keep it clean.
Layout 2.2
The classic double truck layout, weighted slightly to the right to avoid losing anything in the gutter. I also like how the path leads the reader's eye to the horizon line of the book. I've chosen to use black title copy to contrast with the lighter sky, but also chose to reverse out the main copy over the image, in white, to help contrast with the darker background.
Layout 2.3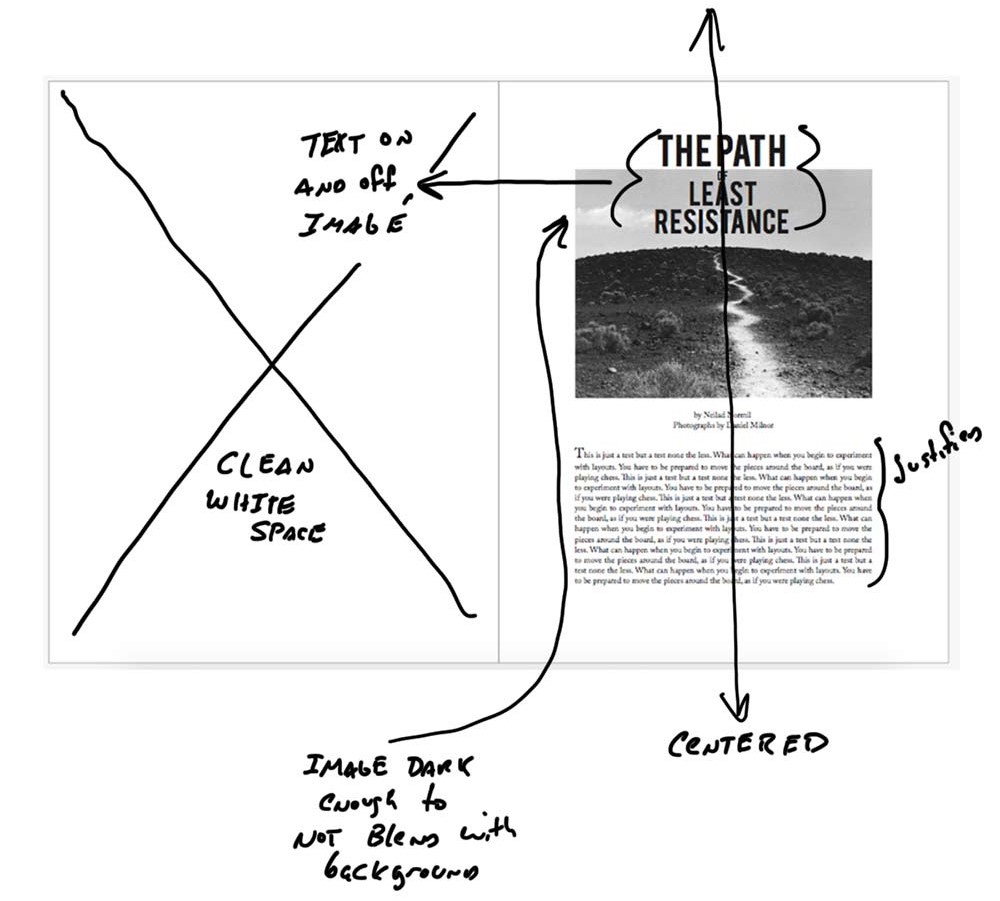 This may look like a basic spread, or as though I'm not utilizing the image with enough size, but I don't believe either is true. The image is readable, even at a smaller size. This is because it's really about book design more than intimate detail. I've chosen to run the title both on and off the image to add one, small design feature, but then kept the rest of the page to simple, centered content. The left page is intentionally blank, which allows the reader to consume ONE page of content. I use this technique when I need the reader to concentrate on one specific element, copy block or image. White space is your friend.
What are your top tips when it comes to book design? Share your ideas, questions, and comments on these layouts below.