Whether this is your first book project or your tenth, custom notebooks and journals are simple, fast, and fun to make with Blurb. Exclusively available through BookWright, our fully customizable page layouts give you the ability to create the notebook or journal you've always wanted and personalize it, cover to cover.
With so many possibilities, where do you begin? Here are 15 creative journal and notebook ideas to get you started: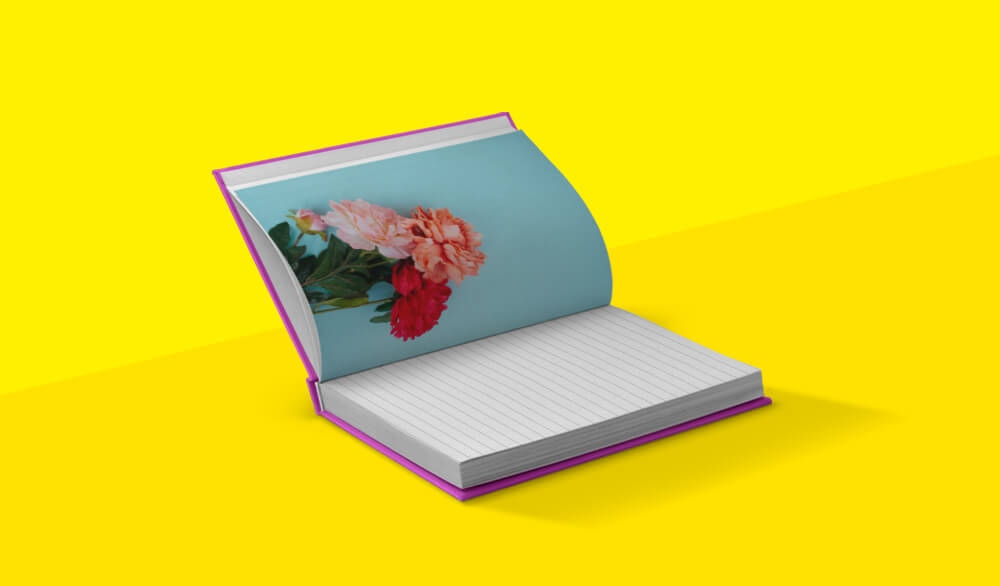 1. Designer Notebook
Perfect for jotting down your creative ideas or design inspiration on the go
Try varying your page backgrounds. Use ruled, grid, and blank pages.
Your ideas are priceless! Write or design your name on the inside cover with a note offering a reward if your notebook is found and returned to you, should you lose it.

Pepper the pages of your creative notebook with inspiring visuals and don't be afraid to write or draw over them after it's printed.
2. Travel Journal
Capture every moment of your journey by combining lined pages for storytelling with blank pages for sketches and pasted ephemera.
Keep an instant film camera (like Instax) on hand while you travel. Try to make one photograph a day and paste those daily snaps into your journal.
Create your travel journal in a size that you won't mind carrying with you everywhere. Softcover is also a great choice, as it's more flexible to pack.
Write or design your travel dates and destination onto the spine of your journal.
3. Personal Notebook
Take notes, draw or doodle, jot down ideas, make lists, collect quotes, and more—all on personalized pages. The space is yours to fill.
Journals are about honesty! Write as though no one will ever see those pages.
4. Yearly Journal
Grow, reflect, and remember with a record of 365 days in a single volume. Our custom notebooks and journals max out at 480 pages, so you'll have plenty of room for a whole year and a little extra!
If you have the option, make a thicker Journal. A thicker book tends to wear better and is easier to hold when writing in strange positions.
Consider including inspiring or creative quotes to keep you motivated, or mood prompts and gratitude questions, to help you keep your mental wellness on track.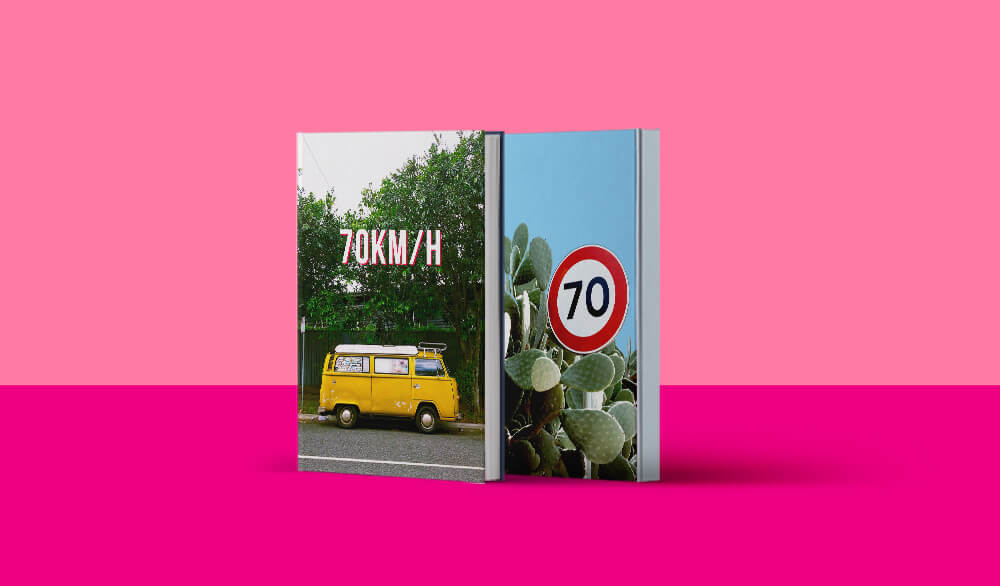 5. Recipe Journal
A must for anyone who loves getting creative in the kitchen. Record all those delicious favorite recipes you discover, track your ideas for future dishes and ingredients to explore, or plan the pages of your next cookbook.

Add photos, notes, and drawings as page dividers to make each recipe section unique.

Don't forget to share the inspiration. Treat your friends and family members to a blank recipe journal you created or design one to sell.
6. Custom Planner
Why wait until the start of a new year? Create a personalized daily planner you can start using today.

Design calendar pages that fit your world so you can keep track of appointments, deadlines, special occasions, personal goals, shopping lists, notes, and ideas.

Make a compact book to stay organized on the go or a large desktop planner with spacious pages to fill.
7. Inspirational Quotes Notebook
Document words of wisdom and compelling ideas from the people and characters you admire most. Your collection could include quotes from movies, books, songs, interviews, or memorable conversations with friends and family.

Organize the pages of your creative notebook by theme or keep a running list of funny, serious, inspiring, or thought-provoking notions you want to remember. When you're feeling stuck or need a boost of motivation, simply flip open your notebook.
8. Artist Sketchbook
There's nothing like having a trusty sketchbook on hand when inspiration strikes. Some artists, illustrators, and designers won't leave home without one.

Give yourself plenty of blank pages for doodles, sketches, or creative projects to take shape. Practice your drawing techniques. Create a storyboard for a comic book or graphic novel. Plan the page layouts for your next photo book. Sketch out a series of paintings, designs, or floor plans.

Hardcover or softcover options let you customize the look and feel of your sketchbook.
9. Favorite Lists Notebook
Who doesn't love a good top 10 list? Write down the people, places, foods, songs, and works of art you don't want to forget.

Make a list of anything (and everything). Dream vacation destinations. Photo shoot ideas. Road trip playlists. Restaurants to try. Movies you love. Movies to watch. Novels to read. Stories to write. Flowers and herbs to grow. Musicians, artists, writers, and historical figures to research.

Bottom line: There's no list too long or too short for a creative notebook like this.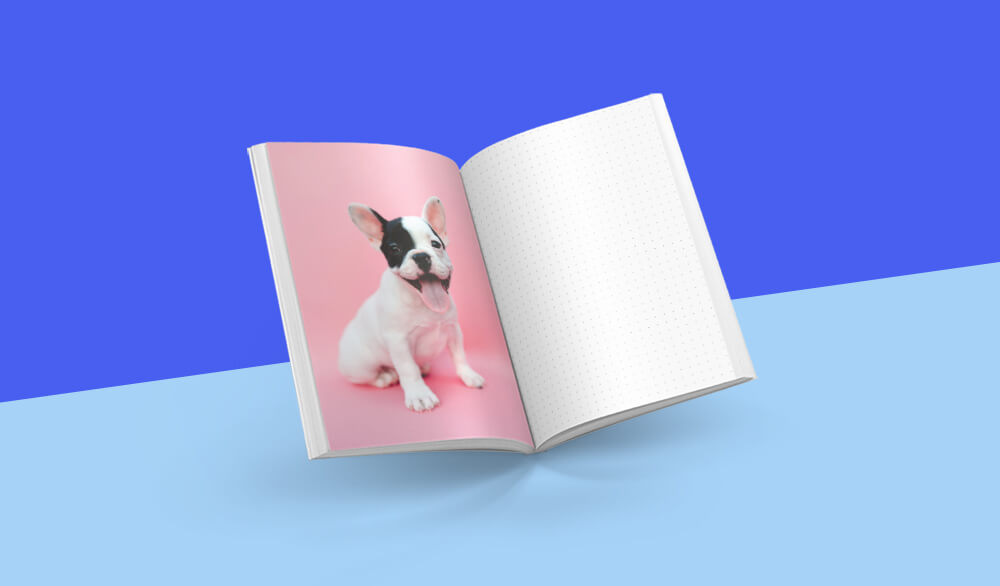 10. Writing Journal
Great novels, memoirs, and poetry collections often grow out of a single page from a writer's journal. Make it a daily habit to jot down themes and and ideas that interest you.

Free writing exercises and brainstorming belong here, too. Record memories, phrases, imagery, or bits of dialogue you may want to incorporate into a story or poem.

Working on a long form writing project? Get strategic and divide your creative journal into sections by chapter, character, or scene. You can also create an outline of the plot or narrative, with significant conflicts, triumphs, and resolutions to help you build a full story arc.
11. Photo Collage Journal
To keep your creativity flowing, create a creative journal dedicated to photo collage.

Not sure where to begin? Collage is about layering and juxtaposing images and text. Pick one photograph or image and see where it leads you. There are no wrong ideas.

Mix photos and magazine cutouts with lines of poetry. Add paint or ink. Cut, copy, paste, repeat and let your imagination run wild!
12. Gratitude Notebook
Practicing gratitude, or thankfulness, can be a powerful source of happiness and well-being.

Take a few minutes out of each day to write down someone or something you are grateful for–an act of kindness, a positive experience, a gift or favor, a word of support from friends or family, or a simple moment of beauty in your day.
13. Dream Journal
Get introspective and record the people, places, objects, emotions, and experiences that surface in your dreams. You might be surprised to find recurring images or themes.

Set aside 5 minutes each morning to jot down any details you can remember from your dreams. Many people find this to be a fertile exercise in self-reflection and creativity that can even lead to new project ideas.

Opt for blank pages, so you have space to write down everything from words and phrases to a full narrative.
14. Goals Notebook
One of the best ways to reach personal goals is to break them down into smaller, achievable parts and record your progress. This is where your special, creative notebook comes in.

Build your own vision board or blueprint for success, one page at a time. Creative goals. Project ideas. Career aspirations. New year's resolutions. Fitness, diet, and wellness goals. Business objectives. Workday tasks.

Leave room to include notes about your daily, weekly, or monthly achievements and don't forget to celebrate milestones along the way.
15. Memory Journal
Creating a space for nostalgia and personal reflections can be comforting and empowering. Dedicate a journal to special childhood memories, family history, and life moments large or small.

Go scrapbook style and include newspaper clippings, photos, or mementos.

Writing a memoir? You'll probably have enough content to fill multiple volumes! To help organize your project, consider using one journal to write down your stories and another to create an outline of your book by chapter, chronology, or theme.
What will your book project be? Tell us in the comments below about your creative journal ideas. Don't forget to follow us on Instagram for more inspiration.