One of our favorite kinds of photo books is a proposal book—a book someone makes to pop the question to their one and only. (These are a little different from engagement photo books, which are usually albums of a special photoshoot used to commemorate this stage of your relationship. Those books are wonderful too, of course.)
Proposal books, the way Blurb fans think about them, are a totally original way to put the focus on your love story, to remember the moment (you'd be surprised how the little details can fade), and to launch a lifetime together. Take a look at some of our favorite examples—and maybe get inspired to make a book of your own love story.
There are as many ways to incorporate one-of-a-kind books into a proposal as there are actual proposals themselves. Here's one of our favorite videos, about a gorgeous photo book made with Blurb that helped convince her to say, "I do."

A book can help you join in the excitement, even if you're not part of the couple in question. For example, a pair of designers, Matthew and Madison Creech, created a custom book for a friend who was getting ready to propose to his girlfriend. The book tells the couple's tale and why they're made for each other. It ends with a "check one" pair of boxes—yes and no—and the big question. Spoiler alert: She checked yes.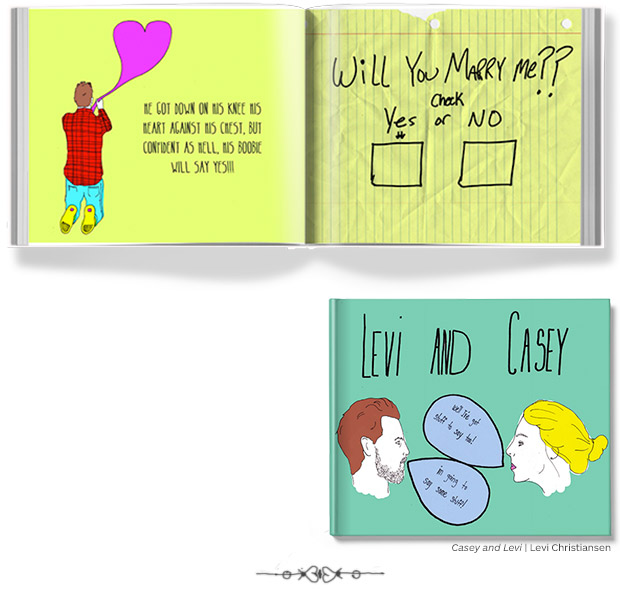 And that's not the last story, not by far. Here, a happy Blurb book-maker turned his book into a proposal (and an evening) his girlfriend wouldn't forget. We especially love the candid photos of the big event. Here's Travis Hines, on how a book worked into his proposal:
"While simultaneously Christmas shopping and scouring the city for the perfect engagement ring, I wanted to do something special for the big moment.
So I spent a couple weeks digging up every picture we had taken while together over the past three years—rummaging through our cell phones, old computers, Facebook, and Twitter accounts. I had over 500 pictures to work with and I managed to design a chronological, full-page photo book capturing many of the wonderful moments where we were together.
The book was absolutely perfect. With not a moment to spare, the engagement ring was ready two days before Christmas and my countdown timer was set. We went out for dinner and drinks and I then had to silently coerce her towards Union Station in Toronto, where one of our first dates had ended.
We took a seat at the end of the building, where Rachel gave me my anniversary gift, and I handed her the wrapped book. The glow on her face was mesmerizing as we laughed at every picture I had managed to squeeze into the hardcover, all while trying to contain the shaking of my legs.
Then she hit the last photo. A blank page came after that, then a few pages of text I had written. One of those pages had a question on it, at which time I dropped to my knee and reached into my pocket.
The photos captured the race of emotions from that point on better than I could ever describe. Noticing a camera pointed at us well after the fact only added to the nature of the moment. Our Blurb book has been shared and loved by just about all of our family and friends, and will be a part of our memories of that evening forever."
All together now: Awwww.
Just because you're married doesn't mean making a book won't win their heart over. Check out what Stacy Wiseman did for her favorite person: her husband .
Ready to declare your love on the page? Create your proposal (or "You're the greatest") photo book with us!