This paper introduction was written by Bruce Watermann, Senior Vice President of Operations at Blurb.  
Blurb offers more paper choices than anyone in the print on demand publication business. As a member of the founding Executive Team who oversees our global print network, I've personally selected and approved every paper stock we've ever used, embracing the world's best paper manufacturers including Mohawk Fine Papers, Verso, and UPM.
So, what am I excited about now?
I absolutely love the new Economy Magazine paper we just released. When we launched the Economy Magazine format in 2014, it was one of the first print on demand, 4-color products ever produced on the HP PageWide inkjet press. Prior to that, inkjet presses in publishing were primarily used for products like our Trade Books, printed on uncoated paper. To get the newsstand, magazine feel, we needed a coated stock and those options were limited.
We did our research 
When we were looking to upgrade the Economy Magazine paper, we looked far and wide to find the right fit. One of the things I love about the product is the price point—you can get a full-color, perfect-bound, one-off magazine starting at just $3.99! That was a game changer when we launched and it was a requirement to maintain. So, after a lot of research, we settled on the Zanders Zanjet paper. It has improved color density and reproduction over our previous paper, it meets Forest Stewardship Council (FSC) certification—not to mention I just love the look and feel.
The proof is in the print
As you can imagine, I saw a lot of samples during our testing in process. But the real challenge is seeing your own images in print, as well as some challenging photographic content. So, I ordered two blind tests once we went live with the new paper, one of my personal photos (yes, there are cats) and one from Blurb's Creative Evangelist and top-notch professional photographer, Dan Milnor. Both were created using BookWright.
The results reminded me again why I love this product. While there is a definite place for the highest resolution and widest color gamut, the "low-fi" look of Economy Magazine gives a special feel of really having your work published and on a newsstand. It's a different experience than looking at your work on a screen or through photographic or electrophotographic printing, such as you see in our Photo Book line.
The results
Starting with my magazine, the first thing you notice is the smooth texture of the 70# text weight gloss paper. It feels like what you would expect in a high-end magazine, but it's definitely different from the dull, matte papers that are making the rounds these days with catalogs in particular (although I'd love to offer that as an option here as well, stay tuned!). The shadow detail is markedly reduced from our HP Indigo-printed products. But I expect regular pro and enthusiast users will get the hang of adjustments as the product is used. It definitely feels "magazine", as opposed to the more book-like feel of our Premium Magazine which is Indigo printed.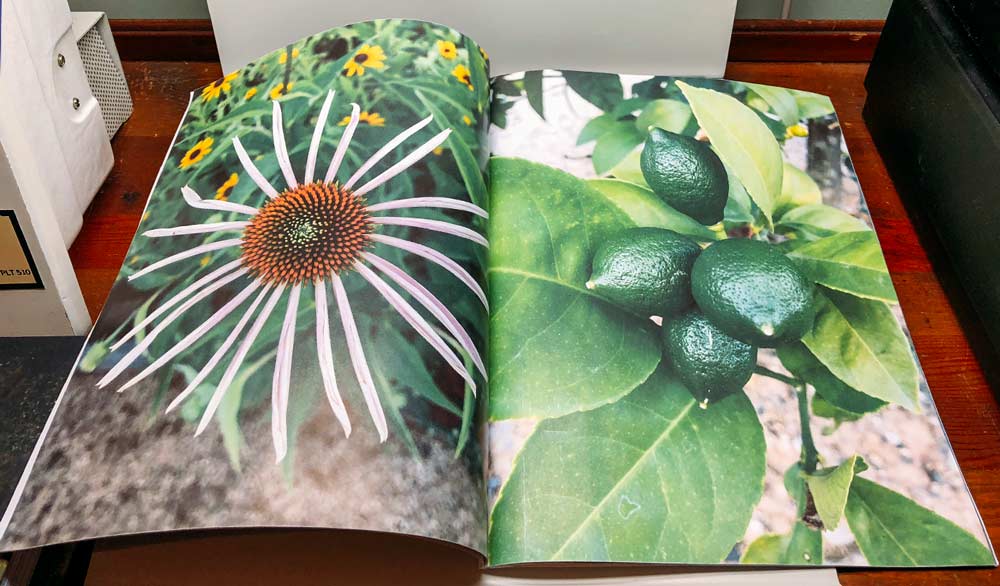 I'm seeing a little bit of imperfection in the way of "transport lines" for lack of a better term. They don't call these high-speed for nothing, running at up to 1000 feet a minute. Given the product and the subject matter, they are not an issue for me, but it is something to note. The colors are very accurate, which is to be expected since the HP digital front end (DFE) is the same as the tried-and-true system that has been running Indigo presses for years. The matte, un-laminated cover feels luxe, with great color fidelity and accuracy. Plus, unlike Photo Books, you can print on the inside cover of both of our Magazine offerings.
Moving on to Dan's magazine, the heft of this 116-page issue feels really good. When you get this big, though, the price definitely increases, with the printing retail at $18.39. The lower- fidelity of the Economy Magazine fits well with the mood of Dan's work. He uses a lot of high-contrast imagery, which reproduces nicely here. The black & white imagery is amazingly neutral. This is key because keeping neutrals from being too warm or too cool is often an issue with process black, which is the creation of solid black while using all four CMYK inks, which is required with POD presses.
I'm a bit jealous of Dan's photographic skills—the drama of his work really comes through. But what does the man himself think of the improved product? I asked him for his thoughts:
"I was expecting a flimsy, thin, and see-through version of my beloved The Fuji File, which was first published using Blurb's Premium Magazine. What I was got was very different. The magazine is almost the exact same thickness as my Premium version. Plus, the color is dead-on. I mean dead on. The black and white is as neutral as I could want. Yet another nice surprise.

I love Blurb's Premium Magazine product, but I will be working Economy magazine into my line-up. While the imagery isn't quite as saturated with the Economy version, I design the images to play into the weaknesses of the process. When designed for these traits, they suddenly weren't weaknesses any longer." —Dan Milnor
Where the rubber meets the road is how you feel about the product. I encourage you to give it a spin. I think you'll be in for a pleasant surprise both in your pocketbook and once it's in your hands.