Whether it's a weekend or a rainy day, there are lots of ways to keep kids inspired and active at home. Creative activities, games, and DIY projects can help banish the boredom while teaching kids visual, tactile, listening, and problem-solving skills. Here's a list of our top 10 ideas for fun activities to do with kids at home.
01 Put on a kids art show  
If you have school-age kids, chances are you have a fast-growing collection of paintings, drawings, and crafts galore. For this fun activity, sit down together with the kids and have them sort their artwork into piles by color, theme, or favorite subject (have older kids do this on their own). Choose one room as a gallery for all the artwork, or group pictures into smaller collections around the house. Kids can add tags with titles or descriptions to complete the display. Don't forget to put out snacks before the family tour begins!
To keep the inspiration going, take photos of their creations to make a kids art portfolio book or turn into unique wall art prints.
02 Make a magical mini garden   
This easy project is not only a fun activity for kids to do at home, but it's also an easy one. Spread out newspapers on the kitchen floor and bring the wonder of nature inside for a day! Help your child fill one flowerpot (or more) with potting soil. Add a small plant to each pot (or try seeds, for a lesson in patience!). Then bring on the garden magic by having kids add sparkly painted rocks, colorful fairy houses, paper birds, or plastic animals. Popsicle sticks make the perfect signposts for labeling tiny landmarks.
03 Act out scenes in a favorite book
Everyone can play a special role (or maybe two) in this version of story time. Have your child select a book, choose someone to read aloud, and let the kids play their favorite characters. Costumes, props, and nametags are highly encouraged! Get creative using blankets for oceans, and furniture for castles, or make it up as you go. For more involved stories and scenes, kids may want to rehearse before the big performance.
04 Create pet portraits
Our animal friends make adorable subjects for a portrait series. For this activity, encourage older kids to take a variety of photos (close-ups, panoramas, mid-action) and practice basic photo skills (composition, focus, and zoom). Younger kids may simply draw or paint their furry pals instead. Try a "A Day in the Life" portrait series with pictures of snack time, special tricks, favorite toys, naptime, and silly adventures.
Use the best images to make your own wall art or together or create a pet photo book together.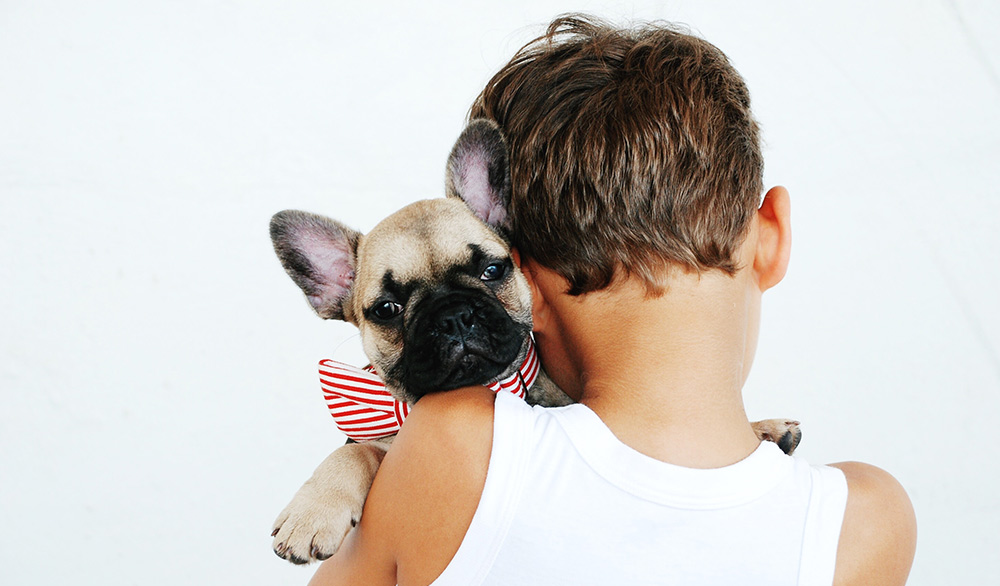 05 Plan a treasure hunt
Nothing beats a classic game of hidden treasure, complete with clues to solve! One person (or team) selects an object as a treasure, and hides it in another room. Then they create a series of clues (written, verbal, or drawn in diagrams) to give to the second person, one by one, until the treasure is found. Creating and following clues is a great activity that encourages kids to practice color, location, and descriptive words.
06 Create monster mash-ups
There's no age limit when it comes to monster crafts! Gather up a mix of your child's favorite drawing and craft supplies (colored paper, paper plates, crayons, markers, pipe cleaners, glitter, string, bottle lids, pompoms, googly eyes, you name it). Then let the imagination run wild, making an array of cute and funny monsters with 3-D features (sure, a cat with dragon wings and ladybug spots!). Use paper plates and create eyeholes to make wearable masks.
Did your kids create a new loveable character? Encourage them to write down their monster stories and help them create a kids book.#
07  Design cards for a memory matching game  
Most kids have played a version of the memory card game, but it's even more fun with a handmade deck. Create unique pairs by drawing the same image on two cards, or cut larger drawings in half to make pairs with a top and bottom (shortcut: try using magazine pics). Shuffle the cards and arrange them in rows face down. Each player turns over two cards, hoping to find a pair. If they find a match, they get a second turn! If not, the cards are turned over and the next player begins.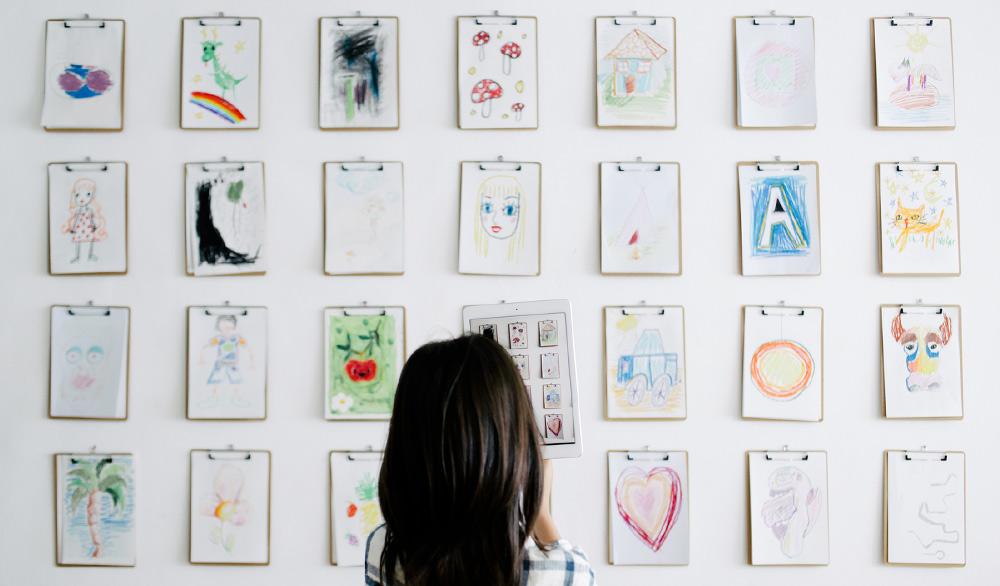 08 Make your own coloring pages
Keep little hands busy with a drawing activity that leads to even more fun. Line drawings they make today can become coloring pages tomorrow. Younger kids can practice their outlines by tracing existing illustrations or household objects. Scan and print their drawings, pass them around, and see how each person in the family brings the same picture to life with color! This fun activity is perfect for the aspiring artist.
Got a passionate illustrator in the family? Collect those pages into a coloring book (just like Jesse Oleson Moore did in The Unicorn Coloring Book).
09 Choose a creative theme of the day
This fun activity is perfect for all aspiring writers, reporters, and art directors! When the creativity gets going, this project might even spill over into a second or third day. Start by picking a favorite subject or theme (animals, colors, activities, books, places, foods, friendship, family trips), then invite family members (or just the kids) to contribute a story, drawing, photo, game, or song. Some children might want to do interviews, design puzzles, or create top-10 lists of facts to go with the images.
Once you've created 20 pages (or more), scan the photos and stories to make a family magazine. Print copies to share with friends and family, near and far.#
10 Make a set of bookmarks
Inspire a love of books and reading with a super simple and fun project. Cut out strips of paper or card stock 2 to 2.5 inches wide. Kids can draw their favorite story characters, animals, or patterns, or practice writing the alphabet. For extra color and texture, glue fabric on one side. Experiment by adding colored paper shapes or collage magazine cutouts. Create extras for friends and family, so you can slip one inside a gift book.
For even more creative ideas and fun activities for kids to do at home, keep exploring the blog. If you can't wait to start a new book project, download BookWright today.