Ever since getting hooked on photography as a young boy, Josef Litt has been looking for a way to make a living from his passion. His first self-published book, Galápagos, is the start of a new travel photo book series that will make that dream a reality.
His plan has four steps:
1. Create an amazingly stunning book
2. Produce it with a reasonable margin
3. Sell enough copies
4. Repeat
With the help of Blurb's Large Order Services team, he's now at Step 3 and raring to go.
We talked to him about his journey from a career in IT to adventurer, photographer, and now, self-publisher.
Why did you decide to make a book about the Galápagos islands?
Some guidebooks just give you hotel and bar recommendations. That doesn't cut it for me. I want to read stories and see stunning photographs of a place and its natural sites. With that in mind, I researched Croatia, the Maldives, and Egypt as possibilities for the first book in the series. In the end, the Galápagos won. They've fascinated me for as long as I can remember. The Galápagos Islands provide spectacular insight in to their volcanic origin, often violent history, and attractive fauna. The other reason was a pragmatic one. The subject matter felt manageable. There was a chance I wouldn't get too swamped with information.
How did you get started in photography?
When I was growing up in Czechoslovakia, one of the highlights of the week was a natural history series, running every Friday afternoon on one of the two available TV channels. I dreamed of becoming an adventurer, shooting movies in the wilderness of Africa and at the bottom of the ocean. My parents bought me a small film camera, and I started spending long hours in the school darkroom, taking and developing pictures. This early romance with photography was interrupted by a fascination with electronics and computers. It was only much later, with a career in IT and a family, that my love for nature and photography reignited. I tried underwater photography in 2007 and now, the childhood dream is a reality.
You used a lot of interesting techniques to make your book including drones and underwater photography. Can you talk a bit about why you chose these methods?
Travel photography involves storytelling. Land-based photographs are worth a thousand words, but a bird's eye view adds a spectacular dimension to the story. You could describe an island in the most flowery and imaginative language—or you could show the sunset-lit place in its entirety, using a photograph from a drone. Our planet is blue. Underwater photography tells the bigger part of the story, one that's elusive and thrilling.
I didn't want to miss these aspects of visual story-telling, so I became a certified dive master and commercial drone pilot.
You outsourced some illustration work for this project. Do you often collaborate with other creative professionals? How do you find the people you'd like to work with?
The dilemma of spending money on hiring creative professionals or doing everything in-house is a tough one. I always had my second step in the plan in mind: "Produce it with a reasonable margin."
I followed a simple rule. If I'm unable to get a professional result myself, I outsource. When I tried to paint the 3D illustrations I had in mind, I failed miserably, so I did some research into who could help.  Both the illustrator and editor were professionals recommended by friends. Our collaboration was built on respect and brutal honesty.
Galápagos is an outlet for my photography, but first and foremost it is a guidebook. Where I lacked imagery, I asked fellow photographers to provide me with theirs. In the end, more than twenty photographers contributed  images either on a paid basis or, very generously, for free.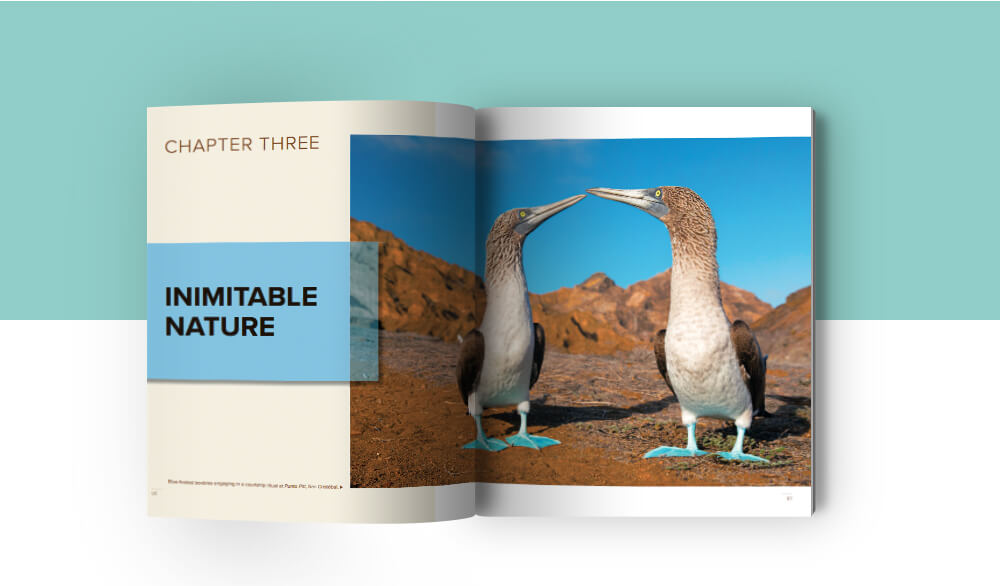 How did you find Blurb and what made you decide to print your book with us?
I made my first Blurb book, a family photo album book, in 2011. Since then I've used Blurb dozens of times for more family albums and projects for my friends. Over time, I used more and more advanced tools and ended up using Blurb's plug-in for Adobe InDesign.
I always thought of Blurb as a publisher who helps people like me create lovely, personal books, with a low print run. But now I've created a book to sell. My plan is to sell as many copies as an established publisher would—think Lonely Planet. (I know it's crazy, but hey, we can dream big). Blurb makes that dream possible!
Practically, Blurb ticked two boxes: offset printing of large orders and logistics. I live in the UK but Blurb made it possible to distribute the books in the United States.
How did you decide on aspects of your book such as size and paper type?
Balancing beauty with cost is a daunting task. There was no question about Galápagos being a stunning book. A high gloss cover with a premium lustre paper was the right choice. My desire for a contemporary look and cost pressures dictated a softcover with French flaps. The portrait format (8″x10″) is perfect for a book with 66,000 words and more than 300 photographs. The numerous images on a full spread are impressive.
Which tools did you use to create your book? What was it like to use these tools? Did you develop any new skills during the creation process?
I learned every day!
Firstly, I'm not a native English speaker. Despite trying my best, receiving the corrected text from the proof-reader was hard. Grammarly.com and The Chicago Manual of Style seriously improved the quality of my written work.
Lightroom and Adobe Photoshop are my usual tools for image processing, but Adobe InDesign with the Blurb pre-sets served as the center-point for the creation of this book. I learned a lot about grids, layout, inks, typesetting. This was one of the most satisfying aspects of the whole process for me.
I also had to learn to use Adobe Illustrator enough so I was able to adjust maps. In the end, I also used it to create the Mostly Underwater Books logo.
I have an Adobe Creative Cloud subscription, so I also learned to use Adobe DreamWeaver to customise the book's website and Adobe Premiere and Adobe AfterEffects to create video trailers and announcements. Using Adobe Audition to cut the music for the videos and clean up the sound of the recordings was one of my favorite parts of the process.
All that said, the most significant learning was to not be afraid to ask for help. I hesitated to contact photographers, experts, and scientists who didn't know me, but the vast majority replied and chipped in. Some of them just because they could, without asking for anything back. I'm grateful for that!
How have you found the process of setting your book up for sale? How are you marketing and promoting it?
After several months of a joyful orgy of creativity I noted down everything I wanted to do to let the world know about my beautiful new book. Which social media channels to use? What advertising content will I create? Which media outlets will I contact? What about travel agencies, institutions, and charities? Should I start with my friends?
I ended up with a mailing list managed in ConstantContact and used Hootsuite for social media scheduling  (Facebook, Twitter, Instagram, and LinkedIn.) My online store also opened for pre-orders of signed copies.
By crawling through the darkest places of the internet I found contact information for the editors-in-chief of prominent travel magazines. I offered them a story and asked for a review. Usually, once they see the book, the collaboration kicks off.
I also plan to run three book-launch events with additional talks for various audiences.
What advice or encouragement would you give to aspiring self-publishing photographers?
Self-publishing is unbelievably satisfying. Holding a book full of your own photographs is priceless. Go and do it, you will love it!
I went on a journey to change my career, which required a different mindset. It was even more thrilling because all bets are off.
Where else in the world would you like to photograph and create a book about?
Cuba for its history, cigars, rum, people, and crocodiles. The islands, seals, sharks, and whisky of the Hebrides in Scotland. Croatia for its marble coast, Roman palaces, islets, and shipwrecks. The inspiration is endless.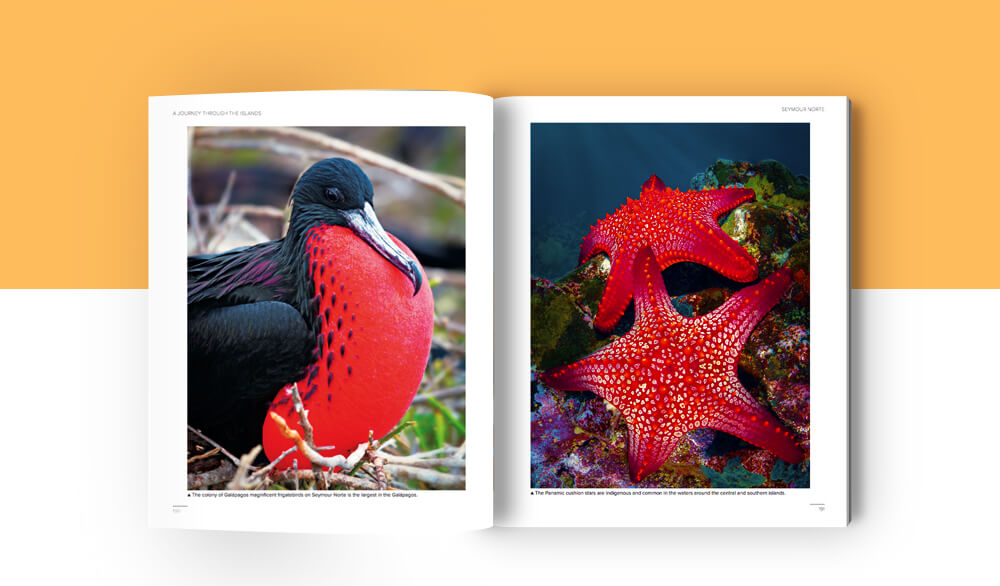 You used Blurb's Large Order Services team to make Galápagos . Which aspects of the creation process did they help you with? What did you find most useful about their support?
Blurb's Large Order Services team helped me with the custom Adobe InDesign template for the book cover and the whole process of printing. They took care of moving the books from the printer in China to warehouses in the US and to Amazon.
I would not have been able to prepare the book and manage the logistics without the team's help.
Did you make any changes to your original plans or designs based on advice or suggestions from Large Order Services? If so what were these changes and what impact did they have?
The team helped me polish the oversights in the book's design. Thankfully nothing major, but things like map coordinates falling off a page and the cover image being off-centre were some of the issues they caught.
They also took me through all my distribution options, helping me define the final size of the print run and the split between the US and the UK markets.
Did you customize your book in any of the ways available through Large Order Services? If so why did you choose those particular customizations and again what impact did they have on your finished book?
I asked for French flaps because they give a book a premium contemporary feel reminiscent of a hardcover, but at a much lower cost. And it worked.
Feeling inspired? Grab your copy of Galápagos in the Blurb Bookstore. Or get started on your own self-publishing project today!