Everyone starts with an idea and a moment of inspiration, but how do we get from there to a finished book?
In talking to people who have made books with Blurb over the years, they make them for all different reasons. Some people are making books for a client. Some people are making books to document ideas, to cherish experiences, or illustrate an artistic vision. Some have a message to share with the world.
What we want is a book that transmits inspiration to others, across miles and years to come. Here's a map to get there: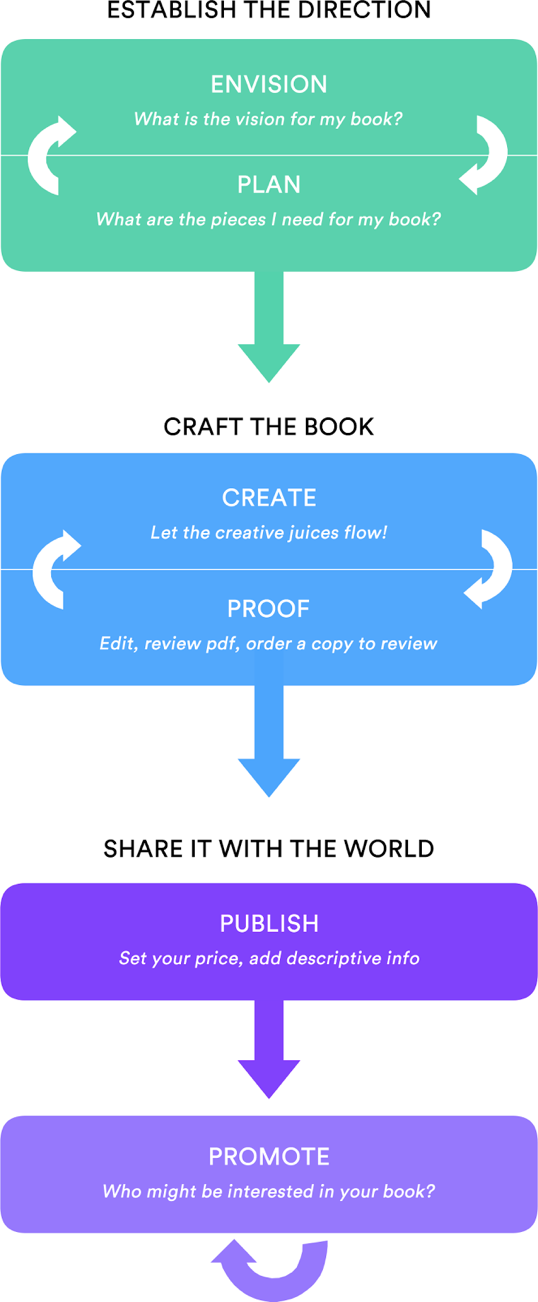 1. ESTABLISH THE DIRECTION

Envision
Every book starts with a core idea; take that idea and explore it. Record your thoughts. Take photos. Collect ideas. Talk to others about your vision. Explore the Blurb Bookstore to see what others have done.
Plan
This step is really about research and thinking ahead. Going back and forth between envisioning and planning will help you stay motivated and inspired you to go.
If you're using Blurb to publish your book, here are some things to consider:
• What are my goals for the book?
• What is my timeline and milestones along the way? Consider milestones in gathering content, laying out pages, promoting the project, and ordering copies.
• Do I want to publish a book, magazine and/or an ebook? Magazines will lower your cost, but also impact the experience with your content. Format conversion to ebooks is easy.
• What size book do I want? How many pages will it be?
• How many copies do I want to ultimately want to order? This is the time to consider volume printing or bespoke options as you work on your design.
2. CRAFT THE BOOK

Create
Let your ideas drive and lose yourself in the creative process. This is the fun part!
Blurb lets you create your book in any application you like. If you have a PDF, make sure you take a look at how to prep your PDF for upload.
Or use one of our recommended book-making tools. The tool you choose depends on how much time you have to complete the project. We have some online tools that make the most of the pre-designed layouts, and other tools, like InDesign, which give you more granular control. Tools like the plug in for Adobe InDesign have a steeper learning curve for new users, so one of our online tools might work best for projects that need a quick turnaround.
The other thing to consider is whether you want an ebook. Once you've uploaded a book file to Blurb, you can convert it to an ebook. If you use BookWright, our downloadable tool, you can even make an ebook and a print book from the same book file.
Proofing
If I had to pick, I'd say that proofing is the most important step of the process. Once you feel like you've finished your book, especially if it's going to a wide audience, it's important to proofread it. ALWAYS. Check to make sure everything is exactly in place after the upload. Check the edges of your content on each page to make sure nothing is actually cut off. Check and recheck for typos, spelling errors, and missing words. And if you are going to order multiple copies, you're a lot better off if you order a proof copy first.
You have a few ways to proof:
• Order a PDF version of your file for $4.99
• Order a softcover print version of your book
• If you're using BookWright, review a watermarked PDF of your book for free
3. SHARE IT WITH THE WORLD
Publish
Once you're happy with your book, and you're sure it's ready for the world, you can set it up for sale from your dashboard on Blurb.
Things to consider:
• Is it visible to people you invite only or do you want the world to be able to find it?
• Think of how you talk about your book—your description, categories and tags
• Which pages do you want others to see? You can customize your preview.
• Do you want to earn a profit on the book or sell it with no markup?
• Do you want it to be available for sale on Blurb.com, Amazon or through Global Distribution? It's helpful to think about this when you're selecting your book format since not all of our book formats can be sold on all channels. Get more info on selling your book.
Before you finish publishing your book, make sure your profile is looking up to snuff!
Promote
Promote, share, spread the word, describe it however you like. Some people order a volume run of their books to sell in person or giveaway.
The bottom line is now that you've done all the hard work, you're ready to share your book with others. Share it on Facebook, Twitter, email—however, you like. If you've got a website, you can embed your book preview right in there! (To do this, go to the promote tab under the settings page for your book.)
Let us know how it went
We are always working on improving the customer experience to support your needs when it comes to creating and publishing your books. Please comment with any feedback that you have, either on this map or on how this process works for you in general.
Go forth, create and inspire!