Picture this: A previous client gushed about you to a friend, the art director at a magazine you know and love. The art director is impressed with your social feed and sets up a meeting. She also asks you to bring a portfolio. Panic!
You want to take advantage of this opportunity, but which photos should you include? What else do you need to feature? And is she expecting a digital portfolio on a tablet or a physical book?
If you're a photographer—or aspiring to be one—you know creating an impressive portfolio is essential. Whether you specialize in portrait, wedding, fashion, product, nature, or some other type of photography, you must showcase what makes your work stand out.
Plus, employers, clients, galleries, and programs often require portfolios before they will consider a meeting with a photographer.
There's much to consider when creating your portfolio, but don't worry! We're here to help you start with best practices, tips, and examples.
What is a photography portfolio?
A photography portfolio is a collection of your best work, showcasing your unique style, skills, and experience. In a professional context, your portfolio demonstrates your creativity and capabilities to potential clients or employers. In addition to photos, you can include a resume and bio to share an overview of your educational background, awards, and anything else that sets you apart.
For freelance photographers and studios, your portfolio is often the crux of your business—it's how potential clients decide whether they want to hire you. A portfolio should demonstrate a range of subjects reflecting your unique artistic vision.
Why is a photography portfolio important?
A photography portfolio is essential for pro photogs for several reasons:
Showcase your work: A portfolio is a collection of your best work, showcasing your talent, style, and creativity. Your photography portfolio is often the first point of contact for a potential client—it's your entire brand on display.
Establish credibility: A well-curated portfolio enables you to establish credibility and professionalism as a photographer. In addition, it demonstrates your experience, aesthetic, and expertise.
Attract clients: Your portfolio can be a powerful career asset in helping attract potential clients or jobs. Prospective clients want proof of your capabilities, and a portfolio allows them to preview your work and determine if it aligns with their vision.
Stand out from competitors: In a competitive industry, having a portfolio can help photographers stand out. Showing off your unique, high-quality work can give you an edge and attract more clients.
Track your journey: A portfolio is a journal to document previous projects, track your progress, and see your growth over time. You can see how you have evolved as an artist by curating a collection of your best work.
A photography portfolio is especially critical for freelancers and professional photographers. In a competitive profession, it's a benchmark requirement even to be considered for a gig.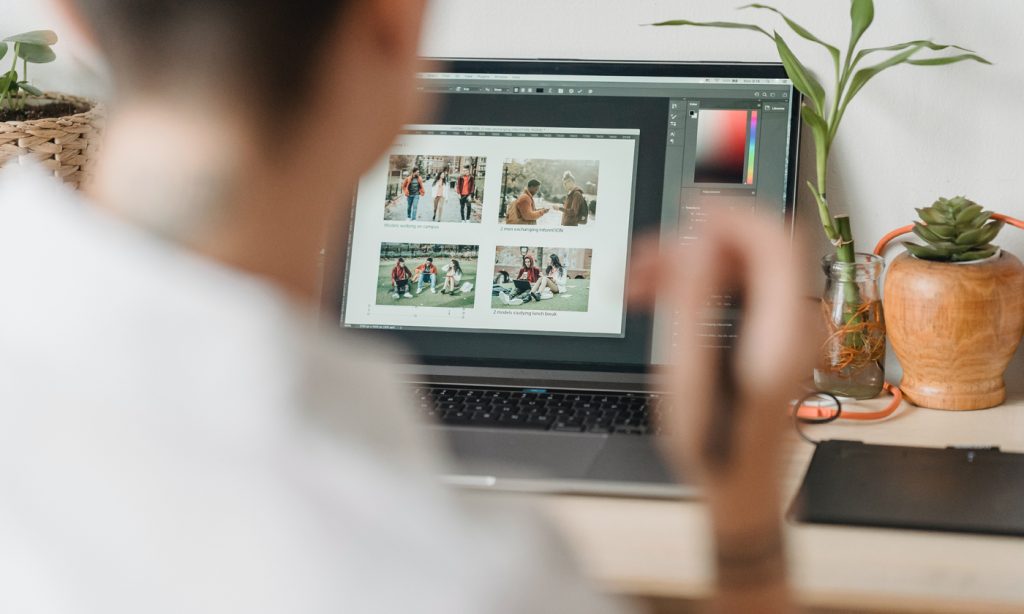 Should you make a digital or physical portfolio?
When creating your portfolio, you may be torn between a digital and physical format. Each has advantages and disadvantages, so deciding what's best for you will depend on your needs and goals.
Digital photography portfolios have become the new normal. They're easy to share and fantastic if you want to show off a high volume of work online. Various online portfolio sites like Squarespace, Behance, and Format allow you to easily create an interactive presentation—without any coding or design experience. You could even use your Instagram feed as your portfolio in a pinch!
On the other hand, physical portfolios offer a tangible product that potential clients can keep and refer back to. Physical portfolios also allow you to make an impression with design elements like print finish, paper stock, and special touches like embossing. Plus, you control the viewing experience—rather than worrying about art directors and gallery owners viewing your work on uncalibrated monitors.
We'd suggest making both. You can use the digital portfolio for applications, interviews, and online promotion. Use it to display your best work and give viewers a sense of who you are as an artist. Then keep your physical portfolio for in-person meetings, galleries, shows, and other events where you can wow potential clients or offer them a leave-behind.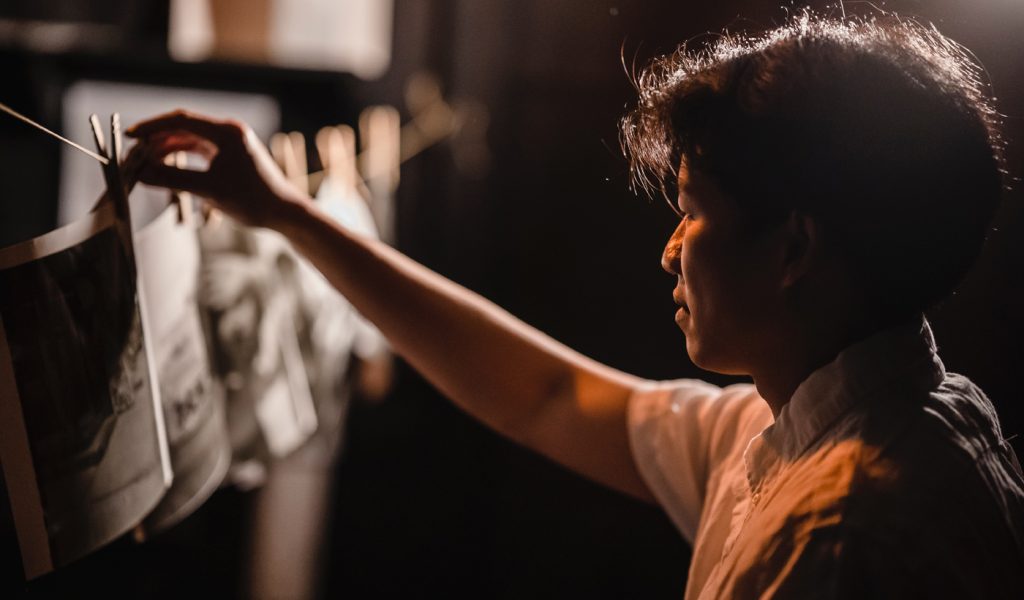 How to make a photography portfolio: Eight steps to make it happen
Whether you're looking to evolve your existing portfolio or create from scratch, there are several fundamental steps in the creation process. Some are universal portfolio-making steps, and others are more specific to the art of photography.
1. Determine your audience
Identify your target audience and what they want in you as a photographer. Who you're creating your portfolio for can influence how it's formatted, styled, and presented.
For instance, is your potential client an editor at a street-fashion magazine? If so, an edgy zine featuring your model work might be best. Or is a newly engaged couple looking to recruit you as a wedding photographer? In this case, your portfolio will benefit from elegant touches like foil plus an online and offline option.
2. Curate your best work
Sifting through your body of work and distilling what makes the cut is often the fun part. Based on your audience and the intention of your portfolio, you'll probably have a clear idea of what type of photography you're aiming to curate. If not, then let your experience do the talking; what photos grab you the most?
Take your time reviewing and selecting your best or most relevant photos. Be objective and consider each photograph's technical quality, creativity, and overall appeal.
You can segment your work into themes or genres and aim to showcase a variety of work that highlights your strengths and style. Or you can concentrate on one core concept and hone in on that.
Remember to include only work you want to be doing—no need to showcase your realty work if you are trying to pivot into journalism.
3. Organize your images
Now that you've determined your audience and chosen the photos you'll showcase, it's time to organize them. Ask yourself: How will you help guide viewers through your book? What sequence of images best tells your story?
Your portfolio should flow smoothly to showcase your photography and tell a story. You might organize your images by theme or style. For instance, if you specialize in landscape photography, you can have a section dedicated to mountains, forests, and beaches, allowing clients to see the breadth of your talent.
Clients and hiring managers likely only have time to review part of your portfolio, so starting strong with a truly stunning image is critical. It never hurts to show variety as well—so make sure your last shot is excellent, and they don't forget you! Then keep the momentum going in the middle by mixing in some of your favorites.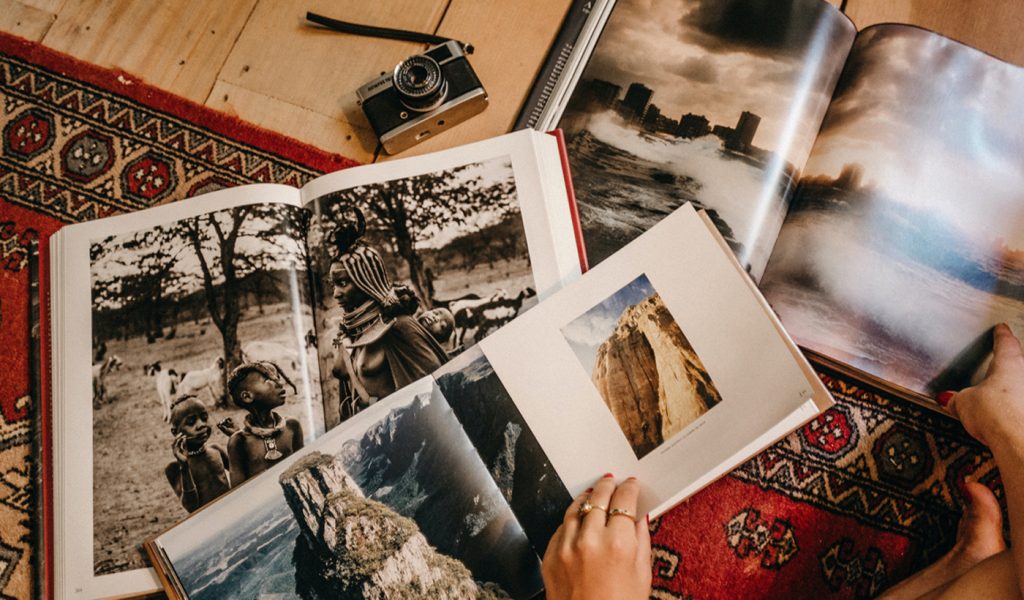 4. Choose a format
You'll next need to decide what format your photography portfolio will take. Again, many options are available, like physical photo books, online sites, or a combination. And each has its advantages and disadvantages.
A web-based photography portfolio can be easy to create and share. If digital work is your jam, this route is likely a no-brainer. But if more sophisticated and analog-based photography is more your speed, creating something tangible and tactile has merit, too.
If you share your portfolio in person, such as at a job interview or event, printing hard copies of your photography portfolio can pay dividends. And with print-on-demand options through self-publishing platforms (like Blurb!), you don't have to break the bank committing to a high-volume print run or try and DIY.
5. Design your portfolio
You won't want to skimp on the design of your photography portfolio. Still, it also shouldn't distract from the focus of your work. In most cases, less is more, and a minimalist approach to your portfolio design is often preferred. Pay particular attention to your book's typography, front cover, and the layout of the photos.
For photography portfolios, layflat photo books work incredibly well. Photos that run as a two-page spread are a compelling way to showcase your best work. We've seen many layflat photo book portfolios assembled with Blurb, and we've been regularly impressed with the results.
6. Edit your images
You've likely already edited your photos for past clients and projects, but this time you're refining them to ensure they fit together as a cohesive package. Spend time reviewing, tweaking, and perfecting each photo to achieve the same look and feel across the entire collection.
Decide whether you want an authentic look or a stylized vision with rich colors and sharp details. No matter your concept, have a plan of action and make sure all your photos are on the same page.
7. Include supporting materials
Depending on the purpose of your portfolio, you may want to include supporting materials like an artist statement, bio, resume, and contact information. This is especially crucial if you aim to use your portfolio to get hired for a photography position.
Your artist statement or introduction should provide insight into your creative vision and overarching approach to your craft. Highlight your experience, qualifications, and aspirations as a photographer in your bio and resume. The focus should be on making it easy for potential clients or employers to learn about you and validate your credentials.
8. Get feedback
Once you've created a draft of your photography portfolio, get feedback from other professionals in your industry. Experienced photographers can provide valuable insight and constructive criticism to help you fine-tune your portfolio. Then, use this feedback to return and make it something you're excited to show off.
Lastly, we'll say again that clients, editors, and recruiters do not have much time to read through your entire portfolio, and they often make their decisions quickly based on cursory glances. So, your portfolios should be short, sharp, and to the point. You do not need to tell a long-winded story behind each project. Instead, you need to showcase your skill behind the camera. That means editing your photography portfolio down to your best work is critical.
Ideas and examples of photography portfolios
Looking for examples to help spark your creativity? We've gathered a few inspiring print and digital portfolios to help you envision your own.
Robert Blonski
Canadian artist Robert Blonski merges his paintings, photographs, and writings to create a perfectly-bound portfolio explaining his explorations of nature and human relationships. He carefully combines stunning full-page photography of his paintings with reflections on his process, artistry, and personal experience. Not only does he have a photo book, but also a website, which allows viewers to discover his work in more detail. Discover Blonski's print portfolio.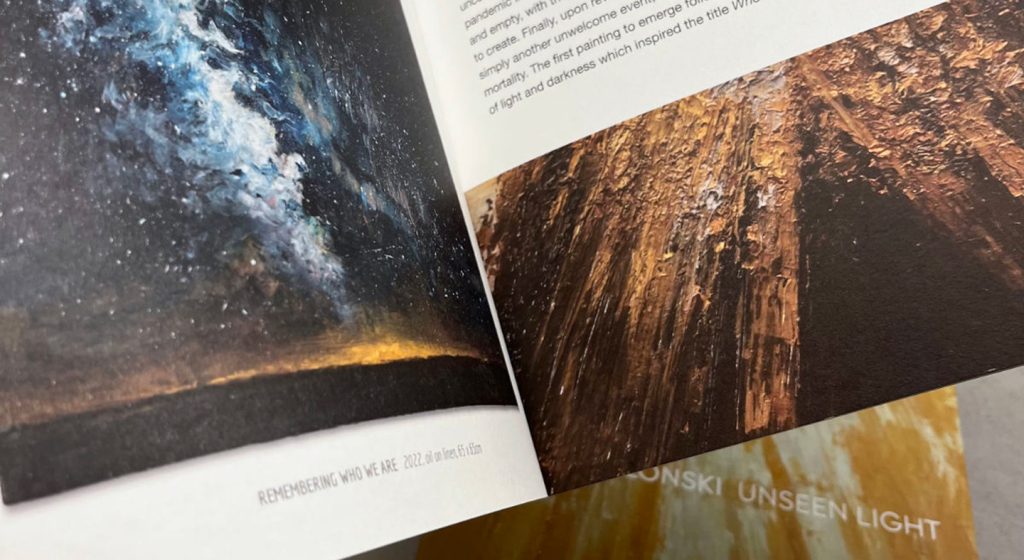 Conclusion
Whether you're carving a niche in photojournalism, editorial photography, portrait photography, or billing yourself as a jack of all trades, having a well-curated portfolio is fundamental to presenting your past work and drawing the interest of future clients. It can also be a way to track your growth over the years.
Now that you know how to build your portfolio, you're well on your way to making one you can't wait to share with clients, managers, and galleries. We can't wait to see what you create!
***
Blurb is a print-on-demand bookmaking company built for professional visual storytellers. Integrated with Adobe InDesign and Photoshop, it's easy to turn your digital work into a physical format. Interested in learning more? Start your photography portfolio with Blurb.