After all the researching, planning, coordinating (and, let's be honest, stressing), your wedding day is sure to be picture perfect. But what about the perfect pictures? That's why you need a wedding shot list.
Just as you have a vision for how your big day will come to life, it's important to have a vision for how it's captured, too. What are the shots you have to have? What details do you want to document? What are the moments—little and big—that can't be missed? While most photographers already have a tried-and-true wedding shot list, your input will ensure they customize it for your celebration.
Here, we'll dive into photography styles, choosing the right photographer for your look, working with them to create the ideal wedding shot list, and turning their final photos into a wedding album as dreamy as the day itself.
Before the wedding
Most wedding planning decisions are based on stylistic preferences—everything from your color palette and attire to floral arrangements and table settings is a vibe. Your vibe. And photography is no different. So let's look at how to make selections that let you see yourself in your photos.
Establishing your style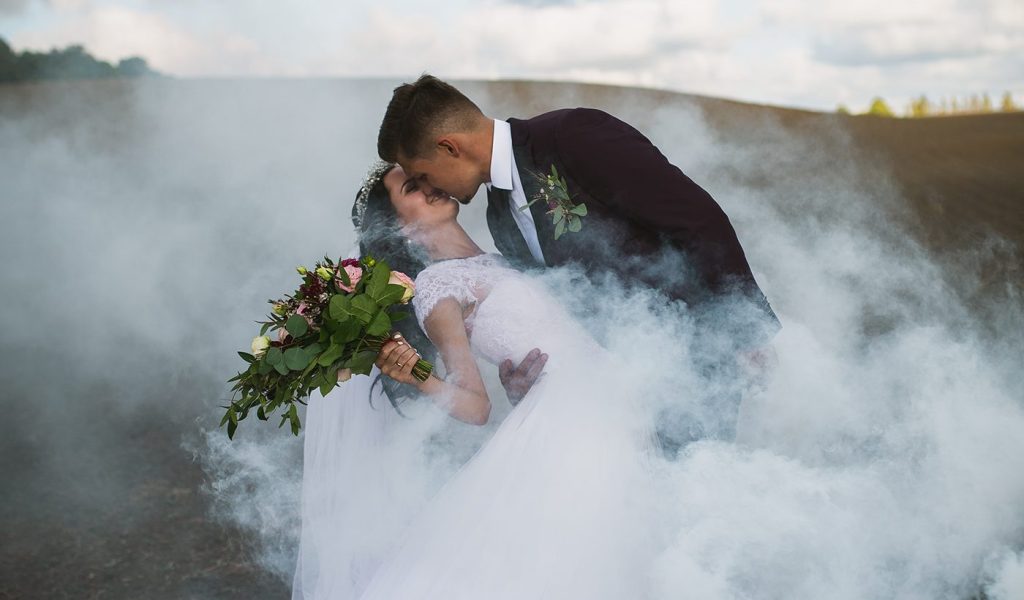 Beautiful wedding pictures take many forms. In fact, it can feel like there are as many photography styles as there are photographers out there, which is a lot! So your first step should be narrowing in on the style that best represents you and your partner and the life you're embarking on together.
Traditional
While the traditional wedding photography style is a classic that's stood the test of time, prioritizing formal, posed portraits may not be your aesthetic. If you want something more artistic or moody, there's a style for that, too!
Photojournalistic
More candids. More emotion. More real. This wedding photography style is one of the most popular because the photos tell the story of your wedding day without the photographer having to direct it heavily. They make you feel immersed in the event, not an onlooker. The expressions are genuine, and the poses are natural, so the emotion of every moment is captured in its most authentic form. That means you get the first kiss and wedding party group shots in the same gallery as the show-stealing ring bearer and blurry, late-night dance-off photos.  
Dark and moody 
The dark and moody style, despite its moniker, is all about light and how the photographer uses it to create high contrast and high drama in their shots. The light can be natural or manufactured as long as it establishes stark lines with dark shadows to make the environment feel like it's right out of a movie—which you're starring in, of course! As if the dramatic lighting wasn't enough, the dark and moody can be turned up even more in the photo editing process.
Fine art
Art is impossible to define. The same goes for this style of wedding photography. It means something different to every couple, but that unique personalization and interpretation are what make it so appealing. While the photojournalistic style is more of a fly-on-the-wall approach for the photographer, this style requires them to craft the composition of the day carefully. They're interacting with you and your guests to paint a picture with impeccable lighting, styling, and posing. When all those elements come together in perfect harmony, the result is your own museum-worthy photo gallery (minus the heavy security or admission tickets).
Selecting a photographer
Now that you know the style you want, you can start the search for a photographer who specializes in it. Be forewarned: the talent pool is deep. The good thing about endless options is you're guaranteed to find the right photographer for your big day! The bad thing is narrowing in on that one right person can feel like an impossible task. We promise—it's not.
Let's take it one step at a time. First things first, get to Googling. Use wedding websites, publications, and blogs to help you search for photographers in your wedding locale who shoot in your selected style. Add any that pique your interest to an initial list. Then the next step is to review the online galleries of each photographer. Go deep into the archives to ensure the photos they're capturing match what you want. Ditch any that don't.
The goal: Hone in on a top 10 list of your top five plus five alternates because you never know who might already be booked or out of budget. Once you confirm availability and cost via email, it's time to hop on the phone or meet in person to interview your favorites. Not only will this provide an opportunity to learn more about their photographic approach, but you'll also get a better sense of who they are as a person and whether or not you'll enjoy spending your entire day with them.
As you dive into the interview process, here are some important questions to help guide your initial conversation and subsequent photographer selection.
How long have you been shooting weddings? How many weddings have you photographed?
Can we see the full galleries of a few of your recent weddings?
Do you shoot digitally? With film? Or both?
Do you include engagement photos in your packages? What about pre-wedding events like rehearsal dinners?
Do you offer retouching, color adjustment, or other corrective services? Are those included or an additional charge?
Do you offer a photo booth?
How long after the wedding will we receive the images? How will they be delivered?
Will we have the rights to the images? Will they be watermarked?
What is the backup plan if you are unable to shoot my wedding for an unexpected reason?
Do you carry backup equipment?
Can we request a list of specific shots we would like?
Creating your wedding shot list
That last question on the list above is a big one. And the answer should be an enthusiastic "Of course!" While your photographer is the pro with the experience and expertise, you're the one with the foresight to know which moments will make your day. So creating the shot list that best captures those moments should be a collaborative effort.
Because your photographer has done this countless times before, let them take the lead on creating the first draft of the wedding shot list. They'll know which shots have proven successful time and time again, and which aren't worth prioritizing. Once they've made the initial list, it's your turn to add your thoughts and suggestions. Set aside time to chat through the must-haves and the nice-to-haves, and give your photographer the opportunity to weigh in as an expert who might know how to make your good ideas even better.
If you're in need of some inspiration to get started, we're confident your photographer would agree these are some of the shots that never fail:
Pre-ceremony details
Invitation, program, and signage
Wedding rings
Wedding attire
Outfit accessories
Bouquet, corsages, and boutonnieres
Pre-ceremony
Wedding party fun
Getting ready
First look
Ceremony
Venue shots
The walk down the aisle
Exchanging vows
Exchanging rings
The first kiss
Portraits
Married couple
Wedding party
Parents
Immediate family
Extended family
Reception
Details and room décor
Wedding cake
Grand entrance
Toasts and speeches
Cake cutting
The first dance
Guests dancing
Grand exit
After the wedding
Ah, wedded bliss! It's bittersweet to say your wedding day has come and gone, but at least you'll always have the perfect pictures to remember it by. Pictures worthy of more than a digital gallery or folder in the cloud. Pictures worthy of an album that's a work of art in its own right.
Planning your album
Turns out your wedding planning days aren't over! Planning how to lay out your wedding album is a bit of a puzzle but one you can put together while looking back at your favorite parts of your favorite day.
As with any puzzle, you have to start by organizing the pieces. You could stick with the tried-and-true chronological approach that steps through the story of your day. Doing so invites album viewers into the beginning and ensures they don't miss a beat.
If you'd rather mix it up, you can group photos by the type of subject matter they're featuring. The detail shots from getting ready, the ceremony, and the reception would make for a beautifully delicate introductory spread. Then it's all about all the people who came to celebrate you! Show the wedding party, the guests arriving, their reactions during the ceremony, and the best moves from the dance floor. Lastly, it's the grand finale grouping focused on the wedding ceremony. The first look, the procession, the vows, the kiss, and the official announcement may be the beginning of your new married life, but they also make for a great ending to your album.
Picking the best book
You've got the photos and a game plan for how to group them; now you just need an album that (literally) brings it all together. Of course, we may be biased, but Blurb and MdBy both have a few books designed with these special projects in mind.
Blurb layflat photo book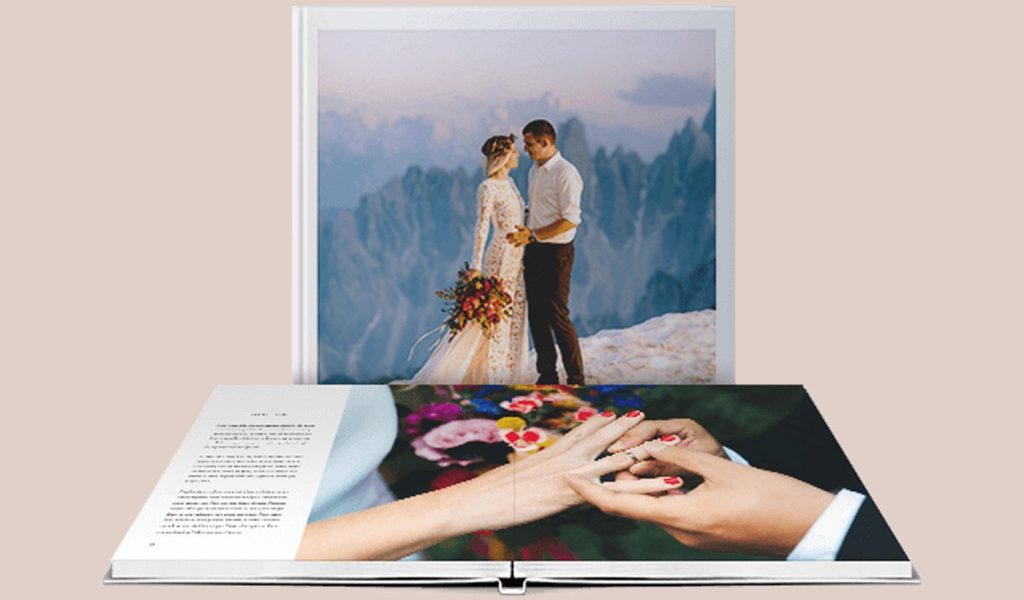 Big impact for your big day. Blurb layflat photo books impress from cover to cover with an ImageWrap exterior and panoramic interior. The book lays flat, and there's no binding break, so your images can be as widespread as the joy of that day. The size, paper type, and number of pages are up to you. No matter which you choose, every layflat photo book arrives in style in a brilliant white box adorned with pearl foil stamping and a luxurious black ribbon.
MdBy linen layflat photo album
Made for the minimalist, the Linen Layflat Photo Album from MdBy is simply stunning. The exterior features a single inlaid photo surrounded by soft-to-the-touch signature linen. Inside, you'll find ultra-thick matte vellum pages printed on 100% recycled paper. This less-is-more aesthetic ensures your pictures are enveloped in beauty but not overshadowed by it.
MdBy editorial layflat photo album
Your story starts on the cover. With a custom title and inlaid photo surrounded by the colored fabric of your choice, the Editorial Layflat Photo Album from MdBy celebrates your celebration. It even comes in handheld photo book sizes, making it a thoughtful wedding day gift for members of your family or wedding party who would enjoy reliving your day as much as you do.
***
While styles, photographers, and shot lists vary from person to person, the fact that your wedding day will fly by in the blink of an eye is universal. So live in the moment while you can, then curate those moments into a photo album that'll never let you forget them.
Ready to turn these tips into action? Make your wedding album with Blurb or MdBy today.