Publishing your own magazine can be an exciting but daunting task. Whether you are creating a print or digital magazine, there is a lot to think about and plenty of work involved. But magazines are also a unique opportunity to collaborate and grow your editorial skills.  So, where do you start? What does the process look like? What is it going to take? Here are some things to think about as you get your magazine going.
Consider costs
You'll need to account for not only print costs but production costs. Very few people start work on a magazine with all the skills they need to create what they envision. You may need to hire a designer to help you with the layout or a photographer to take and edit photos. Sometimes you can find visual collaborators and writers who are just as excited as you to get their work into the world. Other times you'll have to purchase pre-made templates (or use a Blurb free magazine template).
For more insight on creating a magazine and working with collaborators, check out our interview with Paris Kim, creator of Marjorie magazine.
To help keep costs down, you may want to consider using print-on-demand, which doesn't require a large upfront print run. Instead, copies are only printed when your readers order them.
For help raising funds to publish a book or magazine, consider running a Kickstarter campaign. For a look at how this has been done, check out the story of  Fake Geek Girls Like Us.
Perhaps initial funders could have their work featured in your first edition?
5 steps to create and publish your own magazine
Step 1: Do your research
Before you get started, ask yourself the following questions:
Who is your competition, and how large is their following?
How will your magazine be different and stand out?
Who is your target demographic, and how can you appeal to them? How does your content match what they like? Which brands do they use, and how can any advertising connect with your readers?
What components of other magazines do you like or dislike?
What will your design and layout look like? Create mood boards and collect samples you like.
How will you publish your magazine—traditional printing, self-publishing, or online? How will you get copies to subscribers?
Doing this research up front will help you create a successful self-publishing plan.
Step 2: Create your content
Don't underestimate how long it takes to create quality content.  Some magazines can take as long as six months to put together. It may be helpful to create your first TWO issues, so you can build a window to create the next two while you release the completed set.
When self-publishing a magazine, focus on quality over quantity. Don't be afraid to start small and slowly grow your page count over time. It is better to have 10 pages of excellent content than 20 pages of 'OK' content.  Also, more frequent publications will help you build your audience. If shorter publications mean more frequent issues, that use the shorter length to your advantage that way.
As well as creating content yourself, consider asking fellow creatives to submit their ideas. As your audience grows, you could also invite contributions from your readership.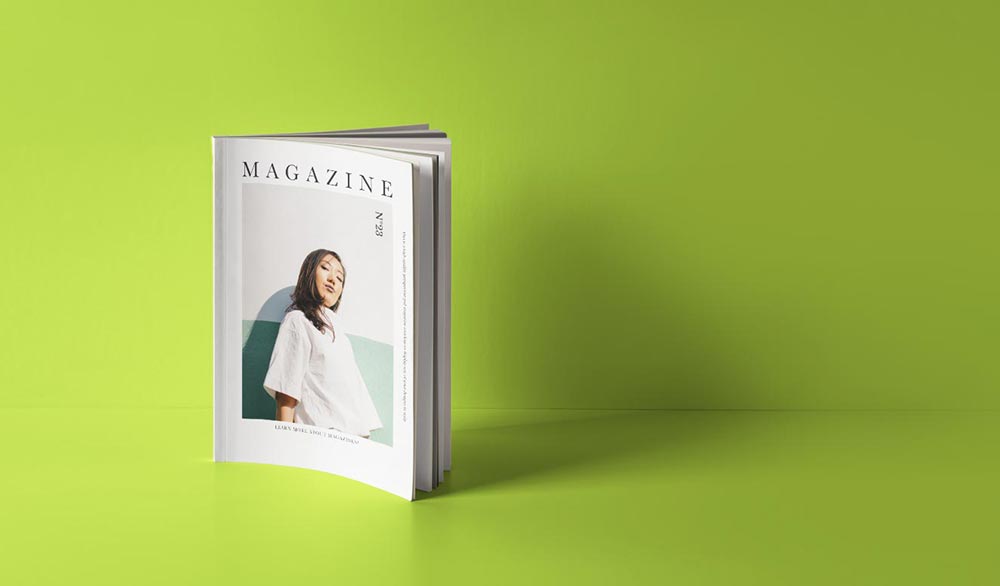 Step 3: Lay out your magazine 
Now that you have all of your content, it's time to decide on the layout, including which piece will earn the honor of being your cover story.
Magazines are known for their varied and dynamic layouts. You want to create layouts that show off the best aspect of each piece of content while also guiding the reader's eye through the story. Do the images carry the story? Consider layouts with large image space and marginalized text. Is the story carried by text? Look for layouts that have a clear flow from one column and a text box to the other for easier reading, creating close connections with images without letting the images overwhelm them. Your best place to start is by copying page layouts you like from other publications and matching them to your content.
If you're just getting started, why not use one of our pre-designed professional templates. They include everything you need to create a newsstand-quality magazine, from mastheads to editorial features.
Step 4: Proofread, proofread, proofread 
Proofreading is extremely important for any type of self-published magazine, especially so if you are printing it. Unlike a digital version, there is no going back to fix a misspelled word once your magazine has gone to print. In addition to any spelling errors, you will want to check things like text alignment, line breaks, and image placement.
After you have proofed your final product several times, pass your magazine off to someone else to check as well. A fresh pair of eyes will be able to catch small errors that you may have missed.
We recommend printing a single proof copy for this phase of the review. Errors show up in print that are impossible to catch on a screen.
Step 5: It's time to publish your magazine! 
Now that all of the hard work has been done and your magazine is ready for the public eye, it is time to publish.  Make sure to promote your magazine using your social media channels and website if you have one.
Pro Tip: Keep an up-to-date database of your magazine subscribers. Grow your digital mailing list. This will come in handy when soliciting articles and allows you to track the growth of your self-published magazine.
Need some guidance? Visit our blog for tips on making a magazine.
***
Ready to put your ideas in print?  Create a newsstand-quality magazine—perfect for serial content or high-volume printing projects. Premium and economy print options are available.