Let's face it, for those of us consumed by both the idea and practice of photography, we find ourselves in a constant struggle to improve. There seems to be endless advice as to how to do so, but here are a few practical tips on how to take better photos:
Tip #1
Know Your Equipment, Then Forget It
The best photography equipment is the equipment you never have to think about. This means not only the buttons and dials, but in modern photography, it also means the software, firmware, and endless menu options, too. Set it and forget it. New cameras are launched all the time, so it's easy to get distracted by the latest and greatest, but technology will not save you from yourself.
I typically teach a few photography workshops each year, and I've noticed that many students spend the first two or three days staring at the back of their camera instead of making pictures, watching the world pass by without attempting to capture it. Find equipment you love, learn it inside and out, backward and forward, and then forget about it.
Tip #2
Commit to Finding and Addressing Your Weakness
Me, I don't like the technical side of photography. I love the aesthetic side. But I simply can't be who I want to be without knowing things like film developers, paper types, inkjet printers, and software like Adobe Lightroom. Do I love these things? No, but I know I NEED detailed knowledge of them to ultimately realize my photography. Tech is my weakness, so I take special care to acknowledge this reality and address it.
Tip #3
Practice
Sometimes we forget how difficult photography is. Technology itself does not make good photographs. We do. But making great photographs takes a copious amount of practice—daily, if possible. This doesn't mean you have to shoot 10,000 pictures a day. It means taking the time to photograph with intent and focus. It means going out specifically to make images.
Technology itself does not make good photographs.
Tip #4
Be Patient
I've spoken to young photographers who have chosen their book publisher and their gallery before they have made a single photograph. It's good to be confident but it's important to find a balance. I photographed every day for ten years before I finally figured out who I was with a camera in hand. Up until that day, I was making other people's pictures, copying things I'd seen before, but finally, after all that time, I learned how to make my pictures. Be patient. Enjoy the process. Slow down. Take your time. This is the fun part.
Tip #5
Look at the Work of the Photographers You Admire
This doesn't mean COPY the work of the photographers you admire. This means learning from them. What light do they work in? How do they approach their subjects? How do they light their portraits? This is the detective work you use to build a foundation for your own work. At some point, this knowledge will set you free to make your own unique imagery.
Tip #6
Less is More
Less gear, less distraction, less mental baggage. I'm a huge fan of the one camera/one lens approach to learning photography. Take your favorite camera body and your favorite lens, and leave everything else behind. I prefer the Leica M4 with 50mm or my Fuji XT-2 with 35mm (50mm equivalent.) In fact, the Fuji is the camera that goes with me seven days a week.
Also, give yourself time to specifically go and make better photographs. Leave everything and everyone behind, including your phone. There is simply no way you can do two things at once and expect to do either to the best of your ability. And finally, forget about what you know, what you think, what's hot or trendy, and just react physically and emotionally to your surroundings.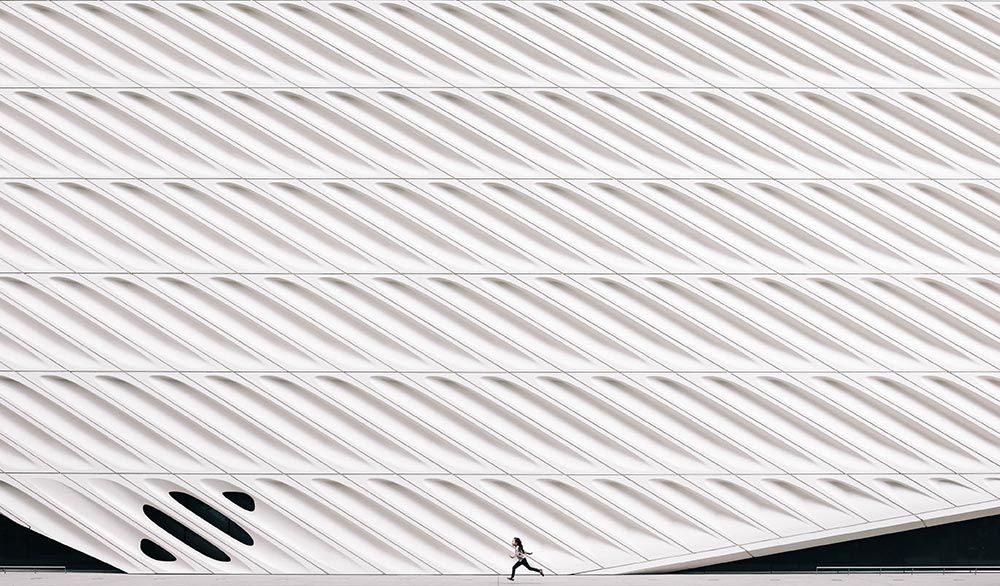 Tip #7
Learn the Basics
Great imagery, at least in my opinion, comes from three basic ingredients: Light, timing, and composition.
Learning to read light is step one. What light allows you to make the images you see in your mind's eye? What light doesn't work? Do you need to work in the early morning and late afternoon, or is noon the best time for your style?
Timing is the freezing of a split second that can add drama to an image. Think about all the amazing photojournalistic images made over the years, in what Henri Cartier-Bresson described as "the decisive moment." Again, be patient. You might miss things at first, but eventually, you will be ahead of the game and ahead of those moments.
Finally, composition—this aspect is as unique as your fingerprint. There is no right and wrong with composition, not in my book. So, work long enough and hard enough to understand what your preferred composition is. Minimal, layered, or detailed—again, there is no right and wrong.
Tip #8
Take Chances
I see so much photography that looks exactly the same. For me, this is no longer photography. It's just content. We've all heard the expression "happy accident." Well, this applies to photography as well. Maybe you think you can't handhold your camera at less than a 30th of a second? So, go shoot at 1/4th of a second and see what happens. Slow down your shutter speed and pan with a subject. Stack a few filters on the end of your lens and shoot a portrait. Maybe your thing is long exposures of a landscape at night. So how do you make something similar during the day? The lesson is, make yourself uncomfortable and take chances to make better photos.
Tip #9
Create a Narrative
It's one thing to go and make random photographs. But there is something to be said for attempting to create a good photo-story or photo-essay. Think National Geographic: This publication is legendary for sending their photographers into the field for extended periods. Why? Because they are looking for a cohesive body of photographs that tell an entire story on their own.
Shooting narratives requires a different skill set, one that will broaden your quiver of photographic tools. Scene setters, details, portraits, action shots, etc. all edited together to form one story. Working in narrative will quickly show you where your weaknesses live. That's okay. Keep plugging and turn those weaknesses into strengths to take better photos.
Tip #10
Have Fun
Even if photography is your singular passion, it's okay to let go and have fun. The idea that you have time to make pictures puts you in a small percentage of the world population, so take advantage. I used to drive my wife to breaking point because I was so consumed by my work I was difficult to be around. Moody, emotional, insecure, and freaked out. This isn't fun, and the people you photograph can pick up on this as well. Breathe, and enjoy.

Ready to turn your best pictures into a Photo Book? Get started today. Choose from six book sizes, three cover types, and six paper options, including Layflat.