Ciera is a New Orleans-based designer with her own studio. She specializes in design for branding, logo, and print. After getting a peek at her gorgeous portfolio, we caught up with her to talk about what it's like to run a design business, and how designers can put print to work.
How did you get started as a designer?
Being raised in a creative family is the reason I started to take art classes in 2nd grade. Then in high school, I was accepted to the New Orleans Center for Creative Arts (NOCCA). I went to my normal high school for half of each day and NOCCA for the other half. During my time there, I realized I couldn't see myself pursuing a career as a fine artist. I also realized that I was very organized and systematic while working on projects. We had a few computer/design sessions and although I wasn't exactly sure what it was, I knew I wanted to be a graphic designer!
At college I studied design and photography. When I graduated, I got a job at a great advertising agency and gained a lot of experience in my four years there.
When I moved on from that agency, I started my own business, Ciera Design Studio, which I've been running for seven years now.
What's been the reaction to your portfolio? Have you shown it to anyone?
I've shared photos of it online, and people have reacted really well to having a printed portfolio book in addition to a web-based one, which is more common these days. It's so rewarding to see my work all together in this professionally-printed and bound book. It's almost like a scrapbook that I can look through myself to celebrate those businesses that I've helped launch over the years.
How do you plan to use your portfolio?
I plan to bring it with me when I have in-person, local meetings. It really showcases the work better and is more memorable than pulling up a webpage. Many of my clients are not local, so I may not get to use it as much as I'd like, but I'll also use the photographs that I took of it as a fresh way to showcase my portfolio work on social media.
What was it like to make your own book?
I downloaded the free Blurb BookWright tool, which made creating the book SO simple! Once I had my images prepped and ready, I just imported them into BookWright, selected the size, format, and paper type. Then it was as simple as dragging and dropping my images into place.

So much creative content now is digital. How can digital creatives make print work for them? What purpose do print pieces serve in the digital creative world?
There's just always going to be something special about tactile work . The weight and texture of paper in your hand, or even the smell of a book. That can never be replaced. Even if you just print out your digital content or Instagram photos from time to time. It brings a new life to the work.
As a designer who specializes in branding and print design, I'm still all about having business cards or a nice notecard set, and I get giddy over receiving something in the mail. When I finalize a branding project, my deliverables are typically digital files, but I like to send my clients a little something in the mail with their new logo on it, like a notepad, pen or mu. It's something tactile and a "little extra" to celebrate their new logo. It's a nice way to close out our time working together rather than just sending an email or a Dropbox link.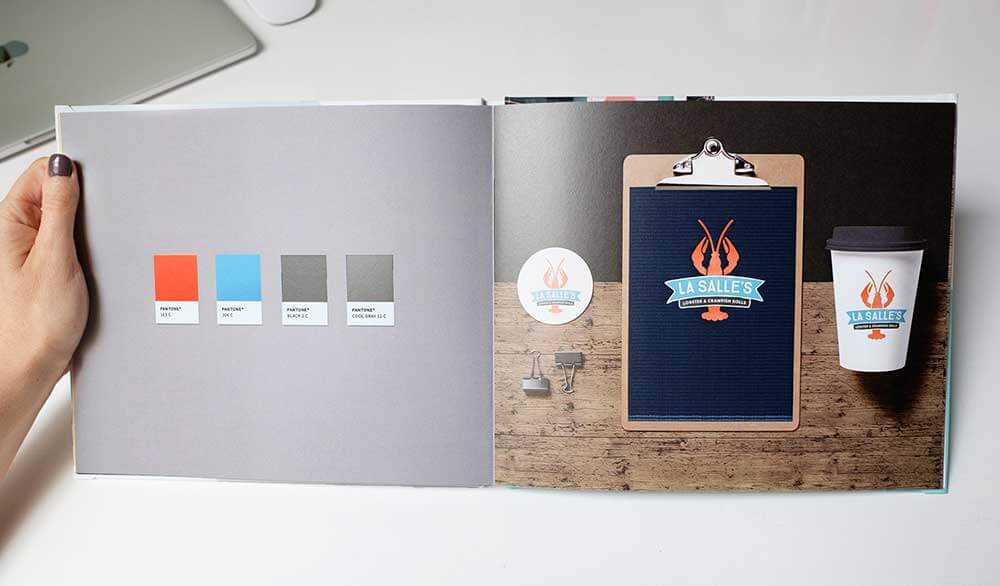 If you could go back and talk to your 5-years-ago-self about your creative business and work, what would you say?
I would tell myself to write a business plan and set income goals. I really started my business on a whim, so I didn't do a lot of the planning that would traditionally be done for a business. I ran my business with no clear goals for too long, which meant I wasn't as productive as I could have been. I think that's a struggle for many creative business owners. We have the ideas, but not always the knowledge needed to execute all of the phases.
What advice do you have for running a design business?
I definitely recommend gaining in-house or agency experience before starting your own business. Being surrounded by a group of people you can learn from is great, and it can really push your boundaries. I wouldn't be where I am today if I'd gone straight from college to freelancing. I learned so much about organization, client relations, presentations, print production, and multitasking at my first job!
Something else that I find important is knowing your ideal client and the type of person you enjoy working with. This can make a huge difference to the success of your business. I think you should always be doing what makes you happy, so you don't get burned out. You also need to realize that you can't do it all. Hire people to do certain things for you, and learn to say "no" to the things you're not interested in. This gives you the time and energy to do the things you love!
When you were a small child, what did you want to be when you grew up?
I always loved making things and selling them, so I think I was always meant to run my own business. I remember making and selling jewelry, having a gift-basket business, and when I was eight, I was featured in the local newspaper for my iced-tea and cookie stand. Aside from my design studio, I run a conference for creative entrepreneurs, VenturePOP, which also comes full circle as I remember always starting different clubs at recess in grade school. I always enjoyed creating flyers and t-shirts for these businesses and clubs, so I guess I was drawn to graphic design before I really even knew what that was.
What do you think of your Layflat book?
With my Layflat book, I was able to showcase large photos of my office space to give a look behind the scenes in addition to the work itself. You barely even notice the seam and the double-thick stock has such a nice look and feel.
What are the best parts of your job? What are some of your challenges?
The best part of being a designer is getting to help small businesses feel confident in launching their new venture or giving new life to a business that's in a slump. I'm so passionate about helping small businesses bring their visions to life. I like to be an ongoing partner in helping those businesses succeed.
A big challenge for me right now is time-management and being able to delegate aspects of my business that I know I'm not the strongest at, like bookkeeping, for example.
What's one project you're dying to do?
I've always wanted to design bottle labels for a winery, and I'd love to do branding for a restaurant or cafe—from the logo and identity, to the menus, signage, and social media graphics. I also really enjoy editorial design, so I'm always down to design a magazine.
Thanks, Ciera, for talking with us. We're inspired by the exciting things you've got happening, and we can't wait to see what you do next!
What makes a great print portfolio? Share your ideas in the comments below!