As with any creative job, an interior design portfolio is essential to showcase your unique ideas, style, and creative capabilities to future clients or hiring managers.
It doesn't matter if you're an emerging interior designer with minimal experience or a seasoned veteran with many projects under your belt; an interior design portfolio creates a narrative that shows your story, creative processes, and planning abilities.
Crafting an interior design portfolio is an art in and of itself. Your book can be a physical portfolio shared with prospective clients and employers, or your book can be digitized and featured on a website. But given the tangible nature of interior design, a physical portfolio book provides an attention-grabbing centerpiece to share, engage, and collaborate with anyone you are meeting. So that's what we'll be focusing on!
What is an interior design portfolio?
An interior design portfolio is a collection of your previous and current work showcasing your creative eye, design skills, and niche expertise in the industry. It's like a visual resume that displays your unique design sense and helps clients, employers, or design teams determine whether your style and process align with theirs.
While interior design portfolios are usually visual, including photographs of finished projects, no strict rules define what they can contain. Some interior designers incorporate design concepts, mood boards, renderings, layouts, and other relevant material that reflects past projects. For a blooming professional with little experience, this allows plenty of room to show your potential.
What should your interior design portfolio include?
As a benchmark requirement, an interior design portfolio should include photographs of finished projects or renderings that show off your design chops. Therefore, including actual photos of completed projects is a good idea. It's also smart to add visuals that show your process, like 3D renderings, design concepts, thematic mood boards, sketches, and other components.
Your front cover should include a title, which can be as simple as "interior design portfolio," and your name. Consider organizing your portfolio linearly or segmented into design genres or types of rooms and projects.
Compelling portfolios tell a story behind each project, so providing written context explaining the premise, inspiration, and strategy that brought your creativity to life can guide prospects through your approach.
Other materials you could consider including in your interior design portfolio are creative briefs, drawings of design concepts, furniture and textile samples, budget layout examples, and copies of contracts. A good portfolio represents you holistically and should include personal information, like a bio or resume, to share your professional background.
What if I don't have much experience as an interior designer?
A common challenge people face during the early stages of their interior design career is a lack of client work to feature in their portfolio. There are two simple solutions to this:
Use your academic projects. You have amassed a wealth of interior designs and school work as part of your education. Don't be afraid to use these examples to demonstrate what you can do.
Work on your dream interior design project. Speculative work is just as valuable as client work in demonstrating your potential. Working on your own briefs also helps you hone and refine your work process before you take on your first client project.
How to make an interior design portfolio: 7 steps to get started
As an interior designer, creating a design portfolio is essential to showcasing your skills, getting clients, or landing your dream job. A well-organized portfolio is vital in helping you stand out in a competitive landscape and a valuable tool that can better reflect your worth.
Take these steps to create an interior design portfolio you can't wait to show off.
1. Craft an engaging introduction
It's critical to introduce yourself in your portfolio. This introduction should give readers an idea of who you are, what you do, where your passion lies, and what you hope to achieve as an interior designer. Consider a brief biography highlighting your background, design philosophy, and unique skills as an interior designer. This introduction will set the tone for your portfolio.
2. Select design samples to include
Next, you'll want to select various samples showcasing your strengths and skills as an interior designer. The format of the examples doesn't always need to be client projects, as you have the creative liberty to include renderings, sketches, color swatches, and other content of interest. But what is essential is that your chosen samples reflect the brand image and design style you want to portray to prospects.
If you're most interested in contemporary and mid-century modern styles, prioritize examples that highlight these genres. Conversely, if eclectic and bohemian interior design is your niche, prioritize samples that spotlight these non-traditional themes.
Of course, you'll also want to consider your audience. For example, if you're pitching a client looking for an art deco office, you'll want to show off what you've done in the past that fits the brief.
Remember that research shows recruiters spend less than three minutes on a portfolio, and managers spend as little as five. So select your absolute best work and leave out the rest.
3. Organize your design samples
One of the biggest challenges in making any professional portfolio is organizing your work cohesively. Making your book intuitive and scannable will make it easier for readers to navigate your portfolio and explore what's most relevant to their interests.
Remember, your portfolio should be logically organized, simple to digest, and visually representative of your brand. If you want to include many samples, consider arranging your work by design genre, room type, or professional timeline to provide a sense of flow and cohesion.
No matter how you organize your samples, putting your best work first is necessary, as some clients and employers never make it past the first few pages.
4. Tell a story with text
You may be most comfortable showing rather than telling as a visual person. But sometimes words are the quickest way to the point.
Accompany images of your work with concise pieces of text giving a few details about each project. You could include information about design tools or techniques, the client and their original vision, how you approached the task, and how you overcame any challenges. Don't forget to add your role and responsibility for each project!
This detail gives prospective clients a better understanding of how you could take their vision from idea to finished product. Just remember, not every image needs a long backstory. Instead, you want the visuals to be impactful, so write your captions clearly and concisely.
5. Add a table of contents
With your samples chosen and organized and captions written, it's time for your table of contents. This is a helpful way to organize your work at the beginning of your book and makes it easier for readers to navigate your portfolio.
In addition, grouping your work into categories, chapters, and design themes—and including small details like page numbers and category headlines—allows readers to explore your work more efficiently. It also will help you make sure the way you organized your projects actually makes sense!
6. Lay out your portfolio
Designing a layout that is visually appealing, clean, and aligned with your brand aesthetic is crucial. Start with your images, which are likely your core focal point. Make sure they're beautiful, high-resolution, and uncluttered on the page.
Next, add text that compliments those visuals and gives context that the photos, sketches, and renderings alone can't. This helps give your future client an easily scannable preview of your proven talent and skills.
Finally, standardize contextual components like headings, subheadings, and bullet points that break up your content and make your portfolio easier to consume. Remember that your layout should complement your design style and not detract from it, so you generally can't go wrong by emphasizing simplicity and minimalism.
Don't forget your cover, table of contents, bio, and any additional pages. These will likely feature a different page layout than your samples, but are equally important as many are the first things a prospective client or manager will see in your book.
7. Include your resume
Lastly, it can be vital to include a version of your resume or CV in your interior design portfolio, especially if you're using it to attract the interest of potential employers or recruiters. A resume or CV provides these prospects with more information about your academic background, professional experience, and qualifications.
In the same vein as your portfolio's design samples, ensure your resume highlights key strengths, experiences, and credentials most relevant to your target audience. However, since it's an overview of your entire career history, you can include more work than just the projects you've highlighted in your portfolio, allowing your viewers to understand your breadth or depth of experience.
To reiterate: Your portfolio is your chance to showcase your skills and land your next client, so fine-tune each element to be as impactful as possible.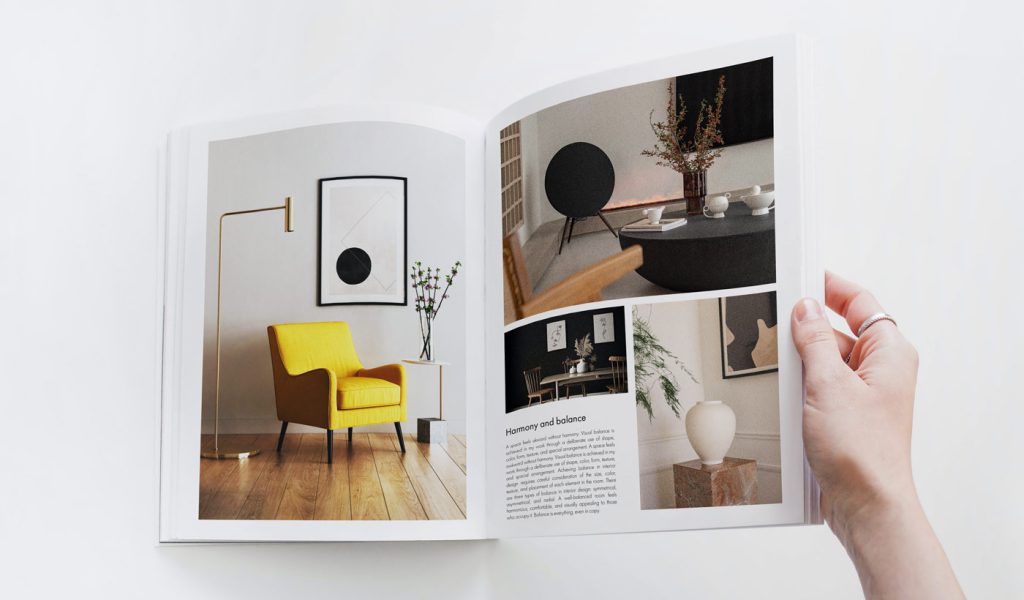 Tips for creating a showstopping interior design portfolio
The steps above focus on the nuts and bolts of creating an interior design portfolio, but a lot more personal creativity goes into the process. To truly bring your portfolio to life, follow these tips to create a standout book you'll be proud to use to promote yourself.
1. Focus on your strengths
No matter your career stage, your portfolio should answer one question: What sets you apart? So, start by choosing work samples highlighting your strengths and unique style. Then add color commentary about your unique vision and approach.
If you're a design student or new graduate, people won't expect you to have many complete projects (or any!). Focus on your technical skills, like design software and tools you know; show your creative process and vision via sketches, renderings, and mood boards; and feature your best school projects.
If you're already a professional interior designer, your portfolio goal is to present visually stunning, polished, and original work. That may include high-profile projects, award-winning designs, and examples of expertise or technical innovation.
Be sure to answer what sets you apart from other designers, and you'll be set!
2. Know your audience
Think about your portfolio as a top-notch business card. You want to get the right information into the right person's hands and pique their interest.
Keep in mind the interior design industry encompasses a wide range of specialized fields, including residential, commercial, and retail spaces; lighting design; space planning; exhibit and set design; and sustainable design. While some design jobs may call for a "Jack of all Trades," many clients seek a designer who fits a particular niche. Tailor your portfolio accordingly.
Different jobs also require different skills, like drawing up floor plans, working with architects or contractors to enhance space functionality, and selecting furnishings, materials, color schemes, and lighting to make spaces aesthetically pleasing. First, highlight the work your future client or manager needs from you. Then display your creative approach and decision-making on specific projects, start to finish.
3. Share a look behind the scenes
Your interior design portfolio will feature the finished versions of your best work. But providing a look at how you got to the finished product will also give viewers an understanding of how you work. Consider including process drawings, mood and concept boards, material research, and CAD models. Before-and-after pictures are another powerful way of demonstrating your impact.
4. Create clean page layouts
In the interior design world, the appearance of your portfolio pages is just as important as the quality of work inside. The best books feature clean, impactful photo layouts with consistent formatting. As you sequence your images, consider which deserves a full-page spread and which you can group to illustrate a process or tell a story.
For your copy, limit yourself to one or two font styles for portfolio titles, chapters, and captions. The typography should be simple and legible to elevate the visual storytelling rather than distract from it.
Your future client will instantly get a negative impression if your page layouts are sloppy, with poorly cropped images, uneven margins, or spelling errors. So take care on this step!
For more on typography, check out our typography best practices blog.
5. Build multiple versions
You probably have already considered digital versus hardcopy portfolios. We're focusing on a print portfolio, since interior designers often want to impress with tactile books during in-person meetings, but digital portfolios are essential for online job applications. We'd suggest both!
And while you're creating a website or digital portfolio that you can send via email and a print portfolio to bring face-to-face, it can be worth investing time and effort in a mini-portfolio. Send it with your resume as a sneak preview of what's to come, or leave it as a reminder after each pitch or interview. Try printing these mini-portfolios—also called lookbooks or leave-behinds—in trade book or magazine format to ensure they are portable and affordable.
You also might want to create interior design portfolios featuring different content for each new pitch or interview. Every prospective client or job will have unique needs, ethos, and visions. Tailoring your portfolio to reflect your audience demonstrates next-level attention to detail and care, plus a clear message about how you can enhance and add to their brand.
6. Edit your content
An excellent interior design portfolio book demonstrates your ability to thoughtfully edit, sequence, and design content. This shows clients and employers that you can formally present work and sell your ideas. So think quality over quantity.
A common mistake aspiring designers make is trying to fit every last project or image into their portfolio. Potential clients don't have time to look at 50 (or even 25) projects when evaluating your work, so give them a concise overview rather than a tedious encyclopedia.
Cutting down content also allows your strongest work to stand out in a big way, not get lost in a sea of average or less impressive projects. If you need help narrowing your samples, ask a friend or colleague to give you feedback.
While they're giving you feedback on your samples, ask them to proof your work, too. Typos and errors are rarely a good look, so edit multiple times and ask multiple people to proof it before you send it out.
7. Continue to update your portfolio
You are constantly evolving as an interior designer, so let your portfolio reflect that evolution! As you complete new projects, add them. And remove any older ones that have become dated.
It's also important to keep your portfolio in line with industry trends. Read design blogs and magazines, attend trade shows and exhibitions, and regularly share the latest newsworthy pieces on social media. This will not only give you ideas for future projects, but it will also keep your portfolio fresh and relevant.
Final thoughts
An interior design portfolio isn't just a collection of visually-appealing photographs, drawings, and sketches. Your portfolio should be an ever-evolving document that reflects your skills, experience, and latest projects.
With these simple steps and examples to guide you, you'll be on your way to creating an interior design portfolio that showcases your talent and sets you up for success. Good luck!
***
If you're thinking about printing your portfolio, Blurb makes it easy. Use the handy Blurb Plugin for Adobe InDesign without leaving your Adobe workflow. Or try our free bookmaking desktop software, BookWright.