Quick web-based creation tool, recycled printed pages, printed fabric, foil accents: Blurb creators have long requested more photo book options! That's why the team has been feverishly at work on MdBy —that's pronounced Made By—our new sister brand that does all of the above and more.
You get early access to the MdBy beta starting on November 10 as a thank you for being part of the Blurb community. This beta is exclusively for you to try MdBy's signature items. Our only ask? We want to know what you think.
What's MdBy?
MdBy is a curated collection of customizable photo albums and framed prints for memory-keeping and gift-giving, built for those big moments (and every day in between).
You'll find all the high-quality print standards you're used to from Blurb, with innovations like:
An easy and free online editing tool with clean and modern templates
Visionary editorial printed fabrics and matte, full-image wraps with foil
100% recycled printed pages with premium vibrancy and accuracy
Gallery-quality wall art and artwork with handcrafted frames and sustainable canvas
"Fabric and foil, two of my longstanding Blurb wishlist items, have been answered," says Dan Milnor, Blurb evangelist. "The quality and attention to detail with my first MdBy photo book are more than I expected. With innovation comes adventure."
Why did we develop MdBy?
We've been listening to the Blurb community. You told us you wanted a simple web-based bookmaking tool that anyone can use to craft a beautiful book—even those without design experience.
Not only that, but you wanted products that push the limits of innovation—with more choices for albums, recycled materials, foil finishes, and museum-ready art prints.
MdBy was born from these conversations and observations.
We invite you to explore the MdBy beta and continue to give us feedback that shapes our new sister brand.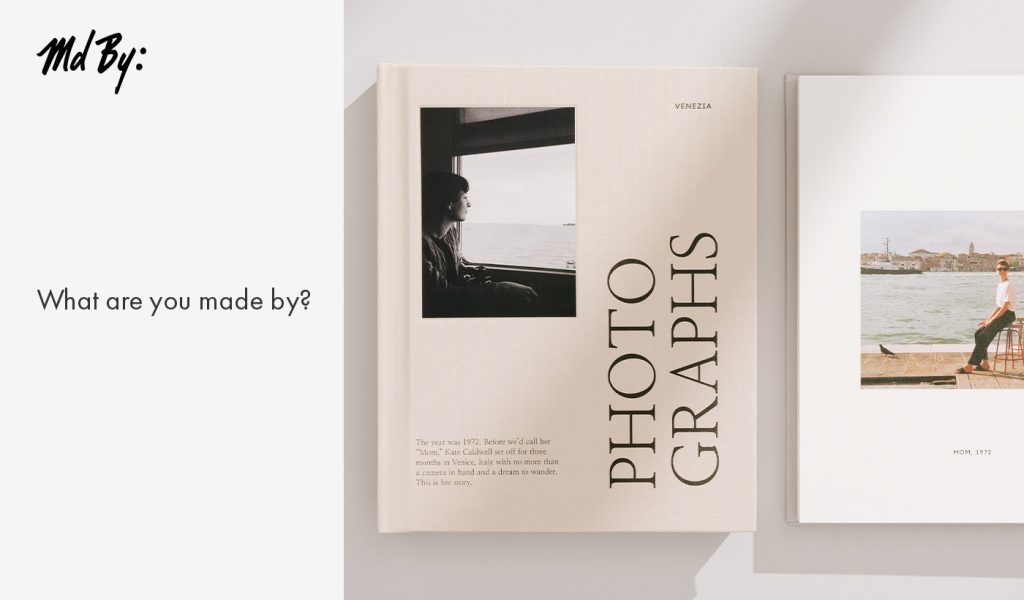 What's next for Blurb?
We are committed to providing a platform for creative professionals who need high-quality and accessible ways to bring their stories to life—whether it's a client's wedding album, cookbook, or poetry volume.
"MdBy is an important evolution for Blurb," says Stephanie Peterson, vice president of marketing at Blurb. "It allows us to serve more creators in more ways and reinforces our commitment to expanding and innovating for self-publishers. But we aren't stopping with MdBy. We're hard at work developing new book types, BookWright features, and content for our creators."
We'd love to get your feedback on what you'd like to see in Blurb's future, too. Sign up to be part of our burgeoning research community. And thank you for being part of Blurb—we can't wait to see what you create next.