For artists and designers in the agency world, finding effective ways to showcase their work is crucial. The BOOM creative team at JSR agency specializes in illustration and animation, so they understand what it takes to create a print portfolio that makes a powerful first impression with clients. They brought their expertise, innovation, and unique vision to life in a stunning portfolio book with the support of Large Order Services.
In the digital age, why is it still important to create a print portfolio?
When done well, a print portfolio can have a massive impact on the viewer's immersive experience of our projects. Showing work in print gives us the opportunity to make a long-lasting impression by offering physical materials which, in turn, will create micro-transactions. These micro-transactions are key to building meaningful relationships. It all starts with a physical connection to the book. Print projects provide a sense of ownership that is deepened through touch. Clever use of materials and textures can enhance the experience for the viewer, creating a greater impact than a digital portfolio.
In addition, many projects are created as print-based work and are therefore tailored for display in printed form. The power of the original format may be lost if the portfolio is shown digitally. Even though digital files are a fast and effective way to deliver projects to clients, print materials still have lasting value and are worth the extra preparation.
How did your team select and sequence the images for this portfolio? Why did you decide not to include captions or text?
One of our greatest passions is the exploration of techniques and design programs that we have not used before and incorporating them with our strengths. In addition, it was important that our portfolio book cover as many visually stunning projects as possible. So, rather than limit our portfolio to a specific theme, we selected projects that involved a range of techniques and skills to show that we are not afraid to tackle challenging, diverse project types that widen our horizon.
We avoided using captions or text in our portfolio book because we believe that the final images captured everything needed to showcase the work. Much of it is left to the audience or client's interpretation, but we wanted the photos to convey the right mood and feel, and ensure that the main features of each project could be understood visually.
What made you decide to print your book with our Large Order Services team, and how did they support the creation of the book?
We send our portfolio book to different clients across the country, so we order in bulk to ensure we can easily distribute copies all at once. Since we had a set deadline, Blurb's Large Order Services team offered solutions on timing to keep our project on schedule. They also provided a custom discount based on the size of our order.
How did you decide on the size, format, and paper type for this project?
After looking at the selection that Blurb offers, we decided to make a hardcover Photo Book with 28 pages, so it's nice to keep on your desk or shelf and has a light, smooth feel. The 10×8 inch Standard Landscape size makes it accessible and easy to read. We used Blurb's free desktop tool, BookWright, to design the layout.
What are the top criteria for creating an impactful portfolio?
First, clients tend to look for visually stunning portfolios with layouts that capture the eye. The colors, theme, and style of the book need to be aesthetically pleasing and consistent throughout. The appearance of the book should convey your personality and artistic taste and demonstrate a keen eye for detail and a history of self-initiated work. If the formatting is sloppy or any images appear disorganized, the client will immediately form a negative impression of the entire portfolio.
It is also vital to feature the best work at the beginning of the portfolio, where it will have the largest impact. From there, focus on displaying only your strongest work, even if that creates gaps in chronology.
Another factor to consider is how well the portfolio communicates the skills and experience of the artist/s. An impactful portfolio will clearly represent the creator's role, responsibilities, and techniques used for each project. Try to find a balance between work samples that show experimentation, risk-taking, and applied skills—though all of these elements should be highlighted within the portfolio.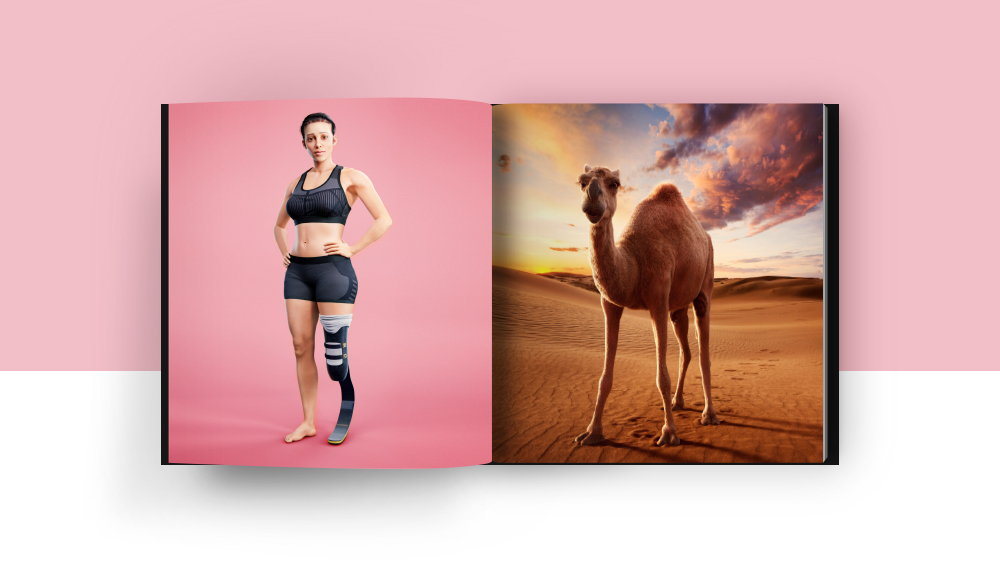 What are the most common mistakes beginners make in presenting their work?
What we often see is the need to present as much content as possible—essentially, showing off everything. Beginners need to be reminded that the best piece of work in their portfolio will be measured next to the worst thing that they show, so every piece needs to be as good as the last. Focusing on quality over quantity is important. There is nothing worse than seeing absolutely incredible work followed by an amateur piece.
Self-editing is a great habit to develop when building a portfolio. In addition to reviewing each project and selecting only the work you are most proud of, make sure that each project relates to the field in which you are applying. It's great that you are multi-talented, but if you want to be considered for a specific role, then tailor your portfolio to match.
What factors should animators, videographers, and filmmakers consider when presenting their work as still images?
One challenge for animators and filmmakers presenting their work as still images is finding ways to showcase the sequence, movement, and design of the original work. Animation is full of movement, motion blur, colors, lighting, and effects, which all convey an important story, message, or emotion. It will always be difficult to capture that same feeling in a single still. One way around it is to create a storyboard comprised of multiple still images to show a sequence in printed form.
How do you preserve elements of storytelling when featuring multiple projects in a portfolio?
We carefully sequence our projects based on theme, style, color, size, and shape. Together, these elements improve our storytelling and guide the client/audience as they look through the portfolio.
We start by grouping similar projects together based on theme or category (characters in one group, product visualization in another). This creates a meaningful, organized structure for the entire portfolio.
Color and style are our next priority since a clear, visually impactful color palette can set a particular mood and enhance the client's overall experience of the work. The challenge is finding a balance between the theme and color, so we may switch certain projects around (combining two different types of project themes together) if their color palettes work beautifully together. Getting just the right order and layout takes time and involves trial and error.
Finally, the shape and size of each print determine the layout and placement of projects within the portfolio. We use the spacing and flow of images on each page spread and throughout the book to create a cohesive story.
What is the best thing about collaborating on creative projects? What are some of the challenges?
When collaborating, we can bounce ideas off each other. That process of group reflection and feedback can reveal new solutions we wouldn't have discovered on our own. By integrating all our strengths, experiences, and techniques, we can also take on more complex and challenging projects.
Communication is a vital part of working with other artists, but it can be challenging, depending on the location of everyone involved. When collaborating with artists in another country, different time zones can be an issue, and communication may not be as smooth when it's limited to phone calls, Skype conversations, emails, and texts.
Working with other artists should be encouraged! A well-organized and structured team of collaborators is capable of achieving results that would otherwise take an unreasonable amount of time and resources for an individual artist to achieve.
Where does your team look for and find creative inspiration?
We look for inspiration every day. Encountering something unique might lead us to produce a similar design or, at the very least, inspire us to create something even better. Innovation can also come from the most mundane things, like breaking down the properties of how light interacts with a glass of water sitting on the table, then integrating that process into our own designs.
We try to keep an eye out for talented artists and seek out different sources and techniques. Sometimes looking at traditional art forms and craftsmanship, such as painting or sculpture, will inspire us. Other times we are influenced by experimental design or digital artists online.
Our most used platform for gathering inspiration is social media (Instagram, Facebook, and YouTube). We also stay up to date with VFX/CGI/film websites that showcase current news and techniques.
In today's world, it's good to stay open-minded and be ready to follow your creativity since inspiration can arrive at any time, in any form.
Ready to create a showcase for your best photos, drawings, designs, and creative work? Make a professional-quality portfolio book today!