Liz Kamarul hit the road in a refurbished RV to travel across the United States. A stylist with a beautiful social media presence, we caught up with Liz to hear about taking style on the road, and translating her distinctive 3D spaces into gorgeous print spreads in her Layflat photo book, Lost & Found.
Tell us about your work. How did you get started as a stylist?
Originally, I started out styling and designing as a home stager. Eventually, that turned into styling products in my own home for Instagram and my blog. I work with companies that have similar values, quality products that I can stand behind, and a style similar to what I produce. My favorite clients trust me and my styling abilities, and they give me free reign to create something I think people can relate to or be inspired by.
What role does photography play in your business?
Photography is huge in my business. Having the correct lighting and layout are all important to showcasing a space that I designed. I don't consider myself a photographer, but I'm definitely particular about angles and balance, so that comes in very handy when I'm taking a picture.
What was it like to make your book?
I've never made a book like this before, so I wasn't sure how easy it would be. I was surprised at how straightforward it was and how much fun I had. I kept adding more and more pages!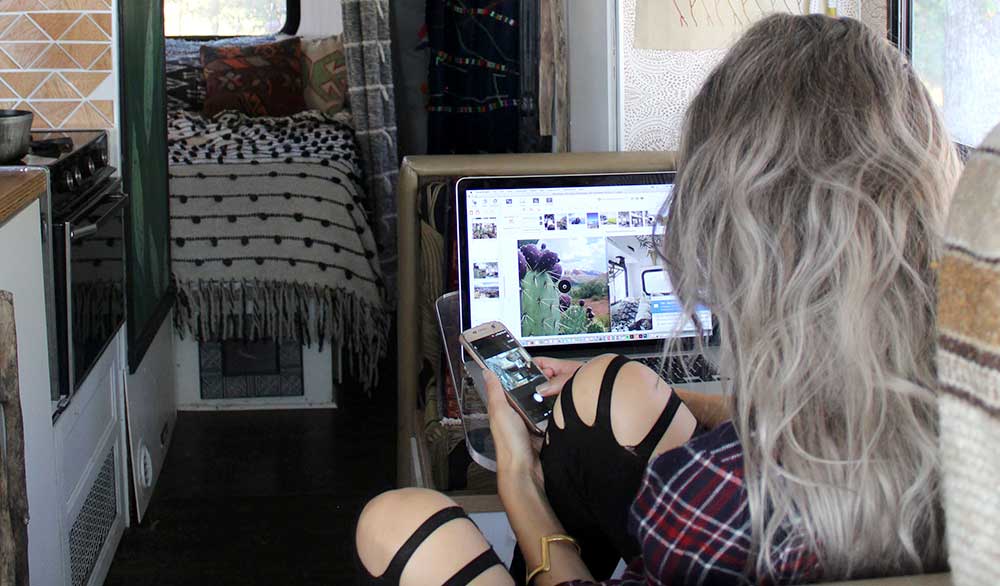 What do you think of Layflat?
The Layflat paper was perfect because landscape shots really showcase the interior of our RV, which was an important part of our book. Being able to have that spread across two pages without a crease was priceless.
How does making a print page layout compare to designing and styling a space?
I used a lot of similar techniques that I do while mixing patterns when I designed my book. If I selected an image that had a lot going on for the left side, then I chose something a bit subtler for the right side. I also tried to keep similar color stories from page to page so there was a consistency as you flip through the book. I think that's very similar to, in a home, where each room blends into the next with a color story.
How does your Blurb Book compare to other photo books you've seen?
I was really impressed with the quality of the photos being printed on such a large scale. It was also amazing to see my landscape images spread across the Layflat pages; it looked so professional! It was really fun to be able to create a title for the book and the customizability was a great feature.
What are the best parts of your job? What are some of your challenges?
The best part of my job is that I'm doing exactly what I want and what makes me happy. Being able to get paid for that is absolutely amazing! A challenge would be not knowing exactly how much I'll make financially every month.
When you were a small child, what did you want to be when you grew up?
I've always been obsessed with decorating and often redecorated my space and my parents' house (when they would let me!) I'm doing exactly what I've always wanted to do!
If you could go back and talk to your 5-years-ago-self about your business, what would you say?
Listen to your gut and just keep doing what your instincts tell you to do. Don't try and force yourself into what you think people want. If you're doing what you love, other people will love it as well because it's creative and authentic.
What's one project you're dying to do?
I would love to have full reign on a hotel project and make every room completely different from the next. I actually have a goal of opening up an Airbnb and doing just that in the next year or so.
Thanks so much, Liz, for taking the time to talk with us. We can't wait to see what you create next!
What do you think is the key to translating a 3D Space to 2D page layouts? Share your tips in the comments below!