If you're looking for a creative way to start or build your own business, you may consider making and selling notebooks and journals. Not only is this a relatively easy industry to get into for passive income, but it's also a fun way to express yourself.
Low-content books can easily fit into your spare time and can be as simple or complex as you want them to be. Plus, with more than 246 million notebook units shipped worldwide in 2021, it's clear that there's a massive demand for these products!
In this guide, you'll learn how to make custom notebooks to sell that are both stylish and functional. So get ready to roll up your sleeves and start crafting!
Finding your target audience
Before you start whipping up prototypes, it's essential to identify your audience and the type of book they want to purchase. While customers buy millions of notebooks yearly, that also means there are already plenty of suppliers. You want to create custom notebooks and journals that people will purchase from you—not competitors who already have a head start.
Discovering your target audience begins with understanding who currently buys these products. To do your research, take a look at popular notebook and journal brands as well as any small businesses or boutiques in your area that sell similar products. What type of customer are they marketing to? How are those customers reacting online? And of those audiences, which do you think you could speak most authentically to?
Once you have answers, consider what type of notebook would be most useful or appealing to your ideal customers. For example, if you're targeting busy executives, a high-quality daily planner with space for notes and to-dos would likely be popular. But if you're going after the college market, a more affordable and low-fi notebook might be better.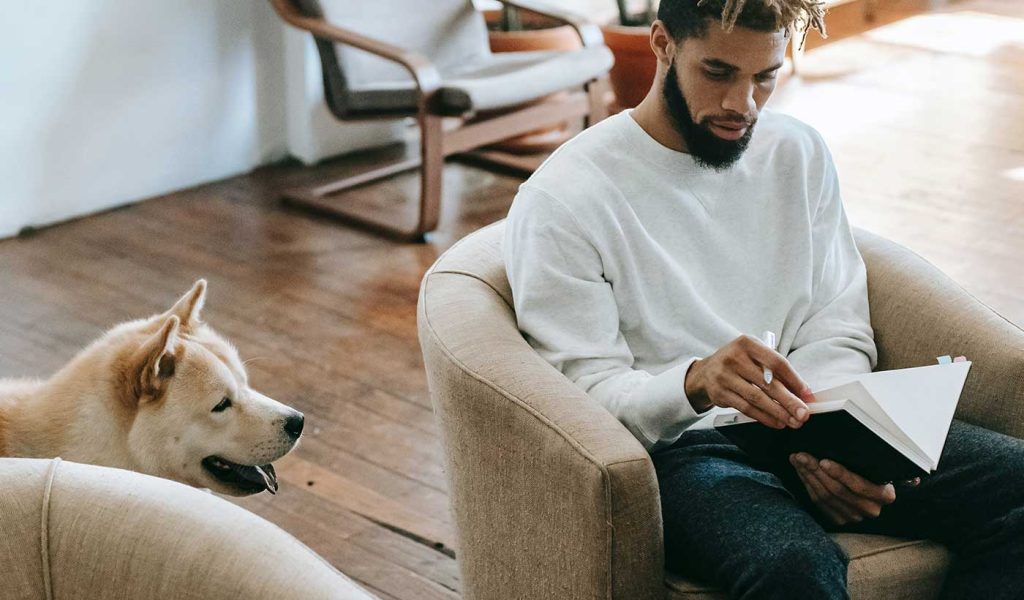 Pick your niche
Narrowing down your target demographic into a particular niche will help you design a book that's appealing to them and different from all the other options on the market. Melissa Schulz has worked in the licensing world for 25 years and has extensive experience in designing for journals and other paper products. So when it comes to creating a custom notebook with profit potential, she knows what it takes.
"It's crucial to envision how your notebook or journal could be used and keep this at the forefront of your mind as you're designing the layout and choosing images or text," Schulz explains. "Will it be used to take notes? Is it a sketching journal? An idea journal? A gratitude journal? A travel journal? A pregnancy journal?"
This narrow lens will help you determine your product's size, shape, style, and overall aesthetic. So if your target is urban millennials with kids, and your niche is those who love hiking and camping, you might choose to use earthy tones and natural materials like wood or stone in your design. Alternatively, if you're targeting teens and focusing on fashion-savvy girls, you might opt for a sleek and chic notebook with gold accents.
Pro tip: It's also helpful to choose a theme or subject you're passionate about, as this will make the design process much more enjoyable.
Look at your competition
"As with any product development process, it's essential to explore what's already out there and selling well," Schulz shares. She notes that when it comes to making journals to sell, it's critical to take a look at what your competition is doing. While you don't want to copy any ideas flat-out, looking at top-selling companies will help you better understand the market and what people want.
"But don't restrict your research to other notebooks and journals alone," Shulz continues. "I would also recommend looking at successful stationery and greeting card industry trends. Look out for popular colors, styles, and icons you could apply to your product."
To start your analysis:
Look at some top-selling books for your target audience and niche on Amazon or other similar sites.
Note common themes, repeated keywords, or design elements in these products.
Brainstorm how you could incorporate these elements into your design.
If you notice that animal print journals with motivational quotes rank higher than those without, you might consider adding them to capitalize on the trend. By doing your research and looking at what's already out there, you'll be able to create a journal that is both unique and appealing to customers in the current market.
Design the perfect front cover
Your cover design is one of the most critical aspects of your project. Not only does it need to be visually appealing, but it also needs to accurately reflect the theme and tone of your product.
When designing your journal covers, consider what colors and images will best represent your product. To create and sell a travel journal, you might want to use bold, adventurous fonts and include a postcard picture of a classic travel destination. Alternatively, if you're selling a notebook for people with anxiety, you might opt for a calming color scheme and include a graphic of someone relaxing near water.
In addition to choosing the right font for print, colors, and visuals, you'll also want to ensure that your cover design accurately reflects the tone of your journal. For example, if you're selling a lighthearted notebook for comics, you'll want to ensure that your cover design reflects that humorous tone. On the other hand, if you're selling a more serious journal intended for reflection and introspection, you'll want to choose a more subdued, thoughtful cover tone.
No matter what type of journal you're selling, it's necessary to put thought into your cover design. By taking the time to create a standout book cover, that's visually appealing, you'll be able to attract more customers and sell more journals.
Personalize the interior pages
Although there is a market for blank journals, differentiating yours from others often depends on what's inside. There are endless possibilities for personalizing the interior pages of your journal.
Increase sales by adding your illustrations, maps, charts, graphs, quotes, prompts, or anything else that will make your journal unique. So for that journal for people with anxiety, you might consider adding relaxation breath exercises or positive affirmations. And that travel journal? You could include map pages, packing lists, and even suggested itineraries.
Regardless of how you personalize your notebook or journal, you'll want to use a tool to help you add the finishing touches. Some of the most straightforward include:
BookWright: This free software is designed specifically for bringing your design to life quickly and effortlessly. There are even complete layouts and page templates for notebooks, so you can make a customized book with BookWright without any design experience.
InDesign: If you're looking for more control over the look of your book or have some previous experience with Adobe products, then InDesign is a great option. While it does include a hefty price tag, the program offers an endless range of features and capabilities. And be sure to check out Blurb's Adobe InDesign Book Plugin offers complete creative control.
Photoshop: Photoshop is another excellent option for those with creative experience and money for a subscription. While it can be used to create a bespoke book, it's also possible to find pre-made templates to fit your needs.
No matter what tools you use, the important thing is that you personalize the interior pages of your journal to make it unique. By adding your illustrations, quotes, and other design elements, you'll be able to create a journal that stands out from the rest.
Visit our blog for ideas on how to make a custom notebook or journal
Print your journal or notebook
One of the most critical steps when creating a journal to sell is to figure out how you will print it. Print-on-demand (POD) has revolutionized the world of print publishing. Unlike traditional offset printing, which requires large print runs to be cost-effective, POD printing with companies like Blurb allows bookmakers to print books as needed.
And if you do print your project with Blurb, you'll also get an automatically generated ISBN, which allows you several options for where to sell your book and a personal storefront on the Blurb Bookstore. The Blurb ecosystem even handles shipping and fulfillment without distribution fees or commissions. A partnership with Ingram, the world's largest book distributor, also gives your title global reach via online retailers like Amazon, Barnes & Noble, and indie bookstores.
There are many reasons to print on demand. It removes the need to stockpile inventory or worry about overprinting. POD also offers shorter lead times and the ability to customize books with multiple cover designs or interior layouts. As a result, it's become increasingly popular in recent years, particularly for publishers of niche or specialty books. While offset printing remains the best option for large print runs, POD is often cost-effective for smaller quantities.
Since you're figuring out how to create a journal to sell, you'll want to choose the most cost-effective yet high-quality production option. This will leave you plenty of margin for profit. Ready to learn more? Here's a guide on how to price your book.
Do your (keyword) research
Keyword research is finding exact words or phrases people are searching for when shopping for notebooks and journals. This is an essential step when making money selling journals, as this investigation will help you determine what terms to include in your product listing.
The difference between being found online and getting lost in the sea of other notebook sellers is determining the right keywords. Since 92.42% of keywords get 10 monthly searches or fewer, you'll want to ensure that you're using keywords that are relevant to your product but also ones that aren't too competitive.
To start, try thinking about what keywords you would search for if you were looking for a journal or notebook like yours. Then, use a keyword analysis tool like Google Keyword Planner or KWFinder to determine the monthly search volume for each keyword.
You can start narrowing down your list of keywords to include in your product listing. You'll want to choose a mix of highly searched for broad terms, like notebook, and lesser volume long-tail keywords, like baby whale to-do list book. Including general and specific phrases will help you reach a wider audience while also appearing higher in niche searches.
Learn how to master SEO as an author.
Market your product
Finding the ideal audience, designing the perfect product, and then actually producing it are only the beginning when selling journals. You also need to let people know that your product exists! Marketing is key to the success of any business venture, and promoting your journal is no different.
There are a variety of marketing channels you can explore when it comes to getting the word out about your product. At the least, you'll want a sales page for your creation—with gorgeous photography or mockups of your books and all of the keywords you've found in your research. Of course, that free personal storefront from Blurb will do the job well—or an Amazon or Barnes & Noble book page.
Social media platforms like Instagram and Facebook are great ways to share your sales page, as they allow you to connect with potential customers where they already spend plenty of time. But marketing methods don't stop with social media alone.
Some of the most effective marketing and self-promotion strategies for creative entrepreneurs include:
Building a website or blog to showcase all your products together
Participating in real-life fairs, holiday markets, or other events
Assembling an email list and sending regular updates to your fans
Creating paid online advertisements to reach a wider audience
Pitching your books to magazine and blog gift lists around the holiday season
Since notebooks and journals are ideal for gifting, you'll also want to consider more marketing during the holidays. "For a lot of products, big holidays and seasons dictate when you promote and sell," states Schulz. "Most notebooks and journals will be relevant and sought after all year round, however, the holidays offer a great opportunity to meet customer demand for unique gift ideas."
Make a series
If you want to sell more journals and notebooks, you'll likely need to make them regularly. Those who can publish new journals or notebooks on a recurring basis are generally more successful.
One of the most significant benefits of publishing regularly is that it helps you develop a following. When people know that you publish new content consistently, they're more likely to check back frequently, buy your past work, and even share your books with others. This not only helps you reach new audiences but also helps you build relationships with existing fans.
In addition to helping you sell more journals or notebooks, publishing regularly also has other benefits. By practicing your bookmaking art often, you'll likely improve your marketing and design skills, increase your audience engagement, and build a better reputation as an author or artist.
Wrapping it up
Selling journals and notebooks can be a fun and rewarding experience, but it's also a lot of work. It's important to remember that success doesn't happen overnight. You'll need to put in the time to research your audience, design a beautiful product, and market it effectively and consistently.
If you can do all that—and if you're willing to publish new journals or notebooks regularly—you'll be well on your way to becoming a booming journal seller.
***
So what are you waiting for? Get started on your journal or notebook today!