Professional photographers know that marketing is essential to your business' success. By actively promoting your photography services, you can amplify your reach, showcase your unique style and skillset, and attract new audiences. But how do you do it? That's where this guide comes in.
I am Jesse Freidin, considered America's leading fine art dog photographer with work in over 150 private collections and in galleries from coast to coast. My current series, "Are You OK?," addresses the dangers of the current wave of anti-trans legislation sweeping the country to erase the stigma and elevate the voices of those most affected.
I learned everything I know about photography as an apprentice at a fine art family photography studio in San Francisco—from processing film to working with clients to marketing myself. These mentors early in my career shaped my path, and I pay it back by offering one-on-one mentoring and portfolio reviews, plus classes on web building and social media for artists. I will put all that expertise into this marketing guide for photographers.
I'll share my experience in developing a solid marketing plan focused on finding your niche, building relationships with clients, and creating stunning imagery. Along the way, I'll also discuss the importance of providing good customer service and over-delivering to secure repeat customers. With the right plan in place, you can ensure your work gets seen by more people, and in doing so, build a successful and profitable photography business.
Define your style
No matter how good of a marketer or salesperson you might be, if your photographs aren't up to par, then no amount of marketing can help promote your business effectively. That's why we must start by honing in on your photographic style.
There are a lot of photographers who are generalists—who shoot landscapes, weddings, babies, and senior portraits all at once. For some people, that might work. But there are a billion photographers in our world right now. The way to stand out is to be extremely good at what you do and have a unique point of view.
I always suggest finding one or two topics you can photograph well, so you can tell people you're a specialist and they can trust you. Marketing is all about trust. Build that trust by articulating your specialty and delivering.
Let's get into how.
Find your niche
So how do you find your specialty? There's the old saying, "Photograph what you know." I'll also add: Photograph what brings you joy. After all, if you do work you hate, even if you're good at it, you'll resent it quickly.
At the start of my career, I had been working with dogs for years and was really fascinated by the relationship between people and their pets. While apprenticing at the family photography studio, I realized I loved photographing dogs.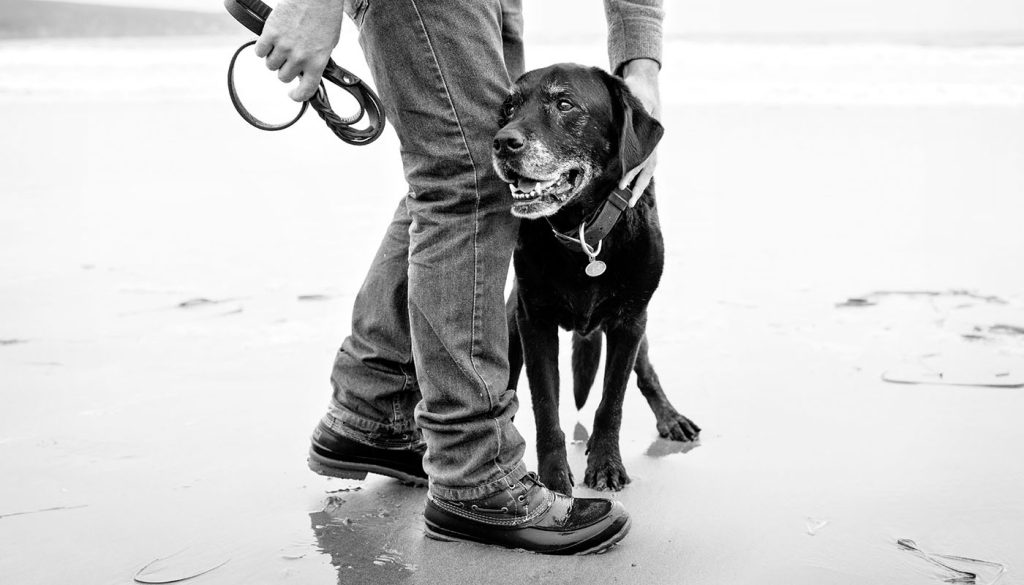 But that's not all. Many people in San Francisco loved their dogs and fine art—plus, they had money to spend on both. So I decided to fill the niche with black-and-white film, high-end dog portraits. It worked.
To find your niche, ask yourself what you know how to photograph and what topic you're curious about in that genre. Start photographing those things more. This will help you drill down on your specialty, gain experience, and better express your passion.
Articulate your vision
Once you have your niche selected, answer this question: What do you want to say through your photography? Remember, you need to build trust with potential clients beginning with how you talk about your specialty.
In my case, I wanted to use dogs as a vehicle to talk about unconditional love. And while that's almost too simple, it worked incredibly well because my clients immediately connected with my vision.
Even commercial and lifestyle work requires a style and unique perspective. A good friend of mine and owner of The Labs & Co. does top-notch commercial work for pet businesses. They know how to work with companies, make contracts, execute a shot list, hire models, and find locations. They also have a vision of warm and engaging photography that's different from others. A unique style is not just for fine art.
As you photograph your niche more, talk about your vision more, too. Share your passion with your friends, family, and colleagues. Journal about it. Keep it up until you have a straightforward expression of your mission as a photographer.
Find your market
You can have a strong specialty and unique vision, but you also need a market for your photography business in order to make money. It's all about balancing what you love and want to say with your photography with what's not already being done.
Look at the current photography market in your city. If thousands of pet photographers do colorful work and you copy their work, you will have an extremely hard time competing.
When I was beginning my career in San Francisco, I knew there was a market for what I wanted to do because I was already working with dogs and doing photography. Only a few key players were doing colorful, wide-angle, silly dog portraits at that time. No one was doing the thing I knew I could do well: black-and-white, fine-art portraits of dogs. I just jumped in and took up that space because no one did.
So what does that differentiator look like for you? Do a lot of research on your niche and your location. Find out who is already doing work in your space and how to stand out. And make sure to never copy someone else.
Don't forget to look at potential clients as well. Be sure there are people who are willing and able to buy your work. Then keep honing your vision to create an elevator pitch that shares who you are as a photographer and the clients you serve.
Build a strong portfolio
Now that you know what you're photographing and who you're marketing to, it's time to exhibit your work. My mentors taught me to print a show and put up as much beautiful work as possible in as many places as I could. This advice is still relevant, and I teach it to my students.
The first step toward putting your work up is creating a killer portfolio you can take with you to share your vision with gallerists, shops, studios, and potential clients.
Create a starter portfolio
Every photographer needs to have a portfolio of at least 20 very strong photos—which should shift and change as time goes on. The only way to get to that strong portfolio is to create a first portfolio and then constantly photograph and edit yourself. Don't wait until you're ready, just start shooting now.
If you don't have 20 professional shots you love, ask friends to be your clients for free. If you don't have any friends or colleagues that look and feel like the people you want to attract, use them anyway and switch out their shots with real clients as you go.
My first portfolio was all unpaid work, and it was kind of terrible, but that's the only way I could get to the portfolio I have now.
Update your book
As you continually take new photos to sharpen your skills (and as you book new clients), keeping your portfolio current is essential. I updated my print portfolio yearly at the beginning of my career.
Feel free to experiment with different photo editing techniques or try out a variety of new camera settings. While the core of your portfolio should remain consistent, adding some variety will keep viewers engaged as they explore different aspects of your work.
Be sure to think carefully about the quality of each image and its overall composition. Low-quality or poorly composed shots can hurt the perception of your work, so be sure every photo is one that you're proud of and wouldn't hesitate to show potential clients.
Make sure to take work out of your book as you add new work. As we mentioned above, 20 images are typically the sweet spot—any less, and your book looks sparse; any more, and it looks unedited.
Work with a mentor
It's incredibly difficult (and at times irresponsible) to be a photographer for hire or run a business in a vacuum. If you don't have other colleagues to talk to, whether they're professionals or hobbyists, you're going to have a tough time knowing what to do.
This is important for your portfolio as well. No matter where in our careers, we all need to get feedback from trusted colleagues and talk about our mistakes.
I encourage people to find other photographers in your city. Meet up and talk about your work as well as share clients and network. If you can't find photogs near you, find forums of like-minded creators. Share ideas, ask questions, and then pay it forward and help someone else.
Make marketing material
When you're running a photography business, you need two things: the ability to make powerful images and the skill to guide your clients every step of the way. The first step in that guided experience is branding and marketing. It will set the tone for the rest of your work.
The marketing materials you create depend on how much money you are willing to spend. Unfortunately, this is a real pain point when starting a business because you have to spend money to make money. But rather than printing dozens of portfolios and thousands of business cards, you should start cheaply.
I believe in the pairing of print and web marketing. The marketing materials that work well together are a website, printed portfolio, postcards, and social media accounts. We'll tackle each of them here.
Start with branding
Before you jump into web design and create a ton of social media accounts, it's important to solidify your messaging and visual identity. Consistency is incredibly important. It all goes back to the idea of marketing as a trust-building exercise. You automatically look more professional with an easily identifiable, clean brand.
Here are a few key elements that you should focus on when building your brand identity:
Logo: You don't need to spend much money on a logo these days—you can hire a freelancer online, ask a graphic design friend for a barter, or even build one yourself with online tools.
Color palette: Pick one to three colors and stick to them. I've used the same red for 15 years, and my brand is recognizable because of my choice.
Font: Using a dedicated font across all your marketing materials will go far in helping them look consistent and well-designed. Again, you only need one or two.
Messaging: Since you have already articulated your vision and the clients you want to work with, creating a few lines of copy that you use regularly should be fairly easy. Use the same messaging on your website, Instagram bio, and even in-person elevator pitch. Some people call this a slogan, but I see it as a very articulate, well-crafted marketing message.
Spending time on your brand lets clients see you've put effort into creating a solid experience. They'll know you'll put the same effort into every touch point—from first contact to session to photo delivery.
Remember, you're building brand recognition and trust. As you create a logo, color palette, font, and messaging, reflect on your niche, vision, and market. Your ideal brand identity will clearly articulate who you are and who you serve. This will get you the right clients and help you keep them—resulting in more clients and higher sales.
Design your website
You don't have to be a web designer to create an impressive but affordable website. Plenty of web-building apps and sites help you with pre-formatted layouts, domains, and tech—so all you have to do is fill in your information. Spend some time researching the best sites for design, and you may be able to get up and running with a website within a few days or weeks. If you need inspiration, look at what other people in your field have done with their websites. But remember, never copy anyone.
You need to think about three things when building your website:
Show off your body of work. Prospective clients need to see your skills to believe them. Put the 20 powerful images from your portfolio on your site front and center.
Add strong messaging. Ensure you clearly communicate what you do, who you are, and the clients you work with. It'll make it easier for your viewers to understand your specialty and decide if you're a good fit.
Clearly share your contact information. While your entire website should be well-designed, easily navigable, and functional, you need to make sure there is an obvious way to contact you. How else can they hire you?
Print your portfolio
I've always had a printed portfolio, whether a Blurb photo book or a box of prints in my studio. Print work allows your clients to touch and feel the quality of your work. Even if you don't have a studio to display your images, you can make a small box of prints and bring it to client meetings.
While prints can get dirty when passed around, portfolio books are protected—and easy to print again if you use a print-on-demand company. I started with an 8 inch by 8 inch softcover portfolio. It's affordable, portable, and still makes an impression. Over the years, I began using big square photo books with hardcovers. I make a new one every few years to bring to in-person meetings. With my book in hand, I can show off my skills during gatherings, events, and when setting up collaborations.
You should, too! Research print-on-demand companies to find one that has the quality, size, format, and pricing that's right for you. (Or just use Blurb, as I do.)
Purchase postcards
I also really believe in the dependable postcard. They're cheap while still feeling like a matted print someone might see in your studio. You need to make it something people want to put on their fridge or in their office. It needs to be so beautiful that they want to keep it around.
Postcards are better than business cards and photo prints because they let you show off your contact information and work simultaneously. They're invaluable for photographers. And, just like your website design, there are plenty of postcard companies that will help with layouts and on-demand printing quickly and economically.
Start with one or two images on your postcards and see what resonates with your clients as you hand them out. What kind of positive feedback do you get, and how can you keep that up?
I've used the same image of howling dogs from one of the first clients I photographed for 15 years. If I made another round, I'd use the same image again. That's because people always comment on the howling dogs. Since it worked well to capture attention, I've used it over and over again, and now it's recognizable as one of my images.
Despite what I said above, business cards can also be a great idea. I've always had both. However, the point of a business card is to start a conversation. Someone once told me that the best way to use a business card is to pretend you don't have any and ask the other person for theirs. With their contact in hand, you are in control of the conversation. You can follow up and continue networking rather than wait for an email or call. Networking should always be intentional, tactical, and friendly. Just remember to get those digits!
Launch your social media accounts
Social media is a powerful tool for photographers—it allows you to showcase your work and expertise, get discovered by clients, and build community with other photographers. Before you start, it's essential to choose the social networks that best fit your goals.
I began on Twitter over a decade ago, making it easy to connect with other photographers and companies worldwide. But if you specialize in wedding photography, it might make more sense to join Pinterest or TikTok. Most photographers have an Instagram account as well. Don't discount Facebook and YouTube, especially if you plan on testing into paid ads.
After selecting the networks that make sense for your business, build your profiles. Include your logo, the messaging you created in your bio, and (most importantly) your website and contact information so there won't be any guesswork when trying to reach you. I recommend using a link splitter app like Linktree on all social media, so you can offer multiple relevant links.
Then start posting regularly—this could range from once a day to several times a week, depending on the channel and your available content and time. Make your posts beautiful and educational. It's a great idea to include behind-the-scenes shots of how things look during photoshoots, plus helpful tips about photography or upcoming conferences and events that will allow you to connect with others in your field.
Need inspiration? Explore other photographers in your niche and note what they share with their followers. And don't forget to get acquainted with the best practices for each social media platform you use.
Market on a budget
Photography is a competitive industry, and while investing in marketing is necessary, it's critical to make sure you're getting the most out of your budget. Here we'll discuss how you can use tools and techniques that are low-cost or free, like attending local events, building a newsletter, and using social media. All of these strategies can help create an effective marketing plan that doesn't break the bank.
Pound the pavement
Catching the attention of your prospective clients is about showing your beautiful work in the places they go. We'll talk about social media and online marketing but don't discount hitting the pavement. Even in our digital era, you need to show people you are trustworthy, confident, and different than others. Getting your work in galleries and cafes equals direct communication with future clients. A beautiful print is always the best calling card.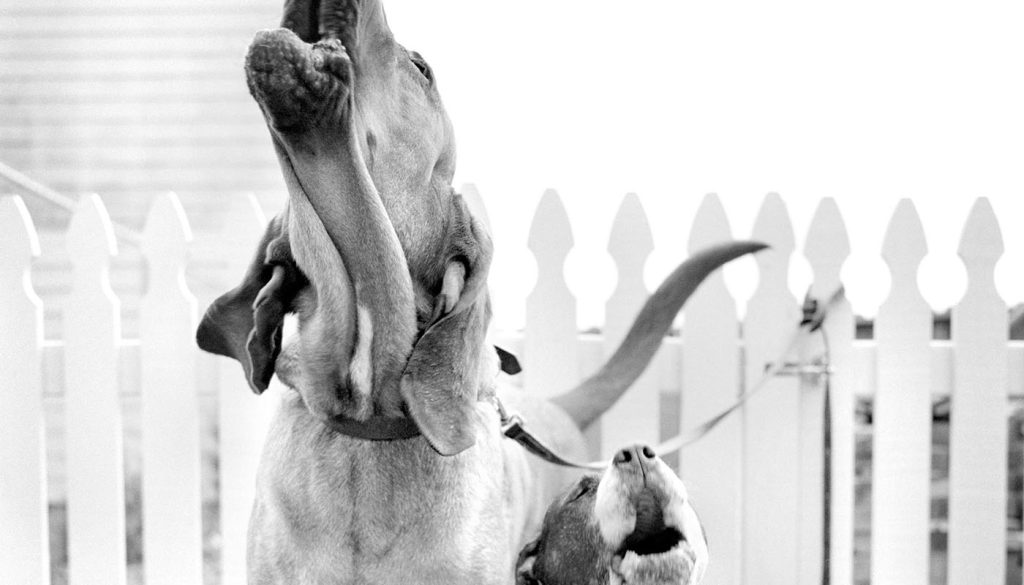 As I started my business, I went to high-end pet shops, home goods stores, and cafes with my print portfolio, business card, and dog. I'd introduce myself and ask if they'd be open to showing my work. I made connections the second I started introducing myself and displaying my work in relevant stores. I met business owners who were great for my business and got calls from clients who saw my work and wanted portraits of their dogs.
Ask yourself, what are the relevant shops for your prospective clients? What neighborhoods should you target? And how can you make connections with business owners and galleries who can display your work?
Consistently market via social media
Twitter was an amazing marketing tool for me in 2005. I used it to connect with other photographers and companies for collaborations, more than a tool to find clients. I find digital networking has been hugely influential in my business.
You should consider doing the same. Marketing is about generosity—and that is true of networking as well. Share valuable information, tips, and tricks on your social media account. Share connections between colleagues and companies. Share your knowledge and that goodwill will come back to you. A healthy sense of competition is fine, but let that come out in the professionalism of your work. Don't be selfish with your connections, it's never a good look.
Many photographers will also try paid ads. Since they are very cheap to run, they're worth testing and seeing if they work for your business and niche. But I think Google, Facebook, or Instagram ads—or other things like paid magazine features—are often distractions that don't gain real traction.
In social media marketing—and all marketing, for that matter— what gains real traction is consistency, authenticity, and being very good at what you do. It's extremely simple, and there are no cutting corners.
Show up to events
For photographers, there's nothing like real in-person connections. You are part of the business community, and attending relevant events lets people know who you are and what you stand for.
Local art fairs, winter markets, niche industry events—look for any applicable opportunities to show your work in person. Every chance you have to show your community who you are and what you do is golden, especially in this age where there is so much digital noise and online competition.
If you're nervous about attending events, it's a skill you can learn. I'm a fairly quiet person and used to be kind of scared of people. I had to fake it until I made it since photography is a face-to-face job. To do that, I used to attend animal rescue events in my city to show my face and work, shake hands, and be of service. You can, too.
Lastly, if there is a local chamber of commerce or business association, join it as well. It may seem boring, but it's a great way to show people you're serious about being part of the local business environment and willing to give back.
Build a newsletter
Email newsletters are one of the best ways to constantly stay in touch with clients, both new and old. I do a monthly newsletter and have found it effective and easy. Every time I send it out, people reply—asking me how I am, chatting about my current work, or booking a new session for a new dog.
Building a list is relatively simple as well. Add a sign-up on your website and social media accounts. When you do in-person events, bring a tablet or sheet for your newsletter sign-up. It's a low-stakes way for people interested in your work to keep in touch.
Then see what works for your clients. Try out different email cadences and topics. Mine has changed over the years, but I've found a sweet spot. I typically highlight a recent session, link to a blog with more information, and share upcoming events and shows. Of course, I also include a couple of clear calls to action—including a reminder to book a session.
Offer your clients valuable content and remind them you're still working. It's as simple as that!
Test and iterate
Marketing your photography business isn't a one-time job. It's an ongoing process of testing different tactics, learning from them, and iterating for the future. By identifying what works and what doesn't, you can refine your approach and effectively use your resources.
As you visit galleries and events in your city, keep track of which one leads to the most new clients or best connections. When you market on social media or send your newsletter, check back on which one had the most views, clicks, and sales.
You'll likely find that marketing is trial by fire. Marketing is about making hypotheses and overcoming mistakes to discover the tried-and-true method for you. Don't get discouraged if the first tactics you try aren't immediately successful. Keep going; eventually, you will find what works for you and your clients.
Finally, when you get advice from your mentor, community, and guides like this, trust what resonates with you. Maybe business cards are more important than postcards for your industry, or a LinkedIn page is better than a Twitter account for you. A good business owner can take in a lot of information and filter what's relevant.
Provide excellent customer service
We know marketing is about trust and generosity. You should also know marketing doesn't stop once you've made a sale. In the photography industry, you want to nurture your existing relationships to increase your word-of-mouth sessions and repeat business. Really, really good customer service is the best way to have repeat clients.
Client interaction starts the second someone Googles you or sees your postcard at a local coffee shop. And customer service continues in how you show up on a shoot, how you deliver your photos, and how you remind clients that you exist once your project is over.
In the dog portraiture world, customer service was about being great at my job as well as kind and accommodating. It was also remembering my clients' names, their partners' names, and of course, all their dogs' names.
As you decide how to achieve excellent customer service in your business, stick with a classic marketing rule: Always underpromise and over-deliver.
Final thoughts
At the end of the day, marketing is about making meaningful connections and building trust between you and your clients. I hope you take my experience and advice to create an authentic, vibrant community for your business. And don't forget to have fun doing it.
Believe in yourself and the power of perseverance. Don't get discouraged if you aren't immediately successful—instead, build resilience, take feedback, and use it to tailor your approach. With consistency, authenticity, and a clear understanding of who you are as a photographer, success is possible.
Good luck! I'm rooting for you.
***
Jesse Freidin is a professional photographer who gained global recognition through his recognizable black-and-white fine art dog portraits. His latest project, "Are You OK?," pairs portraits with interviews to elevate the voices of trans and non-binary young people in a country swept by anti-trans legislation. Freidin is turning his series into a book as part of the Blurb Creator Program. Follow him on Instagram and Facebook.
Blurb is an indie publishing platform enabling professional and amateur photographers to design, self-publish, and sell their photography books easily. Learn how to sell your photography book now.