All around our Blurb office, we've been buzzing about Monica Garwood, a bay-area painter, illustrator, and artist whose gorgeous book of watercolor women stopped us dead in our tracks. When we saw her Layflat version, we wanted another chance to chat with her about the creative life, her work, and how to keep inspiration alive.
How have you put your Layflat book to work?
I created a physical portfolio book of my illustration work to share on social media, my website, with prospective clients, and as self-promotion online. It's helpful for clients to see a visualization of how my paintings look when reprinted in a physical book in addition to the standalone images on my website.
What's been the response to your Layflat book?
Very positive! People love to get up close and personal to the book, viewing it in person. I got lots of comments and messages from my followers on Instagram, wanting to know where they could buy a copy. Right now it's not quite practical to sell the book since I chose the most luxe options, but if I change some of the paper choices and cover options I would consider selling it or sending it out as promo.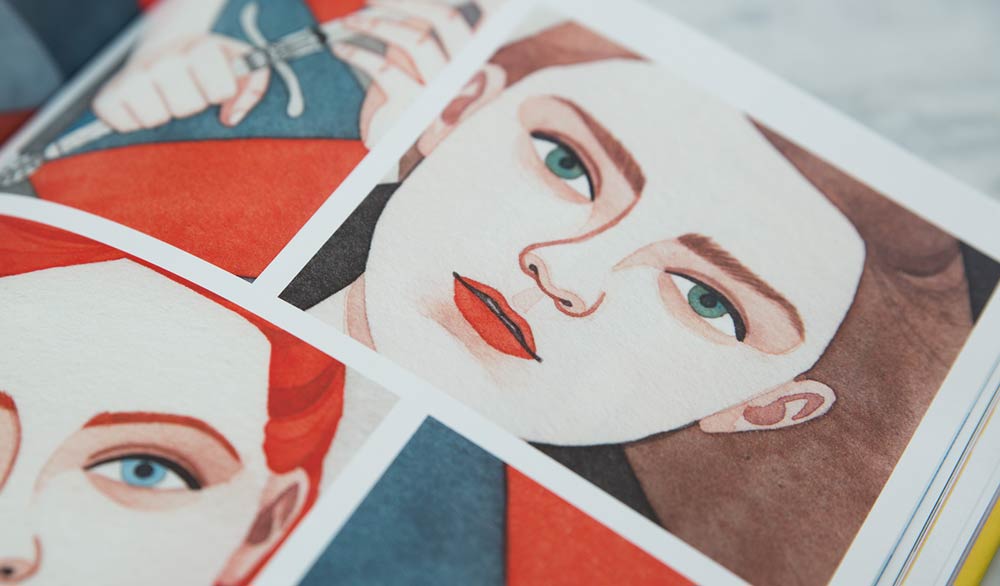 How does having a print piece like this help creatives?
It's important for me to have a connection with manual processes in addition to digital because I love being physical with my work and it's becoming rarer for artists to make work outside of the computer.
I think it's important to have a physical portfolio if you are meeting clients in person, and a bound, self-published book looks extremely professional. It's also a wonderfully tactile way to keep a collection of your work to look back on.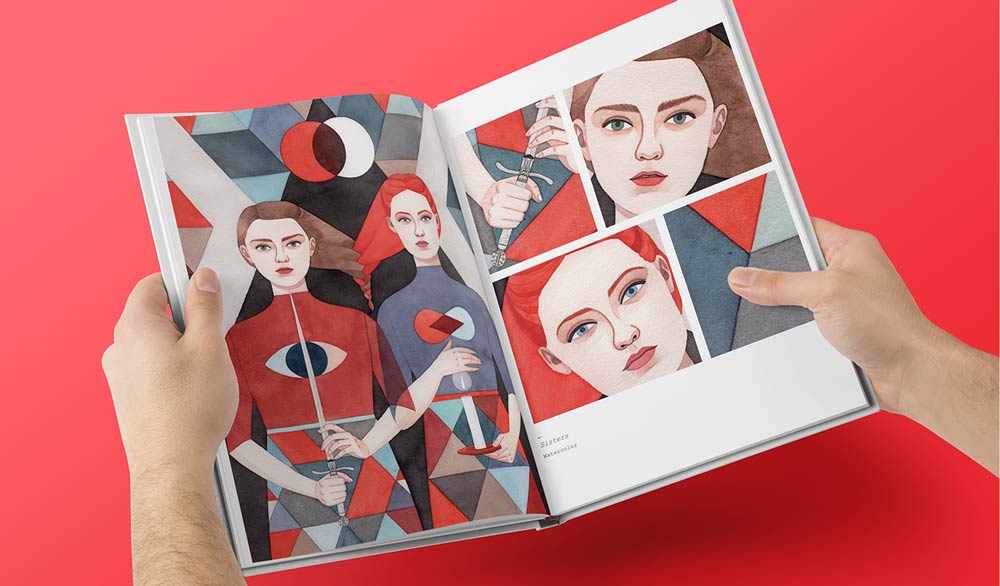 What are the best parts of your job? What are some of the challenges?
The best part of being an illustrator is when I'm able to translate what I see in my head to what I put down on paper. Of course, it doesn't always go smoothly. I often realize that what I envisioned originally wasn't the perfect fit for the project or maybe I have to simplify things, so my design is constantly changing to find the best fit conceptually and visually. I also love that I am able to experiment and try new things every day and I am so thankful to the clients that allow me the creative freedom to do so.
As someone who works creatively every day, how do you stay inspired?
Honestly, I get my best ideas when I'm furthest away from the screen and sketchpad! I am most inspired by nature so I go for a run with my dog through trails in the Presidio (National Park in San Francisco). It helps to clear my mind and visualize new concepts for paintings (which I save with voice memos immediately so I don't forget!).
Do you have any tips for aspiring creatives looking to turn their talent and passion in to a business?
When your passion becomes your job, your creativity and fire can burn out. It's easy to get into a routine and become stale. What helps me is maintaining a separate creative outlet where I can explore new media and try things that wouldn't work for a commercial project. I was never great at oil painting, so one month, I decided to warm up every day by working on an oil portrait for 30 minutes. Or I'll teach myself some new calligraphy styles, do some sewing, or life drawing. Having a no-pressure space to be a maker—free from deadlines and direction—is really important for me!
Any plans for more Layflat books in the future?
I've started to document my process a lot more recently, as I think it's really fascinating to look back and see how the finished product came to be. I'd love to create a book chronicling all the rough, messy, and imperfect stages of the work I make before I present the perfected, final painting to the world.
What was it like to make a Layflat Book?
It was simple to convert my original book to a Layflat version, since most of the process was automated by the Book Creator tool for the Blurb InDesign plugin. I used all the same layouts and spreads as my original book.
I ran into a few hiccups with creating the cover for the Layflat book and eventually had to do that without the Blurb Book Creator tool. It's great to not have to design for a gutter. I omitted a lot of my landscape-format works in my first book to avoid getting cut off in the gutter, so I would be interested to redesign a book with mostly full-bleed, landscape works to utilize the whole spread.
How did you decide on the size and format for your books?
I picked 8×10 standard portrait size because most of my works are in the portrait format. It seems like the perfect happy medium size.
What's one project you're dying to do?
A children's book. I become inspired every time I go to a bookstore and see all the possibilities!
Have you made a photo book that you'd love to see in Layflat? Check out our step-by-step guide to converting and reordering your book.