Designing a photo book is an art form that combines creativity and technical finesse. Much thought goes into creating a professional photo book that wows your audience, from the cover and page layouts to the font choice and navigation.
Self-publishing a photo book can have real value for your business, from generating book sales, pitching yourself to new clients, or creating a package that includes a gorgeous printed book. So whether you're a professional photographer, painter, sculptor, designer, culinary artist, or other creative—you can and should capture and compile your work into a pro-level photo book. But even when our work and creative abilities are strong, assembling that work into a cohesive and captivating book might still be challenging!
These photo book design tips for creatives will help you build a professional, finished product while giving you ample creative leeway to communicate your unique vision.
Create an eye-catching cover
Your photo book cover is your book's first impression on your audience, so it's essential to make it count. An eye-catching cover entices potential readers and sets the tone for what's inside. Here are some tips on how to create a captivating cover:
Select a representative image. Choose a photo or image of your work that captures the essence of your craft and showcases your unique style. This could be one of your most striking photos or an abstract design that reflects your book's theme.
Be clear on the purpose of your book. Your cover should reflect the purpose and intention of your photo book. Is it a travel photo book, a family portrait album for a client, or a portfolio of your sports photography? Make sure the cover accurately represents the content inside.
Play with typography. Pair your chosen image with appropriate typography to enhance its visual appeal. Try different font sizes, styles, and colors to find the ideal combination that reflects your brand or personal style. Check out resources like Google Fonts for inspiration. Remember to stick to two to three fonts max, as more can confuse your design.
Avoid clutter. Less is often more in cover design. Too many elements may detract from its overall impact. Stick to clean lines and simple compositions for maximum effect.
Create multiple designs. Don't settle for just one option—experiment with various layouts, images, and text combinations until you find a look that truly represents you as a creator.
Crafting an alluring cover will distinguish your professional photo book design from the rest. Taking time to create an engaging cover will pay off by attracting attention from potential readers, especially those browsing online. After all, people do judge books by their covers.
Be thoughtful with page layouts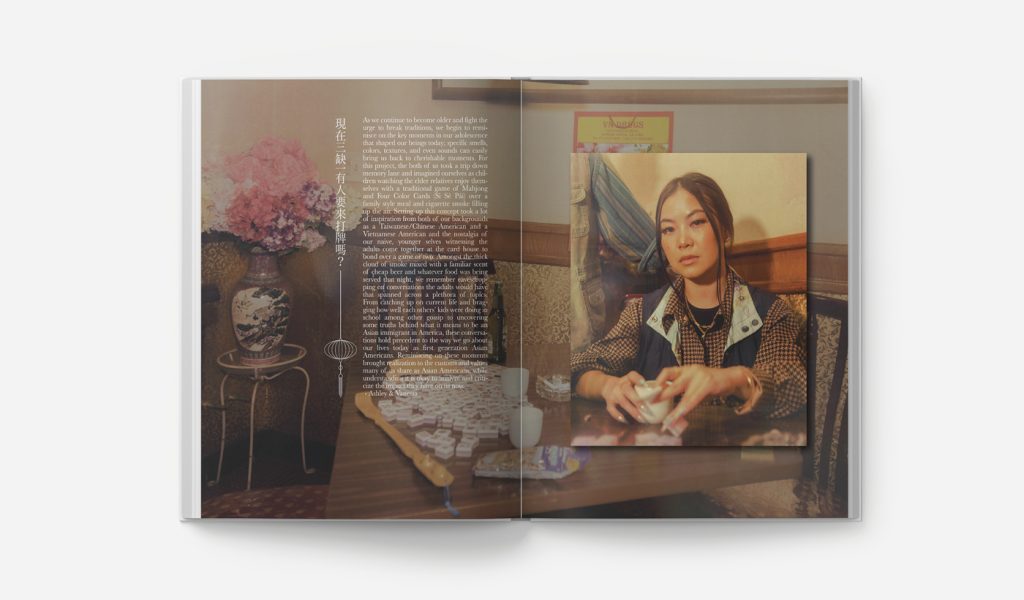 Designing the page layouts for your photo book can be a challenging task. How do you organize your images and text to best features your work and convey your book's narrative? Follow these best practices to assemble professional-looking page layouts.
Less is more. Just as you did with your cover, avoid cluttering your pages with too many photos, images, or other elements. Keep it simple and let your creative work shine by giving it room to breathe.
Keep your layouts balanced. Balance is key to making a professional-looking photo book. Make sure individual pages are well-balanced and create a connection between the cover and the interior pages.
Establish a focal point. Choose a main photo or element to draw the viewer's eye. This creates a sense of proportion and visual interest.
Mix up your spreads. Vary your page layouts to keep the viewer engaged. Try using double-page spreads for panoramic shots and single-page layouts for close-ups. Mix text and images, layer elements, and create section spreads to break up dense portions further.
Tell a story. Leverage your page layouts to tell a story or convey your theme. Consider the flow and sequence to establish a logical progression for your readers and create a cohesive and meaningful photo book.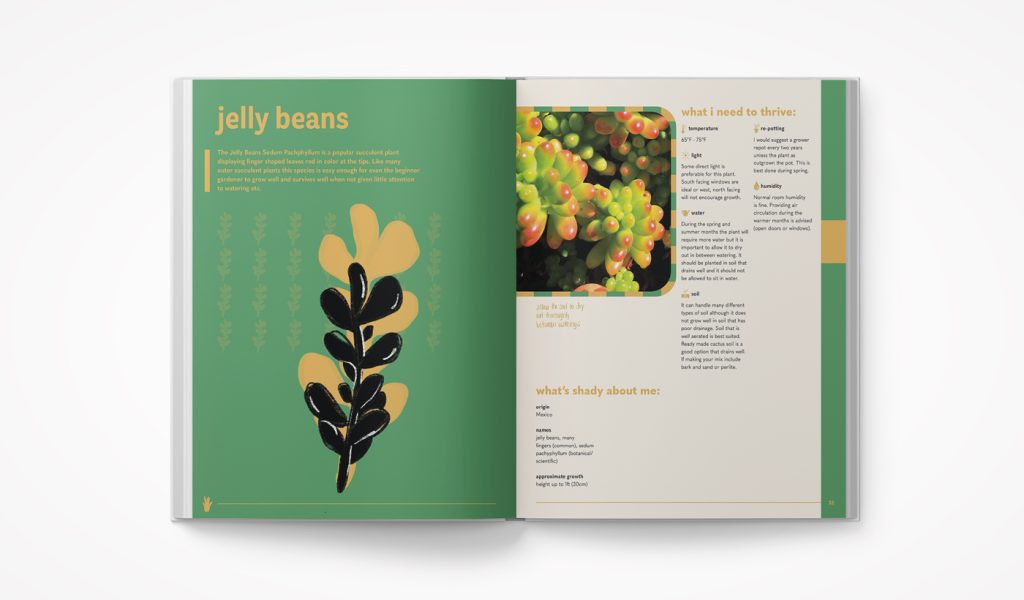 By carefully considering the size, shape, and placement of the images and text on each page, you can create compelling page layouts that will grab your readers and make your work stand out.
And remember, if it is stressful to build your own layouts, use templates! There's no reason to reinvent the wheel when it comes to simple, clean book design.
Narrow down your typography
Typography is crucial in conveying the underlying mood and style of any professional photo book design. The right font choices complement your images and enhance the overall aesthetic of your book while creating a visual hierarchy to guide your readers.
You're likely drawn to a few different fonts as you build your cover and interior page layouts. Now it's time to narrow your selections and create continuity throughout your book.
Find the perfect fonts
When selecting fonts for your photo book, consider how they interact with your images. A well-chosen font should be legible and reflect your desired tone.
For instance, if you're showcasing minimalist architecture photography, a clean sans-serif typeface might be an ideal choice. But for something more authoritative and loud, try a font like Visage Bold or League Gothic.
While there aren't rules for typography, most creators pick two to three fonts for an entire book. This allows your photo book to feel cohesive and timeless. Play with your title, headline, and body fonts—how do they work together, and how do they contrast?
Build visual hierarchy
To ensure that text elements are easy on the eyes while maintaining focus on the photos themselves, use varying font sizes or weights to establish a clear visual hierarchy within the pages. This technique helps distinguish the headings and subheadings from body text, guiding readers seamlessly throughout content sections without overwhelming them visually.
Spend time increasing and decreasing your font size. It's a dance—what is legible while still appropriately filling the space?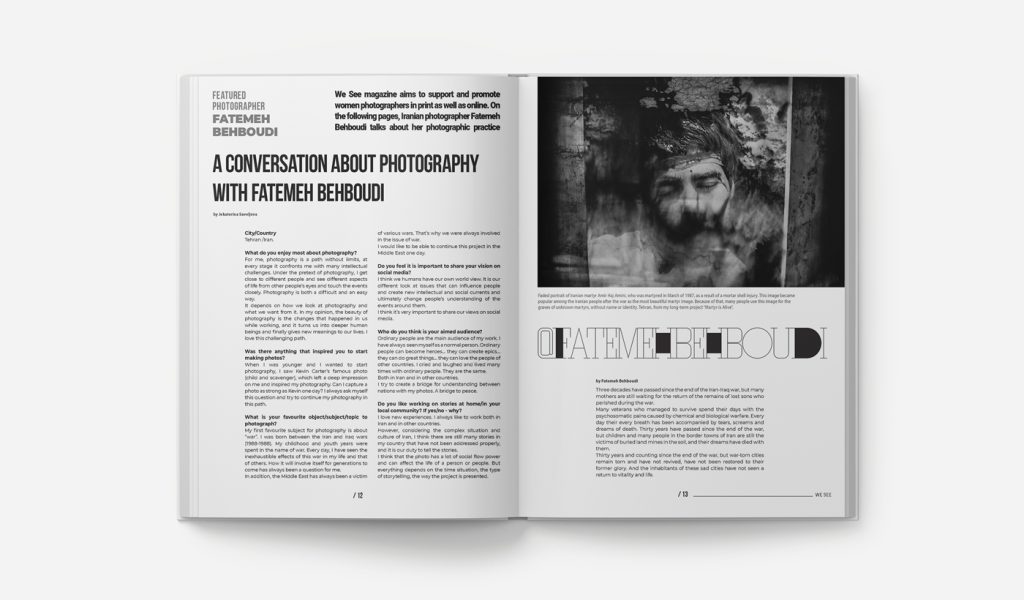 Play with colors
Your color palette helps orient your audience to the tone, setting, and era. It's an incredibly important step in the process. As you work through your cover and layouts, selecting your images, you probably get a sense of the mood and repetitive focal hues. Use it to choose colors for design elements and text.
Be selective. Experimenting with color can add depth or emphasis to specific text areas, like captions accompanying photographs. But just remember not to overdo it with too much color composition and stick to a handful of colors for consistent branding. Three to five colors usually work for a cohesive palette.
Maintain readability. When choosing colored fonts against backgrounds and images, prioritize readability by providing sufficient contrast so viewers can easily discern words.
Choose cohesion. Lastly, ensure chosen colors align well with the overall design palette and theme, maintaining consistency throughout the book.
Remember, typography is a powerful tool in your photo book design arsenal. Meticulously selecting typefaces and toying with magnitude, look, and shade blends to create an alluring visual narrative.
Pay attention to the details
The small details can significantly elevate your professional photo book's design, making it more engaging and professional. Many decisions go into choosing the right details—from text overlays to paper selection—so it's a good idea to break down the process into smaller pieces, starting with these elements.
Edit your images intentionally
When creating a professional photo book, it's essential to edit your images thoughtfully. Every decision you make when editing your photos can help bring out the best in them and create an engaging visual narrative for your readers. Do this in two steps.
Calibrate your monitor. If you haven't calibrated your monitor, you can't trust the color, contrast, or brightness you see while designing. While your book might look fantastic on your display, it's unlikely to look good in print.
Edit one by one and as a collection. Now it's time to go through each image to color correct individually. Next, look at your spreads—how can you tweak your images so they fit together? Finally, review your entire book and edit your photos as a single collection.
Add captions and descriptions
Adding captions or descriptions to your images provides context and engages readers by telling the story behind each photograph. This extra layer of information can deepen the connection between viewers and your work with another narrative element.
However, be sure to use text mindfully and creatively where appropriate, and avoid overusing text to distract from your work. While copy can add to your storytelling abilities, the best photo books speak for themselves visually.
Pick your paper type
The tactile experience of flipping through a physical photo book is essential to its appeal. The right paper type and finish are significant decisions, as they influence the final color and look of the very images in your book.
We're obsessed with these details. Here are the paper types we consider when designing a photo book—and when we use them.
Lustre paper. A popular option for photo books with a slight sheen that offers excellent color reproduction. It is also durable and resistant to fingerprints, which works well for portfolios and pitch decks.
Standard paper. A versatile choice for hardback and paperback photo books, this classic paper is suitable for books of all sizes and offers a good balance between cost and quality. We use it for leave-behinds, zines, and sellable books when the margins matter more.
Mohawk proPhoto Pearl. For a luxurious, high-end paper that will make your images pop, Mohawk proPhoto Pearl is the perfect paper type selection. This paper is ideal for event-specific books, like family portrait albums.
Mohawk Superfine Eggshell. A heavyweight text paper with an eggshell-textured, uncoated finish that adds a touch of elegance and refinement. We pick this paper for wedding albums, engagement photo books, and any other heirloom-quality prints.
Weight, color, and coating all play a critical role in the finished product of your photo book. For more input, read how to choose your paper type.
Proofread copy carefully
This is where hiring an editor or proofreader can pay dividends with your photo book, especially if you plan to sell and distribute your book to the masses. When proofing your book's text, it's critical to evaluate your copy for three things.
Typos. Ensure there are no spelling mistakes in the book's captions, descriptions, or other written content as they detract from professionalism.
Syntax. Check sentence structure for readability; awkward phrasing might confuse readers or disrupt their engagement with images.
Punctuation. Proper punctuation helps maintain clarity throughout written content so that meaning isn't lost to misinterpretation caused by missing commas or periods.
Incorporating these finer details produces a polished final product that showcases visual artistry and thoughtful craftsmanship in your professional-quality photo book.
Seamless navigation
Creating a seamless flow and navigation experience for your readers is essential to a professionally-designed photo book. A well-organized book not only boosts the general quality of your photo book but also moves readers to explore your content. A few key elements contribute to smooth navigation in professional photo books.
Table of contents: A categorized list of book chapters or sections provides a straightforward way to locate specific material swiftly. They're particularly handy for photo books with multiple themes or categories.
Page numbers: Page numbers are helpful to guide readers. Ensure they're consistent in style and placement throughout the book, typically placed at each page's bottom corner or center.
Index (if applicable): If you feature numerous subjects or keywords in your photo book, consider adding an index at the end. An index provides alphabetical listings with corresponding page numbers so readers can quickly locate specific topics without flipping through countless pages.
Incorporating these navigational elements into your professional photo book will make it more user-friendly and accessible, ultimately enhancing its appeal when selling your book online.
Consistent Branding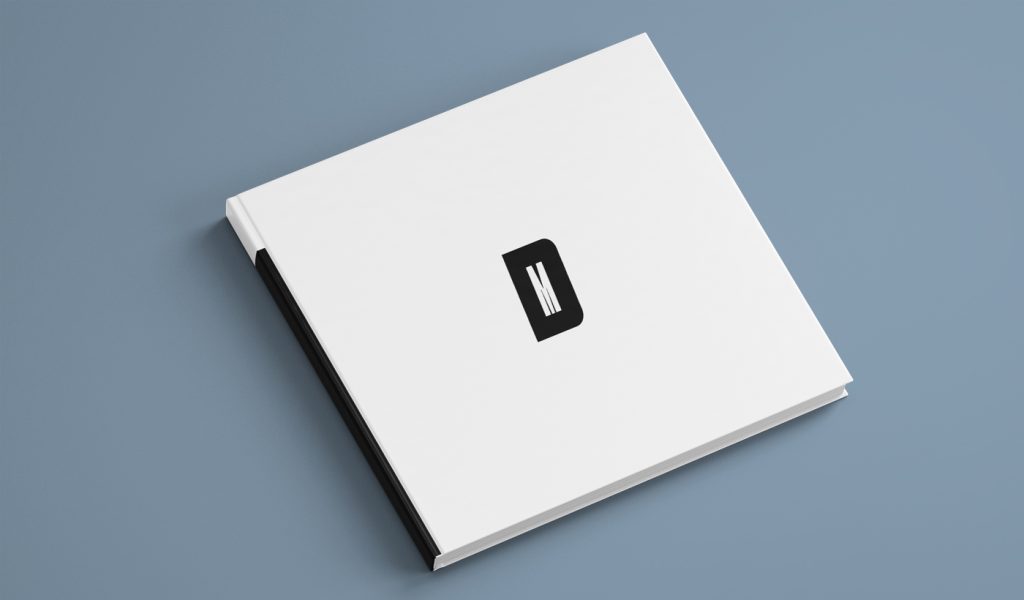 As a professional creative, branding is critical to establishing your identity and making your photo book memorable. You create a cohesive look and feel that reflects your unique style by incorporating consistent branding elements like your logo or identity mark, color palette, and typography throughout your book.
Brand identity integration
Your brand identity, like your logo or author signature, serves as a visual representation and reminder of you as the creator behind your book. If applicable, include your brand identity elements in strategic locations within your photo book, like on the cover, title page, table of contents, or the corners of each page. This helps reinforce brand recognition and makes a lasting impression on readers.
Consistent color palette
We've talked about this before, and we'll talk about it again—color is that important! Selecting a color palette that complements your images and adheres to brand guidelines ensures consistency across all design elements. Use these colors consistently across all design elements, like text boxes, backgrounds, borders, or image filters.
Cohesive typography choices
While you've selected fonts during your cover and layout phases, it's worth it to take a final look at your choices. Stick with fonts that reflect the tone of your work and support existing branding materials—like your website, brochures, or other collections.
This ensures consistency throughout every aspect of work now and in the future. In doing so, maintain font hierarchy using different font sizes or weights for headings versus body text. If you can nail this detail initially, you'll have a clear idea of how to approach it throughout your photo book and for future projects.
Test and iterate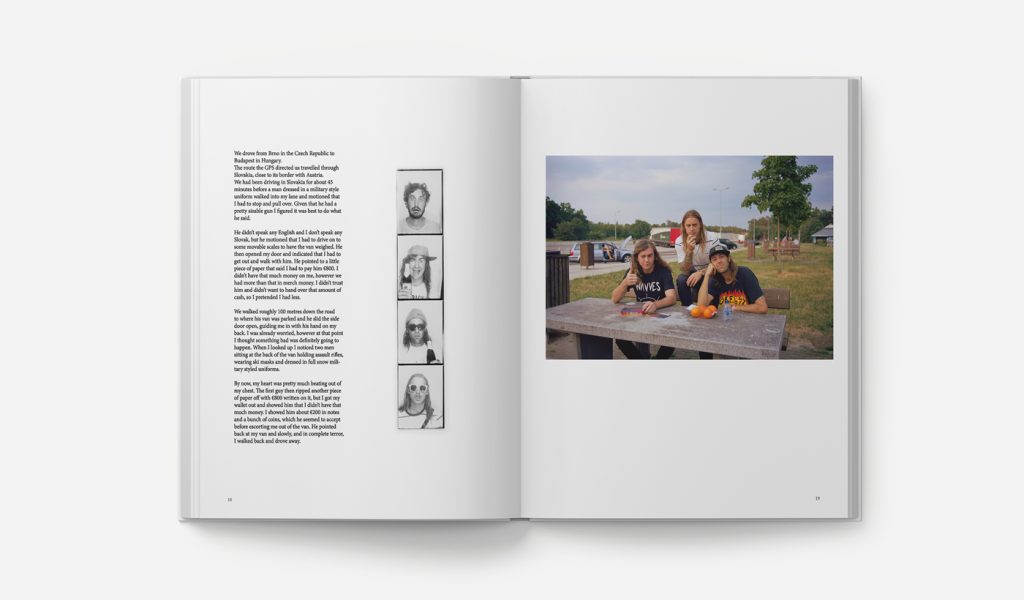 With any professionally-made book, you must test your creation with a sample audience and gather feedback. This process enables necessary revisions and improvements, ensuring that your photo book meets the highest professionalism and design excellence standards.
Share your draft with fellow professionals, friends, or family members who can provide valuable insights into what works well in your book and areas that need improvement. Encourage them to be honest about their opinions on layout, typography, image selection, and overall aesthetics. You can also use online platforms like Behance or Dribbble for additional feedback from creative communities.
Hire a photo book editor
If you can afford it, it usually pays off to hire a professional who can help ensure that your work reflects your vision. A photo book editor has lots of experience and expertise in evaluating photos and text for accuracy, clarity, and consistency. An editor can bring a fresh perspective to the project and offer advice on everything from the overall concept to the tiniest details.
Speaking of details, having an experienced eye can save time by catching errors before they become costly mistakes. Your editor should know how to spot subtle issues like typos or awkward phrasing—plus more significant problems like a confusing cover design or inconsistent design choices.
Start your professional photo book design with Blurb
Blurb is an online tool that allows you to design and publish a professional photo book as well as sell and distribute your book globally. Choose from our free design tool, BookWright, or leverage Adobe InDesign, Lightroom, and Photoshop integrations to design your book. Our free and fully customizable templates make it easy to get started without photo book design experience.
When ready to publish, we provide a wide range of custom format options, like the popular layflat photo book or a more economical softcover format, as well as an assortment of paper options. Once published, you can sell your book through Amazon or Blurb's Bookstore.
Interested? Learn more about how to create a professional-quality photo book with Blurb today.