In 2014 Margaret Galabe wrote to us from Akum, Cameroon. She is the founder and director of a non-profit with the vision of bringing much needed medical care to the people of Cameroon. This is the story of how a small design studio in Seattle helped make a difference for the impoverished villagers in that remote land.
Margaret wanted to create a book for the previous year's volunteers, as a thank you gift for their hard work. It was to be a pictorial story of their efforts, while they were working with her to bring a major health initiative to a remote village in Cameroon. The book would also serve as a promotion piece for the program, and to encourage volunteers to join the ongoing effort.
The story of what they accomplished, and how they managed it all, was overwhelming and inspiring. I was literally awestruck. We were especially amazed by two things: The potential they had to save lives and vastly improve living conditions for entire villages, and (thankfully) the exceptional quality of the imagery they had been capturing while documenting their work.
The group, called Student International Development Engagement, had just completed their first major initiative to organize and present an on-site health fair in the remote village of Baligham in the northwest region of Cameroon. They brought in medical professionals, volunteers and equipment to screen and treat every villager who needed help. In one long day they cared for over 250 patients, some with life-threatening issues, and many pregnant women who had never seen a doctor. In fact, no medical doctor had ever been in this village before that day.
Now the challenge was how to leverage this very successful event into a scalable model for ongoing efforts in this and other villages. When Margaret contacted us, Lookbook Press quickly became a kind of ad hoc partner with her and her group. I was personally willing to take even more ownership of this project than I usually do. We encouraged her to include a writer/editor on the team, and together we created a powerful presentation to tell her story and advance her vision to the next level.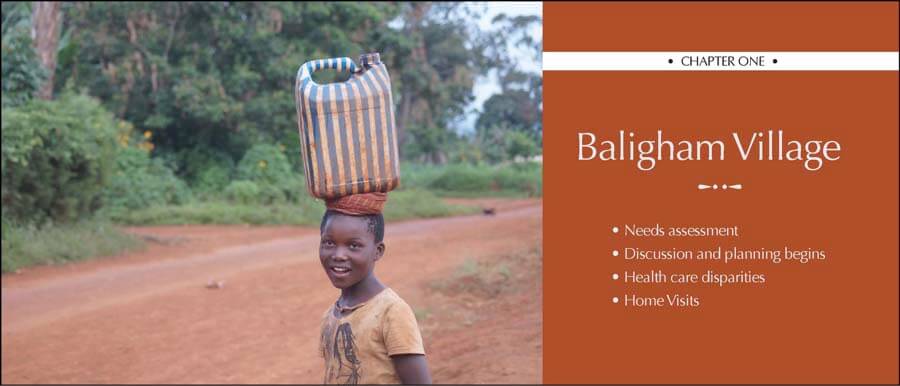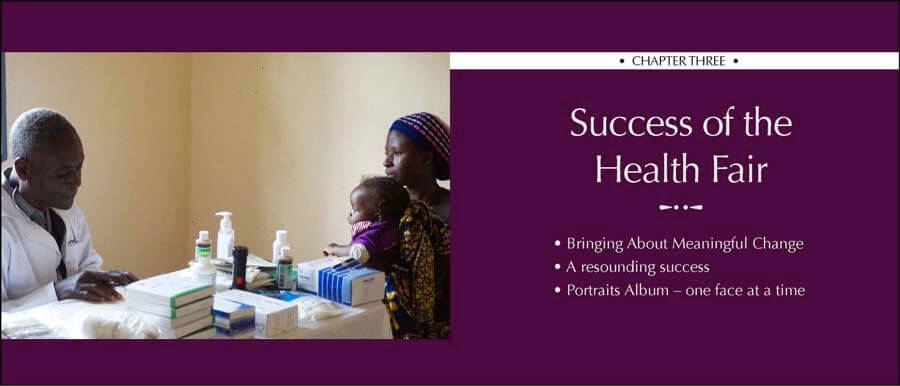 We helped organize her story into chapters, and each chapter title became
a bold title spread, with culturally-rich imagery and colors.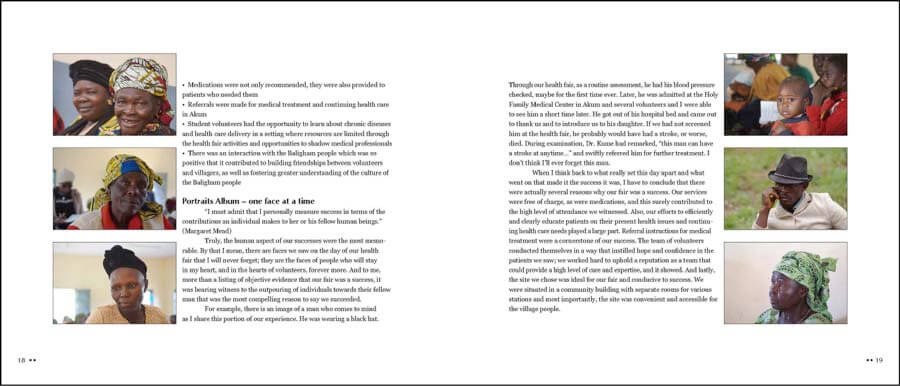 The storyline was accompanied by numerous portraits of the villagers
taken on the day of the health fair in Baligham.
The book needed to be compelling, without looking too expensive. The standard landscape format with a soft cover was a great solution. It offered an impressive, professional, user-friendly presentation. With a very limited budget Margaret was able to purchase copies just as she needed them, with no upfront costs. This enabled her to efficiently educate and inspire donors and volunteers alike during meetings in Europe and North America, as she prepared for the upcoming summer events. The result? This year's program was an even bigger success, with double the amount of much professional help, and many more volunteers on the ground.
Now, with Blurbs' new Magazine format we will be able to make her dollars go even further, as her story and her vision continue to unfold in the coming years. You can find out ways to support this worthy cause by contacting Margaret Galabe directly at mgalabe@hotmail.com.
This guest post was written by William Hoard, a long standing member of the Dream Team. If you are looking for a third party to help you complete your book, you can learn more about the Dream Team here.