Meg Smiley made one of our favorite children's books, Animals Under the Bed, working with Kickstarter and our Large Order Services team. She has gone on to start a small business from the success of her first self-publishing project. We were so inspired by her gorgeous book and story that we had to find out more.
What inspired your book?
There were so many reasons why I chose to create this book! I've dreamed of writing and illustrating my own children's book since I was a child, myself. Inspired by magical books like "Where the Wild Things Are," (by Maurice Sendak), and "The Giving Tree" (by Shel Silverstein), I used to spend hours writing and drawing my own magical stories. I never imagined that self-publishing would be an option one day, but it has fulfilled a lifelong dream of mine.
Tell us about the creative challenge that got you started!
The artwork in "Animals Under the Bed!" actually preceded and inspired the story. A few years ago, I joined a social media challenge called "The 100 Days Project". It encourages you to create something in a series for 100 days at a time. This experience was both exhausting and exhilarating! Around Day 50, I discovered that I loved painting animals. I simply couldn't stop painting these colorful, whimsical, detailed animal portraits into the wee hours of the morning! By the time I had painted 5 or 6 of them, I felt like I knew them and a story was forming in my mind.
The story of this book was inspired by the playfulness of the animal paintings as well as my own fears as a child. I used to have a difficult time sleeping at night and feared that any moving shadow or creak in the floor was a monster coming to get me! Most children I know have suffered from this fear as well, so I wanted to use something friendly and familiar (stuffed animals!) to bring them comfort at bedtime. Animals Under the Bed! is a children's book all about stuffed animals, instead of monsters, playing under your bed at night.
What was the book-creation process like?
I used Adobe InDesign to create my book, which was surprisingly easy thanks to the book templates and the Blurb InDesign plug-in. I know that printing the book correctly can be the hardest part of a creative project like this, but it was actually a great experience.
Did you do it all yourself?
I did! My husband and I were on a very tight budget, so I simply didn't have the money to hire out. Besides, I think the stubborn part of me wanted to learn how to do it on my own. As a child, I used to tell my parents, "I DO IT!" Ha! Apparently, some things never change. However, if I can do it all by myself, I really believe anyone can.
How does your book relate to what you do for a living?
I love this question! This book started as a side project, but has turned into a small business! When I launched the Kickstarter, my goal was to sell 100 books. I assumed that I would sell 100 copies, it would be over, and the people who know me best would get to share it with their little ones. However, I was shocked by the overwhelming support I received!
Thanks to my amazing family and friends, the Kickstarter was completely funded by Day 4 (of 30 days)! Kickstarter also made my book a "Project We Love" on their website, so I started seeing orders coming in from over 10 different countries! At the end of 30 days, my book was 319% funded! I even added more pages to the book as a "thank you" to my supporters.
Afterwards, more than 100 people still wanted books, which is largely what prompted me to start my business, Phigment Design Studio. I'm still selling books from my website along with prints, mugs, cards, and other kid's products. It's really the most exciting thing I've ever invested in!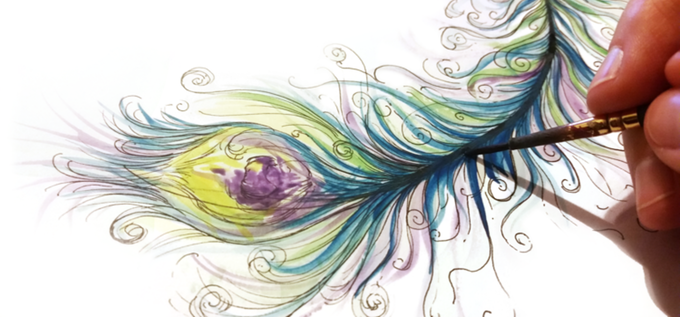 How did you know you were going to need a large order?
Before I designed the entire book, I reached out to my family and friends on social media, attached a photo of some book pages, and asked if anyone would be interested in purchasing it. I was overwhelmed with their amazing support! I started counting the "yes" responses, until there were over 100 of them. Then I e-mailed Large Order Services at Blurb with the good news!
How did you raise the funds for your large order?
I created a campaign on Kickstarter and set the minimum goal high enough to sell and ship at least 100 books. It was my first time using Kickstarter or Blurb, so I was grateful that Blurb helps guide you through the collaboration with Kickstarter as well.
What was it like working with Large Order Services? How did they help with your project? How did you use their expertise and problem-solving?
I was honestly shocked at how helpful Josh (my Large Order Services representative) was and how quickly he emailed me back whenever I had a question or concern! He always responded within 24 hours, even when I emailed him multiple times a week.
One of the things he especially helped me with was weighing the pros, cons, and cost differences of printing trade books vs. photo books at different page counts, cover options, and sizes. Since the artwork in my book is so important to me, I really wanted the colors to sparkle on photo-quality paper, and I couldn't be happier with how the books turned out!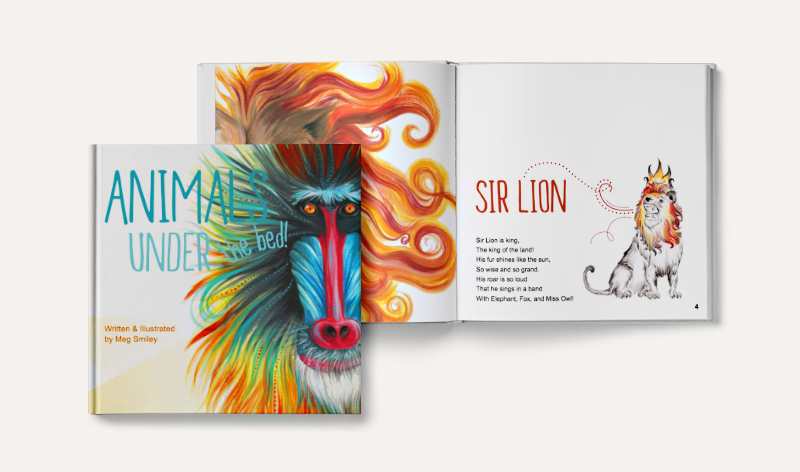 What were some challenges or needs your particular project had, and how did you work through them?
Since I live in a 250 sq. ft. apartment, I was especially worried about how I was going to package, sign, and ship hundreds of books from our tiny living space! Josh helped me figure out how to have some of the books shipped to me first (so I could still sign a small number of them), and the rest of them shipped directly from the printer.
Were there any hiccups along the way? How did you solve those?
One funny experience that comes to mind is when I went to ship the 55 or so signed copies of the book from USPS. My husband helped me carry the books, but I wasn't sure what kind of mailers to use, so I hadn't packaged or addressed them yet. We spent 2 or 3 hours in the Post Office addressing mailer envelopes at a tiny table, handing off the packaged books to the postal worker in small bundles at a time! It was so exhausting and I still can't believe we did that! Thankfully, I know a lot more about ordering packages and shipping labels in bulk now! I actually just started a blog to share what I've learned about self-publishing.
How are you distributing your book?
Right now, I'm selling the book from my website, as well as from my Etsy shop. I'm also working with some independent shops around Long Island, NY to get my book on the shelves.
Did you create a marketing plan? If so, how did you know what to do?
Most of my marketing strategy has come from research (reading blog posts and learning from other small businesses online). There's so much information online if you look for it, and you can learn anything if you're passionate enough.
What would you tell other people considering working with Large Order Services?
I would tell them not to hesitate. Ask all of your questions up-front, even if they seem "silly" to you, because my rep was a wonderful resource. I honestly knew nothing about self-publishing before I created this book, and I'm so glad I took the leap!
We're so glad you did, too, Meg, and we're glad we got to help. We can't wait to see what you do next.
***
Find out how to self-publish your own children's book today!