There's plenty to look forward to at Thanksgiving celebrations, from the quality time with family and friends to the rich culinary traditions. As you prepare for the holiday feast, you may have something else on your mind: how to take Thanksgiving dinner pictures.
You don't have to be a pro—all you need is a plan. We answered your top questions and created a list of Thanksgiving food photography tips to help you capture memorable shots that are perfect for a photo book or a piece of custom wall art.
How do you photograph a dining room table?
Think about the big picture before you start snapping your Thanksgiving dinner photos.
1. Look for natural lighting
Using natural light sources is always best, so consider the time of day you'll be gathering. For midday or afternoon celebrations, try photographing food next to a window. For meals after sunset, you'll see more accurate colors and warmer tones with diffused lighting.
2. Plan your table setting
Capture holiday recipes in all their glory by choosing dishes, tableware, and decorations carefully. White or neutral-colored plates and placemats will help the food pop, while bright garnishes add a touch of festivity. Include a centerpiece, floral arrangement, or a strand of lights to perk up the table and create more atmosphere.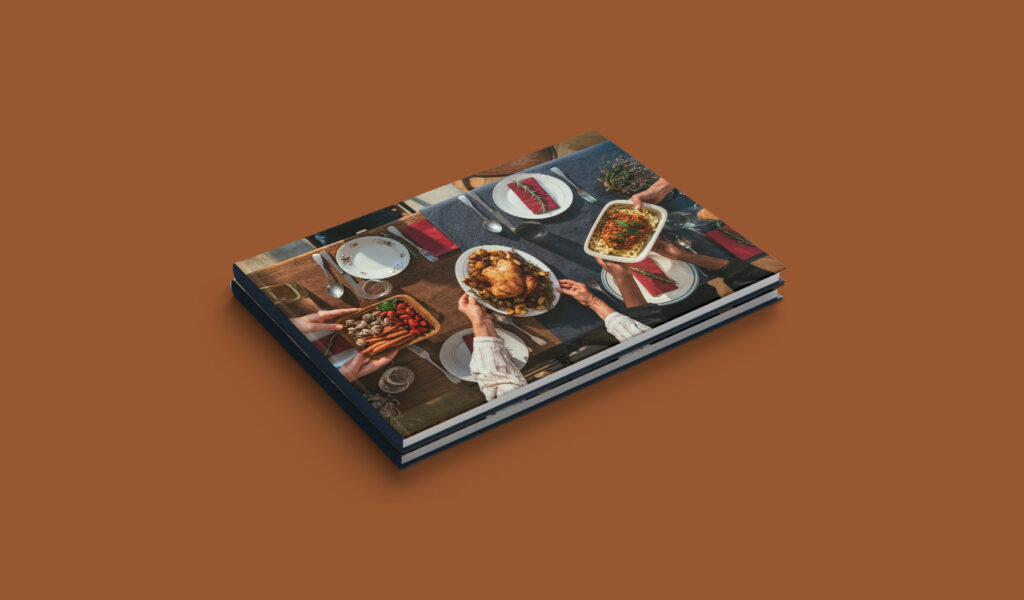 3. Include people in photos
A lot of attention goes into the food, but don't forget to photograph your loved ones enjoying this bountiful feast! You'll want to remember sharing the day with family and friends, plus scenes will look more inviting and celebratory with people in them. Ask someone to take photos of you, too.
How do professionals photograph their food?
Here are some ways to make the food look so good you can almost taste it.
4. Try different angles and compositions
Rotate each dish until you find a good angle. Experiment with overhead shots taken directly above the subject, and walk around to get different perspectives. Take some photos that showcase a single dish, perfectly centered, and some that capture the entire table spread. Use the rule of thirds to balance your photos, or zoom in on delicious details that fill the frame.
5. Clean your plates
Professional food photographers know that the smallest details can make or break a shot. When you're taking Thanksgiving dinner pictures, keep an eye out for crumbs, drips, and spills that will be distracting in otherwise flawless photos. Place food on serving dishes in an appealing way, and add a few strategically placed utensils and decorations for extra visual interest.
6. Highlight the main dish
At many Thanksgiving celebrations, the turkey takes center stage. Have fun photographing the chef basting the turkey and taking it out of the oven one last time when it has that mouthwatering, crispy glaze. Before you document the carving process, capture the star dish from a few different angles and as part of the full table setting.
7. Keep the food fresh (and hot)
You'll get more tantalizing Thanksgiving dinner pictures if you photograph each dish when it's ready to serve—just out of the oven, drizzled with sauce, or topped with whipped cream. Try to stay on top of what's happening in the kitchen, without getting in the way and without keeping guests waiting.
What camera settings should I use for food photography?
To get a great batch of Thanksgiving food pictures, start with basic camera gear (and know how to use it).
8. Bring the right equipment
Some camera phones will do the trick, but a DSLR or mirrorless camera will give you higher-resolution photos that look great when printed. For stability and crisp images, use a camera and a remote shutter. If lighting is a concern, bring an external flash to bounce off ceilings and walls. Reflectors and diffusers are also helpful, but in a pinch, you can use mirrors or aluminum foil to reflect light, and wax paper or cloth to soften bright scenes. Food photographers and bloggers recommend 50mm prime lenses (grab a macro lens for the ultimate close-ups).
9. Shoot in RAW format
To retain the maximum detail and information in each image, take photos in digital RAW format (instead of JPEGs, which result in compressed images and lost data). RAW format also gives you more pixels to work with when you edit images, so it will be easier to color correct and make natural-looking adjustments.
10. Try a wide aperture
For certain Thanksgiving food shots, you want to keep the subject in sharp focus while blurring the background. You can achieve that shallow depth with an aperture between f/1.4 to f/2.8. A wider aperture also lets in more light, which helps in low light settings.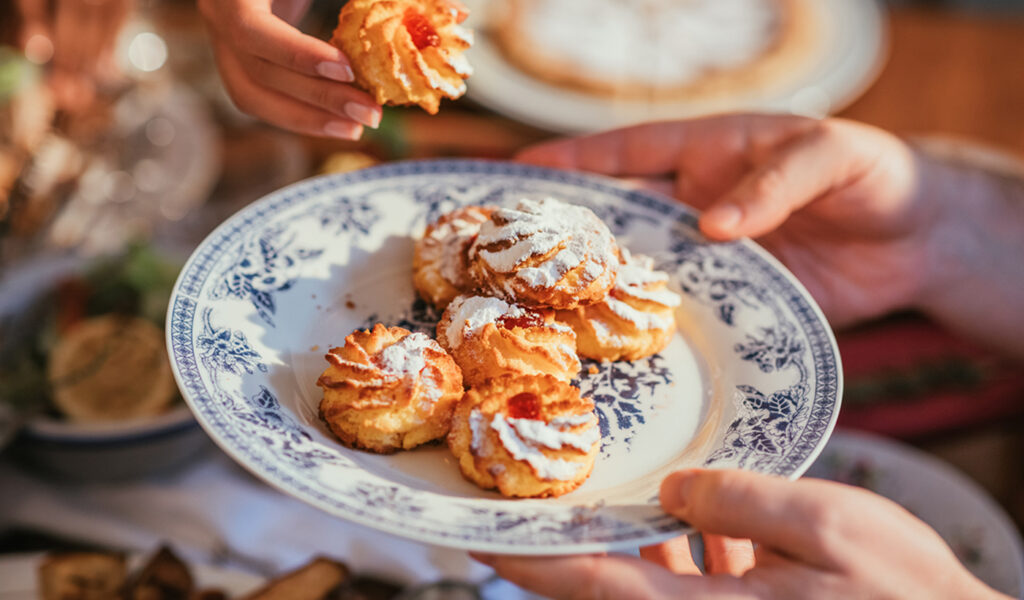 11. Adjust the shutter speed and ISO for indoors
If you're shooting without a tripod, use a shutter speed of 1/60 or faster to capture crisp images. Photos taken indoors without a flash or natural lighting will need an ISO setting of 800 or 1600. That way, your camera sensor should be sensitive enough to capture shots in ambient light. You can reduce the ISO to 200 or 400 if you're using extra light sources.
12. Select the right white balance
Realistic, appealing color matters when taking pictures of food, so choose a white balance that fits the lighting. Try tungsten for rooms with incandescent lamps, and fluorescent white balance under fluorescent lighting. If you're photographing Thanksgiving food in consistent natural light, you can also use a gray card to set the custom white balance on your camera.
13. Use the built-in timer
Want to avoid camera shake from pressing down the shutter? Use a remote shutter or set the timer on your camera between 2 to 4 seconds.
After you're done taking Thanksgiving dinner pictures (and scraping up the last bites of dessert), jot down a few memories from the day. You may not realize it in the moment, but having personal notes, recipes, quotes, and details to add to your Thanksgiving photo book will make it extra special.
Want to get a head start on your photo book, cookbook, or wall art? Check out Blurb's free design tools to find the right fit for your project.
---