Children's books come in all shapes and sizes. But the good ones have a couple of things in common: A good story and illustrations that captivate the reader. We got the inside scoop on storytelling from Don Morris, illustrator of When Savannah Got Sick. Don told us about the balance between words and pictures and how authors and illustrators can get started on their very own books (and quickly, too).
The story's topic is obviously sensitive. What made you want to tell this story?
Savannah has a brother named Jackson. He's five years old. He loves Savannah dearly. How do you explain to him that Savannah is dying? For that matter, how does anyone do that? Meredith (the author) and I wanted to tell the story for Savannah and Jackson, and we wanted to present it in a form that other children would understand. It came up that Savannah loved turtles. That's how the idea really took root.
That's the question that sparked our idea at the Tampa Bay Times newspaper in St. Petersburg, FL. to help tell Savannah's story with a children's book.
After the meeting, a few of us continued talking about Savannah. The reporter, Meredith Rutland, mentioned that Savannah loved turtles. That's when the idea really took root. We wanted to tell the story for Savannah and Jackson (her brother), and we wanted to present it in a way that other children would understand.
What was your hope for the book?
Our hope was that the book could be used as a tool in comforting other young children in similar situations.
How did you and Meredith work together to make the story come to life?
Meredith had never written a children's book. We discussed how Savannah's story needed to be simplified and squeezed down to mere sentences on every page and remain useful and entertaining. We also talked about pacing and how the story might unfold.
Did you start with the illustrations or the words?
Meredith wrote rough text for the story, and I drew Savannah and Jackson as young turtles so we could mock up several pages of the book. Our art advisor had used Blurb for a personal project and told us it would be perfect for what we wanted to do. We downloaded the templates and were able to experiment with how the illustrations and words would be displayed.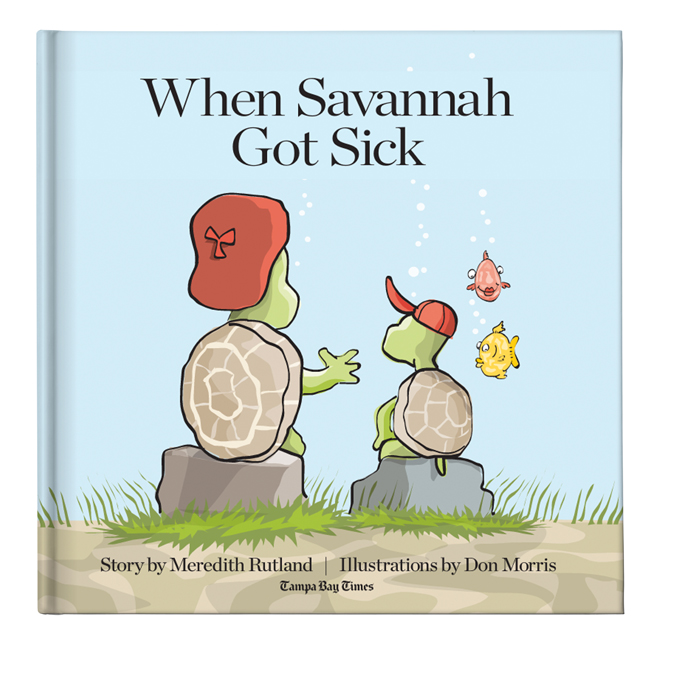 Speaking of illustrations, do you have any favorite children's book illustrators?
Quentin Blake sticks out because he illustrated Roald Dahl's Matilda. The other is Dr. Seuss, because he made it possible for all of us illustrators to be as wacky as we want to be, stylistically speaking. Especially if we can tell a good story.
What would your tips and tricks be for anyone who hasn't yet made a children's book?
If you're not an illustrator, find your favorite examples of art styles and collect them so you can present them to an illustrator. Show them what you like and tell them why.
If you are an artist illustrating a children's book with Blurb, download the templates, print them out, and start laying out your story. Don't just do one layout for any single page—change the view. Do very tight, up-close scenes and follow them up with panoramic scenes. Change the view of the scene from page to page to increase the movement and drama. Think like a fly on the wall. What would they see if they were looking down on the scene?
How do you recommend developing a character in a children's book?
When creating a character, draw it from several angles and with different expressions. Before you decide on your character, it's important to visualize what they look like in as many situations as possible. Use a prop like a hat or a funny hairdo or glasses to make them recognizable and memorable from scene to scene.
Draw or paint traditionally and have a good scanner. Also, use rough drawings as soon as possible in the process of laying out your book. Scan them in and experiment. If you don't have a scanner, take pictures of your roughs. Make them black and white, so you focus on the characters and the composition of the scenes, including lights and darks.
If you are designing the book, use a very simple font. Let the story and the pictures be stars of your story. Because there are so many choices of fonts, it is tempting to give way too much attention to picking one that "feels right" or "looks like the character." I can't emphasize it enough—do not over-design your book.
Do you have any other books in the works?
I have two projects that would be perfect for Blurb. I'm an identical twin and have twin granddaughters under the age of two, so I have lots of story ideas that involve twins. I have an outline, and I know what I want them to look like. The other project is much more serious and involves a mystery. It's a true story I worked on several years ago involving a cold-case crime. It was published in the Tampa Bay Times and had a huge response and generated lots of curiosity. I think it will make a very interesting tale for young people as a graphic novel.