So you've decided to write a book. Now what? The blank page can be daunting for writers at any career stage or experience level, and especially so for beginners. Getting those first few paragraphs (or even sentences) down can feel like a tremendous achievement—and it is! The good news is that there are steps you can take to make the process of writing your first book smoother, more productive, and truly enjoyable.
No matter where you're starting from, it helps to have a plan of action. Use this beginner's guide to keep you on track as you embark on this exciting creative journey.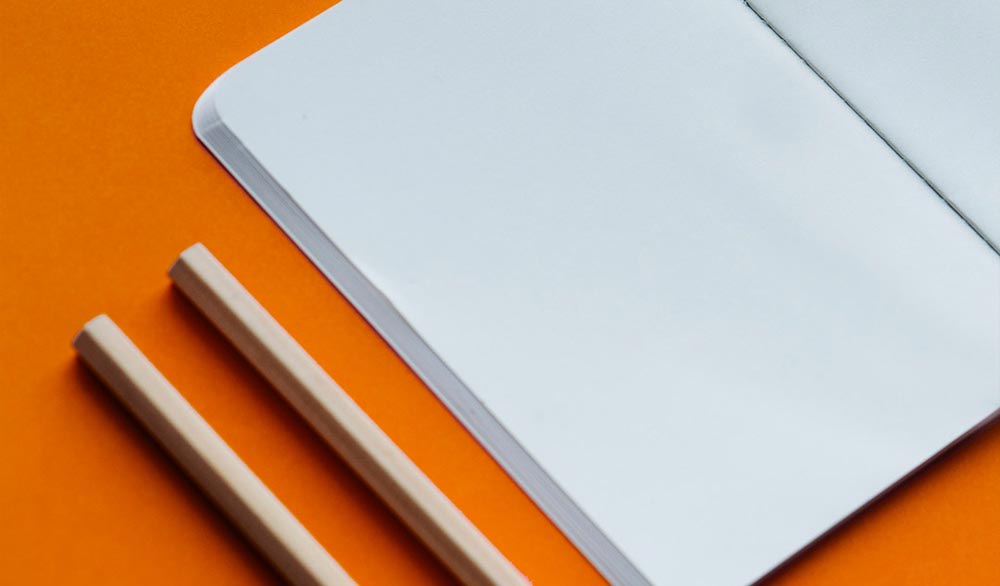 1. Choose Your Genre and Subject
When it comes to starting to write a book, intention is everything. It may sound obvious, but an important first step is to ensure that you have a solid idea of what you plan to write about. Without a clear focus, it is far too easy to get off track during the early stages of the writing process. When you do not have a strong grasp of what you are creating, it will not only become frustrating for you as the author, but it is also likely to confuse your readers. Unfocused writing and a disinterested audience are not what you are aiming for!
So take a moment to frame your project. Will it be a work of mystery or science fiction? Do you want to write an autobiography or a novel? Maybe short stories are more your speed. Or perhaps you have an idea for a graphic novel. Whichever genre or subject matter you choose, allow yourself this first moment of clarity because before you know it you will be heading full speed into a whole new creative world.
2. Make an Outline
Ask three authors how to start writing a story from the beginning, and chances are they will have three different answers for you. However, one common suggestion from successful writers is to break down the project into smaller, more feasible pieces. Start by jotting down a few keywords or phrases that come to mind regarding the setting, theme, plot, or characters. Reserve a few pages or even a whole notebook where you can record these book ideas or inspiration and build on them in the coming weeks.
Then turn to a clean page, and start outlining your book. If you're drafting a novel, you'll probably think in terms of chapters. How and where is the protagonist introduced, what are the key events or conflicts in their story, where does the rising action take place, who else has a supporting role, and does everything build toward a climax or resolution? If you've started writing a memoir or collection of essays, decide if you want sections of the book in chronological order or grouped according to a theme. If you've started writing your book about a certain period of history or culture, you may even find yourself doing some research along the way. That's part of the process, too—embrace it!
It's tempting to want to skip the outline stage and just figure everything out as you go along. Try to resist that urge. Outlining may take a bit longer than anticipated in the beginning, but you need to get a sense of the big picture before diving in. Plus, you'll be grateful to have this road map to return to as your project develops.
3. Write on a Regular Basis
Talent is a blessing, but it doesn't equal hard work. Focus, determination, and persistence—these are the driving forces behind whether you will finish writing your book or not. Once you have several writing sessions under your belt, pay attention to when and where you work best.
Do you enjoy the privacy of writing at home, or do you prefer cafés and communal workspaces? Are you most productive in the wee hours of the morning when your mind is clear, or are you a night owl who gets a second wind after everyone goes to bed? Maybe your work style is something in between. There is no right or wrong answer. Just find a time of day and location that works for your schedule and allows for minimal distractions or interruptions, and you will be far more likely to create a routine.
Equally as important, take a moment to identify the tools that work best for your creative process. Sure, in the beginning you will probably be doing a lot of writing during your dedicated work sessions, but once you get farther along you will find yourself stuck with an idea when you least expect it—out on a walk, at lunch with a friend, in your car, on the train, at the grocery store. Creativity knows no bounds, so be prepared when the impulse hits! Do you tend to use note-taking or voice-recording apps on your phone, or are you more of a journal user? You'll want to remember that perfect sensory detail or piece of dialogue later on when you sit down to write. Use the method that makes sense for you—notebooks, laptop, sticky notes, napkins, you name it!
The bottom line is: Develop a schedule and routine and commit to it, day in, day out. Whatever you do, just keep writing.
4. Prepare for Ups and Downs
Some fortunate writers may be able to skip this step because they absolutely cannot wait to put pen to paper, or hands to the keyboard. However, it is far more common to experience periods of writers' block from time to time. Feeling stuck or at a loss for words is natural, whether you're writing a 20-page essay or an entire novel. In fact, if you're working on a project over the long term, it's almost unavoidable. The trick is to not panic when it happens.
If you're having an especially difficult time getting into the flow of writing, try a brief exercise to mix things up:
Make a list of adjectives or verbs that capture your character's personality
Try writing from the perspective of another character in the book
Choose a topic of conversation and brainstorm pieces of dialogue for one of your characters
Return to your book outline and add in a few more details
Research a place, activity, or character's profession that appears in the book to get new inspiration
Other times you just have to be patient and take a break. Listen to music, take a walk, read a book, meditate. Even 10 or 15 minutes away from your desk can be enough to relax and recharge your mind.
Letting go of perfection is often a big part of making progress on creative projects. For many writers, it helps to just focus on getting the ideas out, rather than worrying about grammar and punctuation in the first draft of your book. There will be plenty of time to refine your sentences later on. No matter what holds you back in this moment, remember you cannot write something good until you actually start writing!
5. Track Your Goals and Progress
It's no secret that people tend to function best when they have clear goals and predictable rewards. Use your book outline to create daily, weekly, and monthly objectives, then be sure to acknowledge or reward yourself when you reach a certain point on your project tracker.
You are going to experience moments of free-flowing creativity, mixed with slower, steadier periods of writing or editing. Think of each phase as an opportunity to learn about your personal work style and motivation. Some writers find it energizing to keep a log of how many words or pages they write per day. Others might group writing tasks differently week to week, focusing on a section of dialog one session, then tackling a character's backstory the next.
Reminding yourself of your original goal for writing a book can also be helpful when you need a boost. If you're feeling introspective, you might even start to reflect on the sense of triumph you will feel upon completing your project. It's up to you how you want to measure your progress, but creating benchmarks and incentives can be very effective for beginners.
6. Find an Editor
Writing an entire book from start to finish is difficult, no matter how much experience, talent, or enthusiasm you bring to the table. It's important to acknowledge and invite the wisdom of another writer or editor into your project. After spending weeks or months immersed in your own manuscript, it's easy to develop blinders regarding what works and what doesn't. Most of us simply lack the distance and awareness to be effective critical editors of our own writing, especially as beginners tackling a full-length book.
Consider exchanging manuscripts with a writer friend, and use your joint editing efforts to provide motivation and accountability for each other. Check out local book groups and develop contacts in the writing community in your area. If meeting an editor in person is not possible, go online. There you will find a plethora of professional and peer resources designed for fledgling authors just like you.
Whichever route you choose, accept that you will need some outside perspective along the way. Even though getting feedback can be hard to stomach at times, remind yourself this is a necessary step to make your book the best it can be.
7. Rewrite and Revise
First drafts are rarely, if ever, our best work. Make things easier on yourself by preparing to go through multiple stages of revision. You may love the first chapter you write, only to realize months (and many pages) later that you are less fond of it, or that it no longer makes sense with the newer sections you've written. That's okay. Writing is a creative process, so your work will evolve as you do.
Are there parts of the book that you or your editor have lingering concerns about that could benefit from a focused rewriting session? Start there, and consider whether the problem is a matter of content (too much or too little information), organization (think about the sequence of events), or style (consistent vocabulary and tone of voice). Again, this is where recruiting an outside perspective can be invaluable to your editing process.
In the final stage of revision, enlist the help of a professional proofreader. You've put an incredible amount of energy into telling this story, so you want to ensure you've crossed all your t's and dotted your i's.
8. Celebrate
Congratulations, you finished writing a book! All those early mornings, late nights, and long afternoons have led up to now. This is the day you've been waiting for when you can finally breathe a giant sigh of relief or let out a shriek of joy. Call a friend or family member, go out for a celebratory dinner, make a toast! Whatever your style, take the time to enjoy this feeling of accomplishment.
9. Self-Publish Your Book
Time to get those prized pages out into the world! Preparing your book for publication gives you the chance to stand back and look at your project from the perspective of a new reader. Nothing compares to seeing all your hard work come to fruition as a professional-quality book.
After spending countless hours poring over manuscript pages, many beginner authors find it rewarding to maintain creative control of the book design process as well. If you want to preserve the integrity of your first book project cover to cover, self-publishing has its advantages. With Blurb's free desktop publishing tool, BookWright, you can create the layout that fits your project, along with the format, cover, and paper type. It's all about realizing your creative vision!
As you look ahead, remember that there is a first time for everything, and know that you are in great company (think of all the authors you know and love setting out to write their first book!).
Ready to start writing your book? Layout your project with our free, easy-to-use software. Learn more today!