Choose a free book-making app

Free, no credit card required

Design and print your book

Add your photos, artwork, and text, just the way you want it.

Order Your Book

Get one copy—or as many as you like—and have it shipped in about a week.
Three Great Ways To Make Your Yearbook
Why Make Your Yearbook or School Photo Book with Blurb?
Easy-to-use tools: You don't need to be a design expert or yearbook instructor.
We handle orders and shipping: Buyers can order directly from our online bookstore and we take care of the rest.
Bookstore-quality books: Make your yearbook the envy of every school in town with professional-quality paper, covers, and printing.
Print-on-demand: Order exactly as many as you need – you don't have to pre-sell and you're not on the hook for unsold books.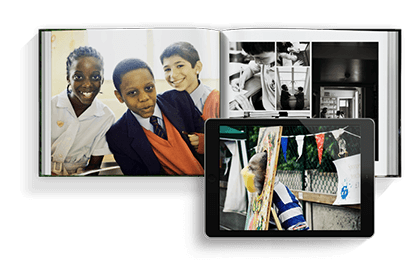 More Yearbook Resources
We have happy customers
I'm totally satisfied with my latest Blurb book and, as a former publisher, I never thought I'd say that about an online publishing system. The color reproduction is bang on and the page layouts exactly as I'd hoped they would be.
– Shelly M.
I just received my order and it is amazing! Thank you all very much. The product is more than I'd hoped for.
– Roberta H.