Where Have the Birds Gone? 鳥はどこへ行ったのか (2nd ed.)
by Nicolas St-Pierre
About the Book
Threatening birds perched on the top of a hill, a small boy being swallowed by a giant rock, a faceless train operator…

During the four years that he lived in Japan, Canadian photographer Nicolas St-Pierre spent countless hours exploring on foot the streets and back alleys of Tokyo. Almost every day, he was stopped dead in his own tracks by the unexpected sight of something that did not belong to the scene or by the deafening silence of something that cried out to be there.

Despite all the time and efforts that he had invested to learn Japanese and acquaint himself with local culture, he was never able to completely shake off the impression that he had set foot in a strange land.

The photographs presented in "Where Have the Birds Gone" constitute the photographer's own attempt at rendering the sense of alienation and unease that he felt while living in Japan and which will be so familiar to those who visit the country first the time.

In 2021, this book was awarded the URBAN Book Award in Trieste, Italy.
Features & Details
Primary Category: Arts & Photography Books
Additional Categories Japan, Street Photography
Project Option: US Letter, 8.5×11 in, 22×28 cm
# of Pages: 60
Publish Date: Dec 02, 2022
Language English
Keywords

Japan

,

Tokyo

,

birds

,

mystery

,

street photography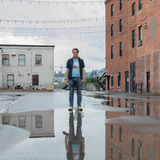 Nicolas St-Pierre is a Canadian photographer and storyteller based in Ottawa, Canada. Lawyer by training, former reporter at La Presse (Montréal, Canada) and diplomat by trade, Nicolas dedicates most of his spare time capturing the places and people that he encounters through his professional and personal travels. His work has been exhibited in galleries in Canada as well as in the USA, Mexico, Finland, Italy, Iran, China and Japan. It has also been featured in Canadian, American, French and Japanese publications, including La Presse, Street Photography Magazine, Réponses Photo, OPENEYE, Latent Image, Photo Life and Onbeat, as well as in online magazines. In recent years, Nicolas' work has garnered awards and accolades from the International Photography Awards (IPA), the Independent Photographer, LensCulture and the URBAN Photo Awards. In 2021, Nicolas was the winner of the URBAN Book Award (Trieste, Italy) for his book "Where Have the Birds Gone?"