The checklist of a worm.
a poetry book.
by Vika Silina
About the Book
A poetry book which acknowledges mental health struggles, depression, confusion as well as the questioning of existence. An in depth look into the Authors mental state, deep rooted emotions and life experiences that shaped her to be who she is today. This book is a scatter of feelings, and a difficult
read if not prepared to be out of body and open minded.

The back of the book states:

Within me is a worm.
She expressed herself through these pages.
She wrote these poems, she drew these drawings.
She acknowledges that her thoughts are not suitable for all ages.
She is proud of her work.
She thanks her creator for it.
Enjoy with caution.
:)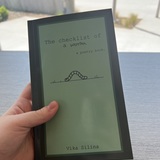 a small poet, that uses small words, to express large thoughts.