The 57-Year-Old Promise
An amazing story of adoption to reunion!
by Del Hickman
About the Book
57 years after praying over a three-day-old baby, a teenage couple found out how God marvelously, more than they ever could have expected, actually DID answer that prayer! From conception, to birth, through childhood to adulthood, and finally to reunion. A true life story that will keep your attention from beginning to ending!

Reviews
Thank you so much for sharing. I already read quite a bit of it. I think it is absolutely wonderful that you have shared the story the way that you have. I think you are going to help a lot of people who read it. I think you'll help a lot more people than one.
Scott B.

Wow! What an amazing story of your life. Thanks so much for sharing it with us! I am beyond grateful for God's promise to you in finishing what He began so long ago. So much joy and love in how God does restore and brings good from our ashes.
Debbie M.

I'm fully engaged in reading every word of this amazing story!!! It reads GREAT! I am so impressed with your final product and the speed with which it came about. This is so beautiful. I cannot tell you how great the final product is. I am in awe. But you did WELL, with excellence.
Marcia L.

Just got done reading your book. It brought me to tears again. Our God is so gracious and loving. To be able to witness this amazing journey unfold has been so special.
Ruth C.

I LOVED IT!!! Your book is amazing, it touched me deep in my heart!!! Beautiful true story. Couldn't stop reading it.
Silvia R.

Just finished your book today. Just extremely touching. I relived it along with you as I read it. So many times along the way I had tears in my eyes. Thinking what a wonderful, wonderful reunion you've had. Extremely touching. I've always loved you guys, but you've just grown in my heart after reading the book.
Fred C.

I just couldn't put it down! Thank you for writing and sharing the story.
Meagan H.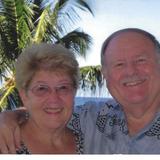 Currently a Realtor in San Diego, I've been married to Donna for 58 years and have 3 wonderful children and 5 unbelievable grandchildren plus 2 great-grandchildren. Jesus is the center of our family and we have been blessed! I hope our story might strengthen your faith and give you great hope!