A TASTE OF ELBA ISLAND
Ebook
by ENRICO PELOS
This is the price your customers see.
About the Ebook
Photographs of my days (in 2012), in the Isle of Elba. Some itineraries are very beautiful and interesting for every walker/hiker/trekker for the vision of unique landscapes and unforgettable moments that will remain forever.

-

Fotografie delle mie giornate (nel 2012), all'Isola d'Elba. Alcuni itinerari sono molto belli e pieni di interesse per ogni camminatore/escursionista/trekker per la visione di paesaggi unici ed emozioni indimenticabili che rimarranno per sempre.
Primary Category: Portfolios
Version Fixed-layout ebook, 46 pgs
Publish Date: Sep 11, 2012
Last Edit Jan 12, 2020
Language English
Keywords

isola

,

d'elba

,

elba

,

elba

,

island

,

elba

,

isle

,

mare

,

sole

,

blu

,

enrico

,

pelos

,

passeggiate

,

porto

,

azzurro

,

spiagge

,

monte

,

calamita

,

capoliveri

,

miniere

,

enrico

,

pelos

,

minerali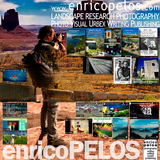 I walked my Liguria (but also the Grand Circle ...) for thousands of km and illustrated with my photography and wrote articles for magazines. I am the author of books, also a publisher and on the web and on social networks with Facebook sites and pages such as "Passeggiate a Levante" (Eastern Liguria Walks) and "Abandoned Places" dedicated to urbex photography that I began decades ago.. - Ho percorso a piedi la mia Liguria (ma anche il Grand Circle...) per migliaia di km ed illustrato con la mia fotografia e scritto articoli per riviste. E' autore dei testi e delle fotografie di «Passeggiate a Levante» (45 itinerari nella Liguria di Levante, Blu Ed., Torino, 2011); «Memorie Beatlesiane e dintorni» (co-autore testi con Rita Tunes, autore foto ed editore 2014); «Il Mulino di Neirone» (Lulu Pr. 2005-2020) «Lungo la Via Iulia Augusta in Liguria» (Lulu Pr. 2007/2014); e co-autore foto dell'«Alta Via dei Monti Liguri» (UnCamComGe ed., 1999). Ha curato PortAppennini... ed. R Ni d'Aigura...