Now that you've got your beautiful finished project, it's time to get your book into the world! There are a few ways you can do this.
First, you can sell your book in person. You can take it with you to meetups and events, host a launch party of your own, and do showings and readings for family and friends. You can also approach local, independent bookstores and see if they will allow you to sell them on consignment, where they take a percentage of your earnings. Selling in person means paying up front to have several copies available for sale.
…more than half of all books bought are purchased online.
It's also possible to sell your book online, and the latest statistics suggest that more than half of all books bought are purchased online, especially through retailers like Amazon and Barnes and Noble. Any project made with Blurb can be sold online through one of these channels, through the Blurb online Bookstore, or through your own website.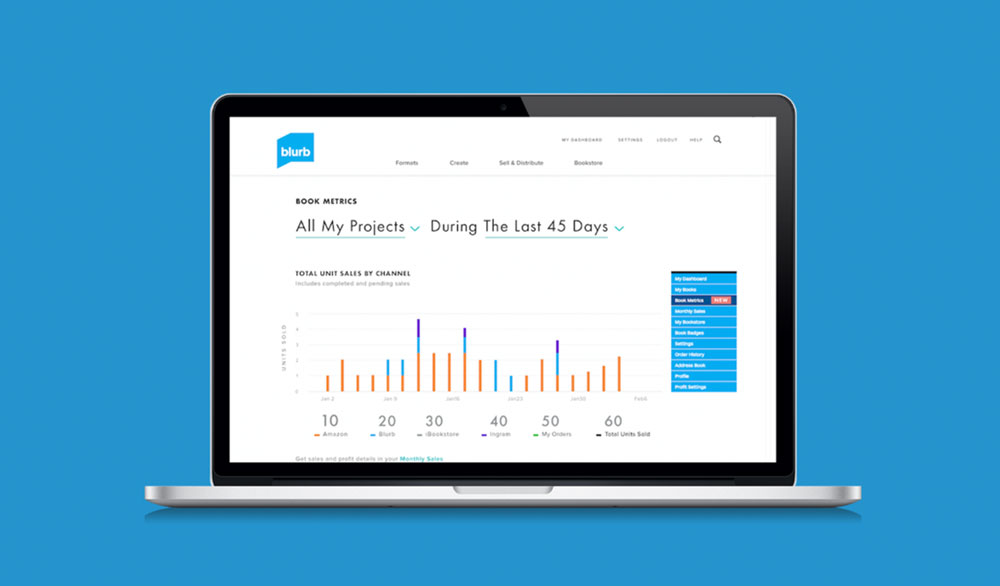 How to Sell Your Book Online
1. Click "Sell My Book"
You'll find this button next to your project in your dashboard. This will launch a wizard on the website that will walk you through the process of setting up an online bookstore.
2. Create Your Book Details
Complete the profile of your book. Keep in mind everything you type here will be what shows up for your book buyers. Double and triple check capitalization, punctuation, and spelling for each field.
3. Choose Your Distribution Channel
This is a significant decision, and it depends on the format of your book. Photo Books are sold directly through the local Amazon Marketplace. Trade Books go through the Ingram catalog, who will then make it available to Amazon and retailers like Barnes and Noble. After a couple of weeks, your book should be searchable here. You can also sell in the Blurb Bookstore, but keep in mind that whatever price you set for Amazon or Ingram must match the price you have your book listed for in the Blurb Bookstore. It's part of the agreement.
4. Set Your Distribution Fees
The Blurb Bookstore has no distribution fees. Amazon and Ingram have a markup on your base price + profit, which is automatically calculated to make your retail price. Once your book is finished, you control the price by adjusting your profit margin. You can also control the price a little bit by choosing your level of distribution in the channel. The higher the distribution fee (called a "Wholesale Discount" by distributors) that you're willing to pay, the more visible your book is likely to be in that channel. Sometimes, though, the highest level distribution is too much markup to sell your book at a reasonable price. It's up to you to strike that balance. The defaults on Blurb are the mid-level fees and the general recommendation.
5. Set Your Book Price
Decide the level of markup and profit that suits your goals and your market, and enter a final retail price.
6. Get Your Free ISBN from Blurb
All books in wider distribution need an International Standard Book Number. This is like a fingerprint for that exact edition for your book. Blurb will give you one for free with your title, and it'll be found on the back of your book like the ones sold in stores. Trade Books come with them automatically, Photo Books are assigned an ISBN when they enter distribution. This ISBN is the best way to search for your book on Amazon or Barnes & Noble.
7. Make Your Book Available
One final click launches your book! It may take a few weeks before it's visible on Amazon or a store connected to Ingram, but it's available for order right away. Books sold in the Blurb bookstore are visible and available right away.
8. Share Your Book
Let people know about your project by sharing a preview of your book on social media, and directing them to where they can buy it. Post a few times over a period of time so you get good visibility.
See? It's pretty easy. It takes only one click to sell your book online on any of these online sales channels, and it's available to the world! Once you get your book online and on the market, if you have any questions about your listing or need to make any changes, you can contact Customer Service.
Good luck to you, and cheers to selling your book online!